Kirchenlamitz
Many thanks to Debra Ellinger and of course her father, Rudolph Ellinger, who supplied information which shed a little light on the Wächter family and greatly helped me during the compilation of this manufacturer page.
[1] : Porzellanmalerei Rudolf Wächter (1893 until 1913)
Rudolf Wächter was born as the son of potter Christian Theobald Wächter on December 13th 1868 in the town of Rauenstein. Between 1881 and 1885 he was porcelain decorator apprentice at the Porzellanfabrik Gebrüder Schoenau in Hüttensteinach near Sonnenberg and later gathered even more experience as decorator for the factory in Kahla. He married in 1890 and his first daughter Gertrude was born in 1891. In the year 1893 Wächter founded an own small decoration business in the town of Hüttensteinach but his political career as member of the socialist party required a lot of his time, further cut back by the fact that he had to care for his daughter after his first wife passed away before Gertrude reached the age of four. On May 27th 1897 he married for the second time, this time in the town of Sonneberg. With his second wife Fanny Hartan (born April 23rd 1876 in Köppelsdorf), Wächter had another three daughters: Melanie, Elly and Anna. He was respected by his workers and a lot of the people from Hüttensteinach followed him to the Bavarian town of Kirchenlamitz when Wächter in 1913 decided to move operations there, at the same time teaming up with Erhard Fürbringer. Note that there is no proof of a single Wächter decoration studio mark from this time, all marks known are from later periods.
[2] : Porzellanmanufaktur Wächter & Fürbringer (1914 until 1917)
On October the 24th 1913 Erhard Fürbringer had inquired at the town council about the conditions of opening a porcelain decorating factory (a decoration studio and not a real porcelain factory as is often claimed). The town of Kirchenlamitz had been trying to convince industrials to settle in the town as lots of the citizens had only found work in the surrounding towns of Marktleuthen, Röslau and Schwarzenbach. As the town was desperate the contract was signed in next to no time and the factory was opened in November 1914, with Fürbringer (born in Schirnding, Bavaria) being responsible for the financial side of the company while Wächter took over the part as technical director. There is quite a bit of confusion regarding the use of a certain mark during the period of Wächter & Fürbringer as there is no specific mark recorded for the business. Many people simply assume that the first Wächter 'Bavaria' mark shown below was also the first mark used by the company, that however is simply a guess.
Shortly before the outbreak of WW1, Gertrude Wächter had travelled to the US and was visiting an uncle in New York City. She remained in the United States when the war broke out as her father stated it unsafe to return and eventually met and married the German-American Waldo Ellinger. The couple settled on a farm in Michigan and together had three children: Rudolph, Merta, and Arthur. For years Gertrude imported china from her father's factory and sold it to neighbors and later gave dinner sets to her children as wedding presents.
[3] : Porzellanmanufaktur Rudolf Wächter (1917 until 1974)
Business during the war years was not easy and nearly all male personell had to leave for military duty including Fürbringer who quit the company in 1917. At that time the workforce consisted of 26 employees and replacing male workers through females not only allowed the firm to keep up its standards, it even managed to increase throughput.
On January 2nd 1919 Franz Schaller (*July 6th 1895 in Kirchenlamitz) joined the company. After a short time he became authorised signatory and on October 2nd 1919 he married Elly Wächter. Another interesting fact is that the factory was not affected by the great porcelain strikes following October 10th 1921. As already mentioned above, the socialist politician Wächter had always treated his workers with great respect and also had houses built for them, with other words he generally did not treat his workers like other industrials did at that time. And his social engagement went even further: during the inflation period Kirchlamitz had a population of 2,500 and Wächter offered the local bakers an enormous amount of his privately owned money as a loan without interest to keep the prices of bread down for a period of 14 days - the amount of money was equivalent to 6,000 1kg-loaves of bread.
Own porcelain production started around 1925 and up until the late 1920's Wächter produced very fine lusterware that was mainly exported to the U.S. and Italy. During 1927 this segment of production was slowly substituted with pieces decorated in various forms of metal overlay, mostly silver. After some experiments this resulted in a design that became the speciality of the company and which remained in the product range nearly until the factory closed: a special full silver plating. The objects were covered in matt silver and then re-fired, after which the resulting product was polished by hand.
In 1930, Franz Schaller became director of the firm and his ideas and initiatives were the base for further ecomomic upturn during the following years. He became joint owner of the company during 1938 and Wächter, who didn't have a son, was very proud of his son-in-law. Following his 70th birthday Rudolf Wächter was announced freeman of the town Kirchenlamitz on December 15th 1938 together with the industrial Eduard Winterling who led the Kirchenlamitz branch of the ⇒Porzellanfabrik Oscar Schaller & Co. Nachfolger which belonged to the Winterling family.
During 1939 the workforce consisted of 70 people but based on the political situation nearly all customers from other countries had canceled their orders. Foresight had led Wächter into negotiations early enough and this had opened up other markets, allowing the factory to mainly work for export purposes even during World War II. But foresight and being successful in business was one thing, old age another. Rudolf Wächter died at the age of 74 on October 17th 1942 and the cremation took place on October 20th in the city of Hof.
The company was now owned by Franz Schaller and the widow Fanny Wächter. Up until 1944 the workforce had grown to 125 people and included two French prisoners of war. During the advance of the U.S. troops, Kirchenlamitz was intensively shelled; as the factory itself was not hit the company eventually even housed the savings bank owned by the town of Kirchenlamitz during the period between May and November 1945. In July and August of the same year the company was allowed to continue production. At that time the borders to Czechoslovakia, Saxony and Thuringia were closed and many decorators had either been killed or were still prisoners of war; of the about 40 former decorators only six to eight qualified workers (the number varies depending on source) remained.
During the first few years after the war the company followed popular demand and also decorated lidded stoneware beer jugs better known as beer steins. The raw 0.5 liter steins were bought from a company in Altenkunstadt and decorated by sixteen to eighteen people from a retraining course. Business slowly normalized and the company started to place advertisements in the international version of a publication for manufacturers of porcelain, glass and household goods from Germany, "Die Schaulade". It seems that the Wächter company made most export shipments over the firm of Emilio Fischer & Co., located in Milan (Italy).
As business was finally running normal again the old coal-fired glazing ovens were replaced through electric versions in 1950 and in 1955 the Wächter company introduced a pension fund for all of their workers; at that time the company had 114 normal workers and 16 salaried employees. Over the years they had proven the company could cope with nearly every kind of situation and the next step - being the replacement of silver decorations through matt and high polished gold decorations during the late 50's - should not be a problem at all.
On April 20th 1961 Fanny Wächter died and from January 1st 1962 the factory saw Franz Schaller as single owner, the only change being that he cut back slightly on own porcelain production and instead concentrated on pure decorations once more. To commemorate the 75th company anniversary and the 50th anniversary of Schaller being in the company, four special porcelain present series were released. One was a combination of real cobalt and high polished gold decoration, one had a baroque design and the two others were exceptionally modern designs. At the end of the 1960's one of the smaller decoration rooms was converted to enable silk-screen printing and the personell needed was recruited from the normal decoration departments and re-trained. During this period the company also had its largest workforce, between 200 and 220 people.
But as so often things do not always work out as they should and right from the beginning of 1971 the business had financial problems that led to dismissals. At the end of 1971, only 52 workers and 10 salaried employees remained and although everything possible was tried, it was hopeless. On November 30th 1973 Franz Schaller informed the works council chairman that he intended to close the factory at the end of the year. The news spread fast and a short but heavy public discussion followed. For the local politicians one thing was for sure: Schaller, even if backed by his workers, was responsible for the misery. But it was too late. In February 1974 the factory was finally closed. Based on the high qualification of the workers they all found a new job pretty fast, mostly at the Winterling factory in Kirchlamitz, the factory of Heinrich Winterling in Marktleuthen or at the Heinrich Porzellan factory in Selb. Franz Schaller himself died on April 12th 1977 in a hospital in Selb.
Comment(s)
Note that the "R-W-K" ⇒cover-up mark was used even after the simple "RW" had been registered and introduced. It appears only on blanks purchased from other companies and was in use until around 1966; own products (starting around 1925) mainly received the "RW" mark until Schaller from around 1962 onwards cut back on own production in favour of (re)decorating other items again.
Next to the various regular marks the business also had an own sub-brand of sorts which is not only found accompanied by a regular Wächter marking but was also used as stand-alone mark. The design varied a little over time, please check out the examples below. Also I have seen the actual name misquoted often and therefore would like to point out that the mark actually reads Maria Theresa, the English form of Maria Theresia.
Marks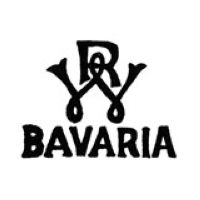 Image 2/3-01
Used between 1917 and 1939.
Roentgen
lists this as the old decoration studio mark (nonsense as Hüttensteinach is located in Thuringia, not Bavaria).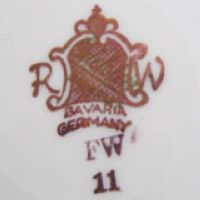 Image 2/3-02
Also used from 1917 onwards. Decoration designed by
Fanny Wächter
('FW'). Shown here covering a 1919+
Edelstein
mark).
(Picture by Ann Rettus)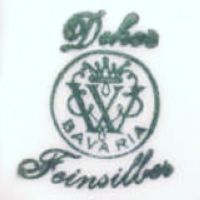 Image 3-03
No dates known: encircled 'W' with 'DECOR FEINSILBER'.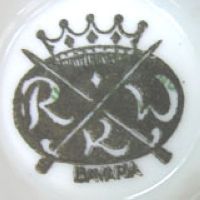 Image 3-04
Introduced around 1920, 'R-W-K' for 'Rudolf Wächter, Kirchenlamitz', this one shows 'BAVARIA'.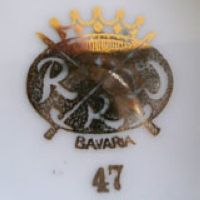 Image 3-05
Another example of the 'R-W-K' mark.
(Picture by Robert W. Schmitz)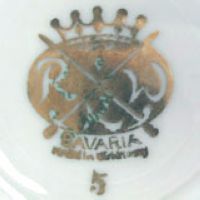 Image 3-06
Same as before, only this time in gold, 'BAVARIA' above 'MADE IN GERMANY'.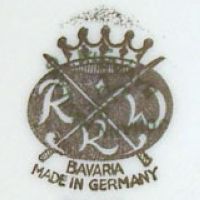 Image 3-07
Another version, this one shows 'BAVARIA' above all-capital 'MADE IN GERMANY' (covering a 1928+
Haviland
mark).
(Picture by Rene Roth)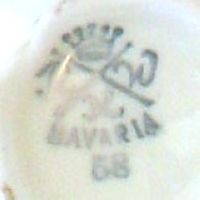 Image 3-08
An 'open' initials version used on otherwise unmarked blanks, this one just shows 'BAVARIA'.
(Picture by Jens Bergner)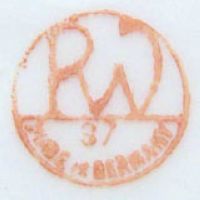 Image 3-09
Used from around 1924 onwards: enclosed 'MADE IN GERMANY' (not to be confused with the same mark stating 'US ZONE', used 1946-1949).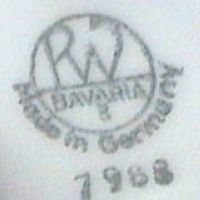 Image 3-10
Used from 1928 onwards: enclosed 'BAVARIA' with an additional 'MADE IN GERMANY'.
(Picture by Beatrice)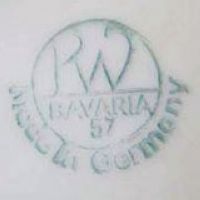 Image 3-11
Same as before, this time in green.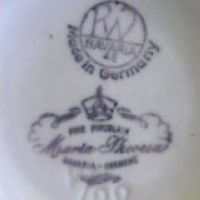 Image 3-12
'RW' mark with additional 'FINE PORCELAIN' above 'MARIA THERESA' above 'BAVARIA - GERMANY'.
(Picture by Tammy Serdiuk)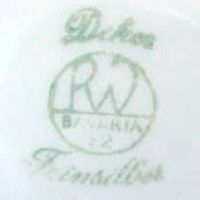 Image 3-13
The normal 'BAVARIA' version, additional writing says 'DEKOR FEINSILBER' (decoration fine silver).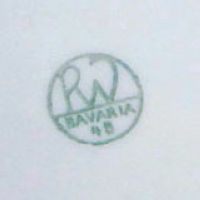 Image 3-14
Just with 'BAVARIA' and a number in the bottom part, here in green. Note that this mark was often combined with the '
⇒HANDGEMALT
' addition.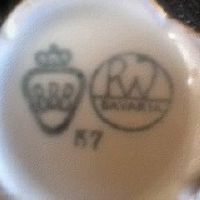 Image 3-15
'RW' mark together with an unidentified crowned shield containing 'BBB'.
(Picture by Elly Coventry)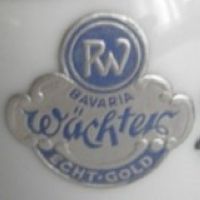 Image 3-16
A sticker introduced around 1940.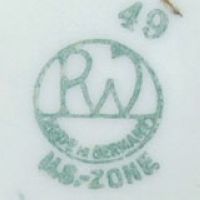 Image 3-17
Used between 1946 and 1949, 'BAVARIA' and 'U.S.-ZONE' addition.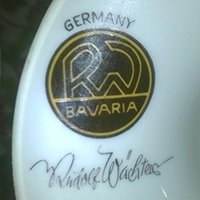 Image 3-19
No exact dates known, one version of the cover-up mark including the signature of
Rudolf Wächter
.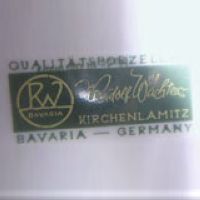 Image 3-20
No exact dates known, used from the late 1960s until 1974, yet another cover-up mark.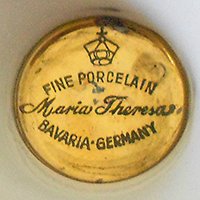 Image 3-21
Used from around 1928 onwards in various forms. Early/plain version of the
Maria Theresa
mark.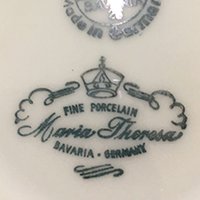 Image 3-22
Used from around 1928 onwards in various forms. Here a more fancy version of the
Maria Theresa
mark.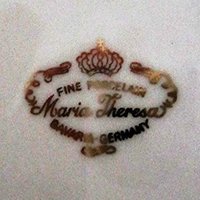 Image 3-23
Used from around 1928 onwards in various forms. Late/elaborate version of the
Maria Theresa
mark.
© 2004-2022 C.S.Marshall, all rights reserved