Ilmenau
[1] : Porzellanfabrik Höhn & Metzler (1873 until 1875)
The early history of this manufacturer is not mentioned often, probably because of the problems the original founder went through and which did not match the later success story. Most people therefore do not know that the original business was founded by the businessman Adolf Höhn from Ilmenau, who in 1863 purchased the premises of the former 'Carl-August-Schacht', a manganese mine founded in 1856 which had only been productive until 1859 before being put up for sale. In 1865 Höhn bought a nearby small mass mill, planning to have his porcelain mass produced there. He was however still in need of experienced partners and further funding. It took him until 1873 before he finally found partners, the brothers Rudolf and Robert Metzler from the town of Sonneberg. The company Höhn & Metzler was registered on April 18th 1873, however the first two years were not successful at all. In the end Adolf Höhn decided to quit company in 1875, shortly before the Metzler brothers found a further partner in form of Hugo Ortloff. Note that there are no base marks known from this period.
[2] : Porzellanfabrik Metzler & Ortloff (1875 until 1959)
Subsequently the company was renamed into Metzler & Ortoff and due to the contacts of Ortloff the factory soon prospered, in 1890 already employing 120 workers and already offering around 2,000 different items. In the year 1900 the 25 year old Hugo Ortloff jun., a graduated student of chemistry and art history, joined his father on the board of directors. The Metzler & Ortloff product range included kitchenware, apothecary utensils, toys, gifts, figurines, doll heads and other doll parts as well as a few smaller tea and coffee sets. Around 1913 the factory gave work to roughly 130 people and that number remained steady for the next years, even during the First World War. The war itself of course influenced the company, as many customers held back orders, but the owners did their best and avoided cuts in employees - they even continued full pay even if work had to be discontinued during some periods. The financial situation of the company of course suffered from that, even resulting in strikes during the early 1920s.
It was Hugo Ortloff jun. who in 1923 stopped these strikes for good, turning down all appeals for negotiations and pointing out that the company, unlike other comparable businesses, had given everything to support the workers and their families during the war period and had nearly went bankrupt in doing so. Demanding pay rises in such a situation, without having given the company a chance to financially recover, was therefore unfair and in his eyes clearly showed that the workers had no respect for the impressive job they had *all* done. The situation left no room for negotiatons: either the workers stopped striking and helped the company recover, or they would all be laid off instantly as he would simply close the factory.
The following years allowed the company to slowly recover, but all seemed lost when the World Financial Crisis of 1929 struck the markets. Not only did the new situation require full financial effort which of course once again robbed the company of all financial reserves, this time production had to be halted for longer periods and some workers even had to be laid off. Having being on the brink of bankruptcy twice in around ten years of course took its toll and unlike other companies, Metzler & Ortloff required far more time to recover in the years that followed. Around 1939 the order books were full again, but production was slow due to the fact that the war effort meant a loss in specialized workers and negatively influenced the supply with raw materials.
Over time the quality of the used porcelain mass, the glaze types and the underglaze decoration techniques had increased and the product range subsequently changed, covering additional figures and groups, many different vases, candlesticks and dish sets. Many well known sculptors and designers worked for Metzler & Ortloff or had their items produced there, the list actually reads itself like a Who's Who of that time, including names like Horst Aschermann, Josef Baier, August Bornkessel, Walter Bosse (who also designed items for the ⇒Porzellanfabrik Arno Fischer), Helmut & Fritz Diller, C. Graser, Klára Herczeg, Hoffmann, Jeuthe, Karl Kemedinger, Hans Knesl, Erich Legler, Franz Lippert, C. Mutzenbacher, Carl Nacke, Karl Röhrig, Max Sauerbrey, Richard Scheibe, Erich Schmidt-Kestner, Winkler, Wessel, Paul Wynand and the specialist for animal figures Paul Zeiler. Numerous figures were designed by Siegismund Wernekinck who also worked for the company of ⇒Galluba & Hoffmann while others were created by Gustav Oppel, who worked for the renown Aelteste Volkstedter Porzellanmanufaktur in Volkstedt. This impressive background helped the company to survive as the items struck the taste of many influential people.
But the political changes following the founding of the German Democratic Republic in 1949 also influenced the company (which had been for years producing mainly for export), meaning that the company was forced to cut back in exports and concentrate on the local markets. Even if the primary market changed, the number of employees at the factory remained stable at 125 during the 1950's and 60's.
[3] : Porzellanfabrik Metzler & Ortloff K.G. (1959 until 1972)
On January 1st 1959 the factory was nationalized and the business form was changed into a ⇒Kommanditgesellschaft after all former private shareholders had been expropriated. Their shares were transferred to the state-owned Deutsche Investitionsbank who officially became the new owner of the factory. In 1968 the bank officially transferred responsibility to the also state-owned Porzellanfabrik Lichte, which at that time was part of the ⇒V.E.B. Henneberg Porzellan combine in Ilmenau.
[4] : V.E.B. Kunstporzellan Ilmenau (1972 until 1976)
By 1972 the internal combine structure had changed and the factory was renamed accordingly. The former supervisor V.E.B. Henneberg Porzellan around 1973 also went through a change following the construction of a new factory in Eichicht (a town part of Ilmenau) and was renamed Neues Porzellanwerk Ilmenau. When the new factory reached its full production capacity in 1975, plans were made to modernize the V.E.B. Kunstporzellan Ilmenau subsidiary but these were dropped for economical reasons. Production at the former Metzler & Ortloff factory therefore was slowly decreased and it finally closed in 1976.
Comment(s)
There were quite a few animal figures created at Metzler & Ortloff and I clearly can not list them all. Two of them (both designed by the Austrian Walter Bosse) were items 5215 'Terrier' and 5216 'Terrier', designed in 1928 and produced between 1928 through 1932.
Marks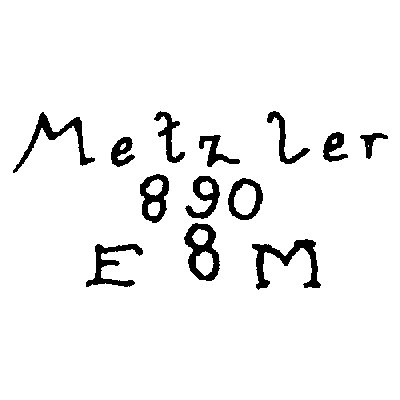 Image 2-01
Impressed on doll's heads around 1890.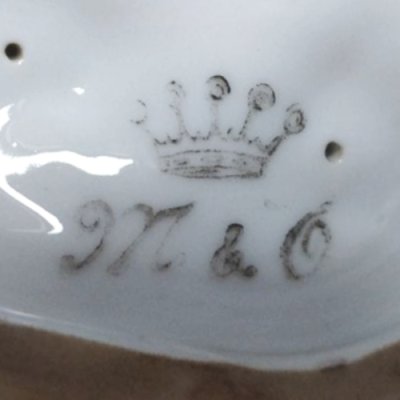 Image 2-02
Used between 1890 and 1945.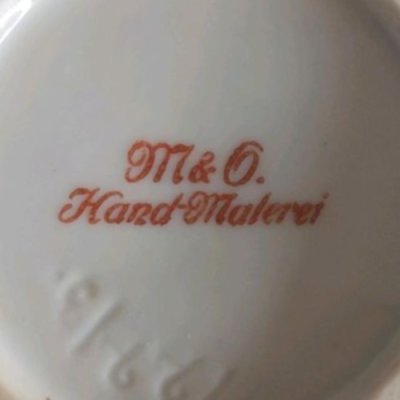 Image 2-03
Used between 1890 and 1945, note there is no ampersand in the middle.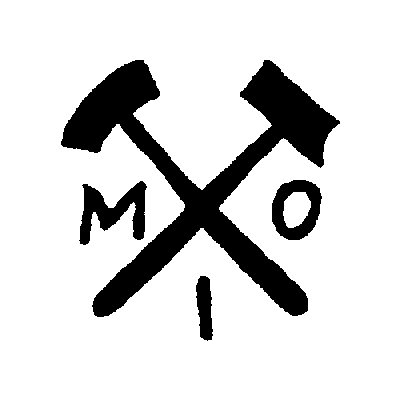 Image 2-04
Initials 'M & O.' over 'HAND-MALEREI', no date known.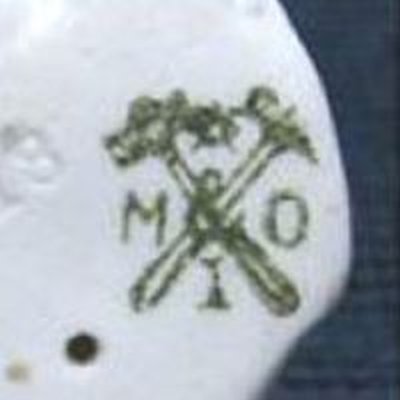 Image 2-05
Used between 1890 and 1945.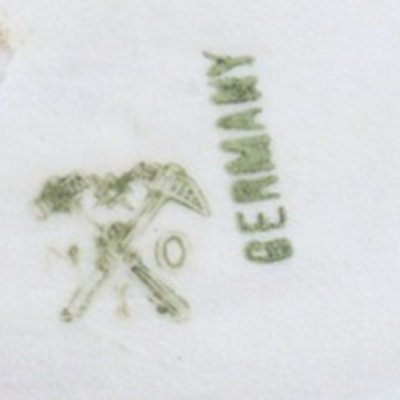 Image 2-06
Used between 1890 and 1945, here one from the later years used with 'GERMANY'.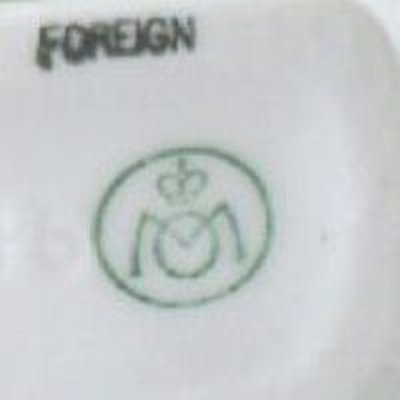 Image 2-07
Early version of the export mark, here shown with the word 'FOREIGN' stamped on as stand-alone print.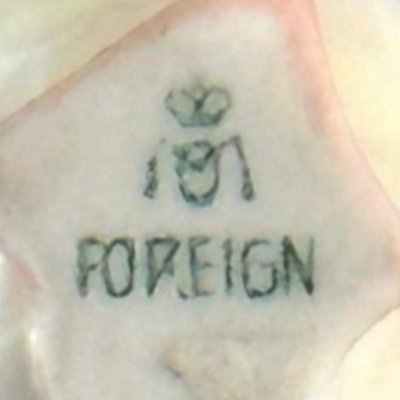 Image 2-08
Same as before without the circle around it.
(Picture by Paula Jardine)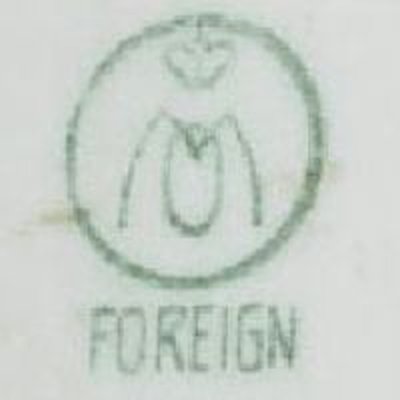 Image 2-09
Perfect example, the word 'FOREIGN' is clearly visible.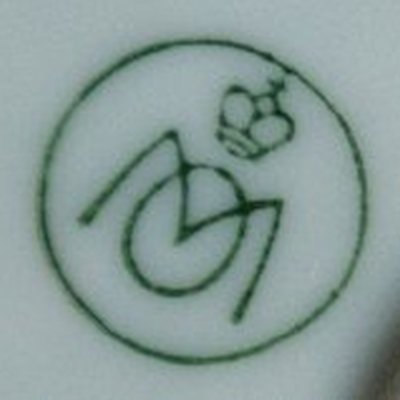 Image 2-10
The normal version (not intended for export) was used without any additions, here in green, used up until 1972
(Picture by Margaret K. Mott)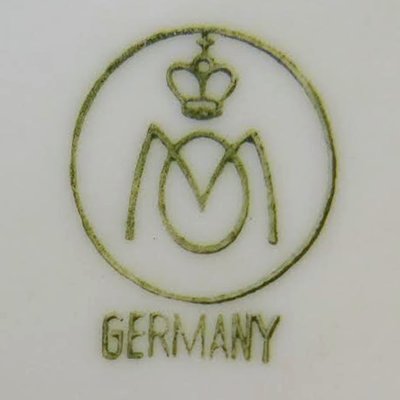 Image 2/3-11
Same as before, but here in the less often used red version, used up until 1972.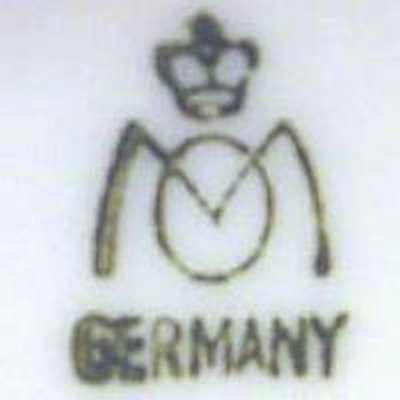 Image 2/3-12
Standard export mark after 1923, used up until 1972.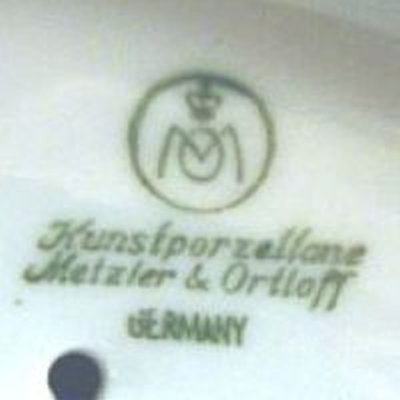 Image 2/3-13
Standard export mark after 1923, used up until 1972, here without the outer ring.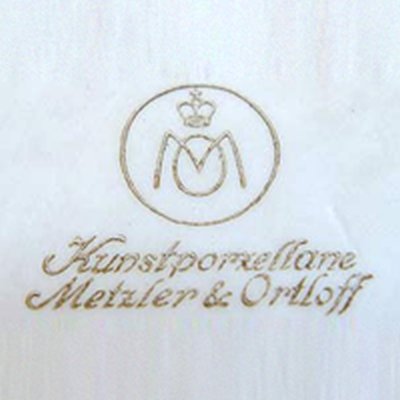 Image 2/3-14
Standard mark with addition 'KUNSTPORZELLANE METZLER & ORTLOFF' which was added between 1930 and 1972.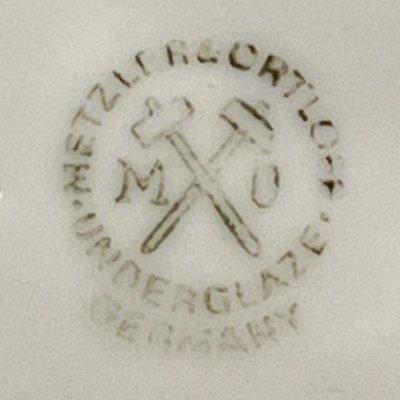 Image 2/3-15
Same as before, but here in red.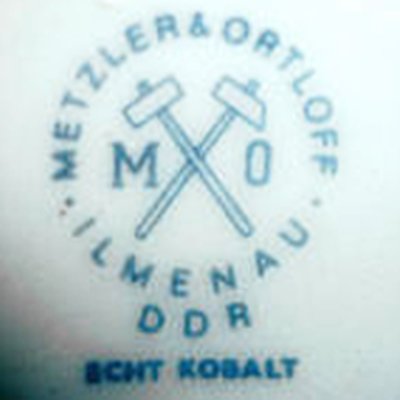 Image 2/3-16
And the same as before, here shown in gold.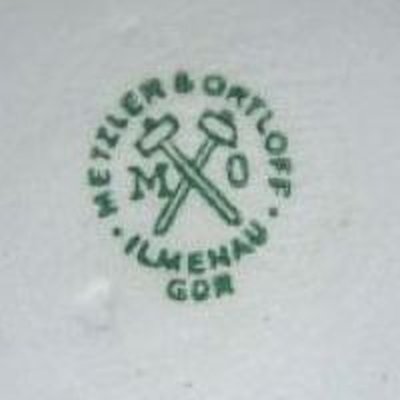 Image 4-17
No date known, 'METZLER & ORTLOFF' and 'UNDERGLAZE' above 'GERMANY'.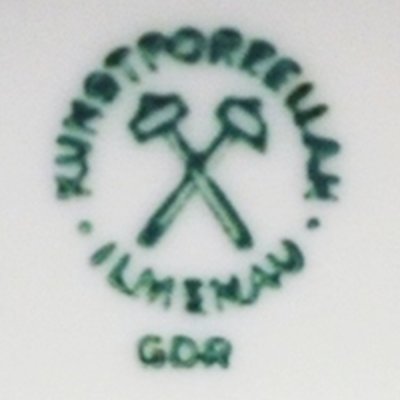 Image 4-18
No date known, 'METZLER & ORTLOFF' and 'ILMENAU' above 'DDR' (and 'ECHT KOBALT').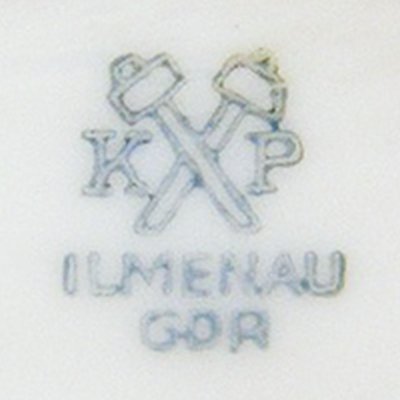 Image 4-19
Used around 1972, with 'METZLER & ORTLOFF' above 'ILMENAU' and 'GDR'. Note the 'M O' initials ...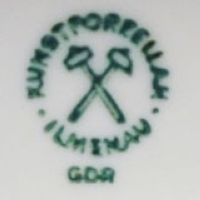 Image 4-20
Used between 1972 and 1976, 'KUNSTPORZELLAN', 'ILMENAU' and 'GDR' but missing the 'M O' initials.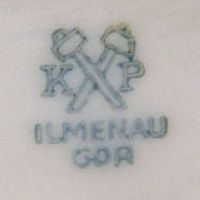 Image 4-21
Used between 1974 and 1976, 'K P' (for 'Kunstporzellan') above 'ILMENAU' and 'GDR'.
(Picture by Margaret Goodwin)
© 2004-2023 C.S.Marshall, all rights reserved