Küps
[1] : Porzellanmanufaktur Karl Klette (1950 until 2012)
The small factory was founded in 1950 by Karl-Heinz Klette who next to plain white items also produced a large variety of items decorated in the 'Dresden' style, hence the 'D' in his mark. Klette later retired and left the business in the hands of his family who continued to produce porcelain decorations, gifts and souvenirs.
Klette's next-door neighbour were the family of Lothar and Gisela Keilhauer, former employees and friends of Josef Franz Sieber who had a factory in Schwarza an der Saale near Rudolstadt until he was expropriated by the Soviets. Together, the three decided to relocate to Bavaria and settled in Küps. Sieber decided to retire there, but the Keilhauer's established a new business specialized on lace figures. As both the Keilhauer and Klette businesses were close together and both only produced a medium number of items, they started to share the production facilities as to increase efficiency and reduce overall costs.
So both businesses stated house #23 on Zettlitzweg as factory address, which was completely normal but did not match their business address, which obviously confused many people over time. Keilhauer's had their business office at Zettlitzweg #21 and used the facilities at Zettlitzweg #23. Karl Klette lived on the premises at Zettlitzweg #23 but had a showroom and office straight across the road at Zettlitzweg #20. The latter was eventually abandoned and made room for the building which from 2007 housed Oechsler Ceramics, an industry supplier.
Comment(s)
For years it has been incorrectly claimed that the "Original Germany" mark shown below was from 1962 onwards used by the ⇒Porzellanstudio Martha Budich from Kronach (Bavaria). This definitely wrong claim is based on an entry in the Roentgen book of marks. Danckert in his book Handbuch des Europäischen Porzellans (1992) mentions the same connection but notes "as stated by Roentgen". Roentgen's error has been reprinted over and over again (even in a 2007 edition, see ⇒Book Errata), which clearly shows that the people responsible for updates and reprints are not doing their job.
The official German Patents and Trademark Office (Deutsches Patent- und Markenamt, short D.P.M.A.) clearly shows that the registration filed on September 20th 1962 and registered on November 25th 1963 under registration №·780·306 belongs to Karl-Heinz Klette. This trademark entry was renewed on September 21st 2002 and finally expired in September 2012; it was officially deleted from the registry on October 1st 2012. One can look this up (free of charge) via the ⇒D.P.M.A. website very easily as they also have an English user interface. If you do not want to go through all that, you can also look at this ⇒PDF copy of the registry data.
That aside, let me quickly explain the "certificate" which is often included when people want to resell Karl Klette items. It is claimed to prove that the items were "genuine Dresden items", which is of course nothing but codswallop; it merely guarantees that the item is an original Karl Klette piece and mentions that their trademark stands for the "old Dresden tradition" of high quality in production and decoration. No more, no less.
Marks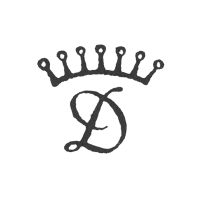 Image 1-01
Used from 1952 until 1962, basic mark view.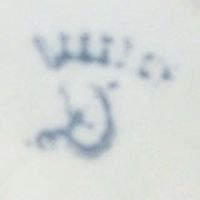 Image 1-02
Used from 1952 until 1962, mark example in blue.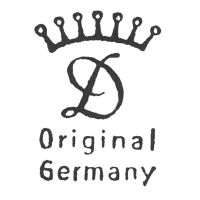 Image 1-03
Used from 1962 until 1990, basic mark view.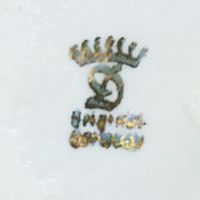 Image 1-04
Used from 1962 until 1990, here a double-stamped version.
(Picture by Sabrina)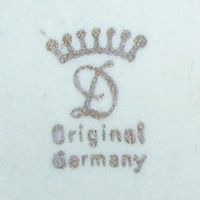 Image 1-05
Used from 1962 until 1990. Marks from this period were applied in gold ...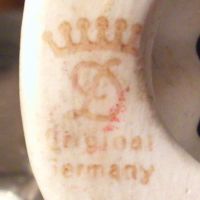 Image 1-06
... or in a reddish brown, like this example.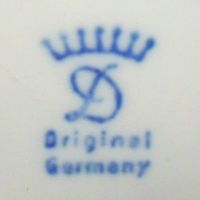 Image 1-07
Used from 1990 until 2012, marks from this period were always applied in blue.
Image 1-08
Used from 2000 until 2012, crowned 'K' for 'KLETTE', all in blue.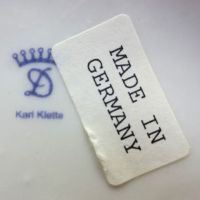 Image 1-09
Used from 2002 until 2012, crowned 'D' above 'KARL KLETTE', all in blue.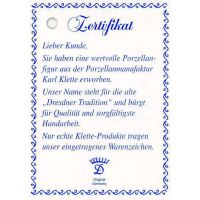 Image 1-10
Example of the most commonly used certificate.
(Picture by Karl Klette company)
© 2004-2022 C.S.Marshall, all rights reserved