Burgwindheim
[1] : Glas- und Porzellan-Manufaktur Theo Kühn (1958 until 1998)
The business started off as a two-man enterprise in 1958 in a 100 square meters single room, manufacturing souvenirs and related products, finally being able to proudly look at a company sign in front of a basement in München-Milbertshofen in 1959. This represented the first steps in a wonderful future; the new location offered 350 square meters for the now 15 employees, which was followed by another move to München-Garching, this time expanding to 1,000 square meters in 1973. In the year 1984 the final move to Burgwindheim followed after finding a new building with 1,200 square meters.
The new building grew even larger after including an own factory for silk-screen printing three years later, followed by a further expansion of the main building by another 400 square meters in 1991. The last expansion was needed to house the newest computer aided printing machines needed to cover the demand of high quality silk-screen lithophanes for decoration purposes. With a total workforce of over 40 people, the factory now produces high-quality gift porcelain and glasswares, including simple mugs up to complete dinner sets with personalized decorations.
[2] : Glas- und Porzellan-Manufaktur Theo Kühn, Inh. Klaus Kühn (1998 until 2005)
Theo Kühn officially retired on January 1st 1998 and the small factory was taken over by his son Klaus Kühn who continued the business up until the year 2005.
[3] : Glas- und Porzellan-Manufaktur Theo Kühn e.K. (2005)
On September 14th 2005 the business was taken over by Theobald Kühn but the homepage came down shortly afterwards. As far as I know the business closed after the product rights had been sold to the Merkle & Sykora G.m.b.H. from Neu-Ulm in Baden-Wuerttemberg which continued to sell items from that deal as '... Items from the former factory of Theo Kühn ...' via a special catalog on the Merkle & Sykora website (still present in April 2011).
Marks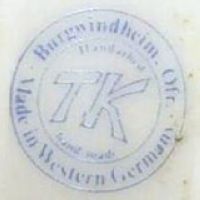 Image 1-01
No date known but probably the last version used. This mark also exists in both black and blue versions.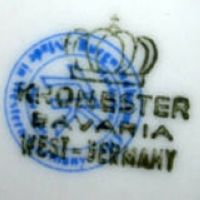 Image 1-02
No date known, an open mark version barely hiding the original
J. Kronester
mark from around 1969.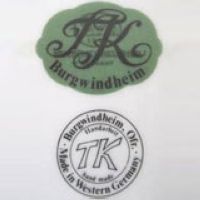 Image 1-03
No date known, version with additional
⇒cover-up
mark barely hiding the original
Lorenz Hutschenreuther
mark introduced around 1970.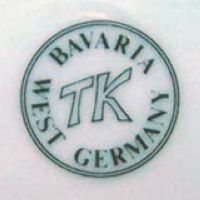 Image 1-04
No date known, note that it says 'WEST GERMANY'.
(Picture: Cindy Danielski
& Cathy Laaksonen)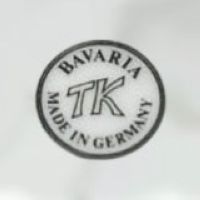 Image 1-05
No date known, this time with 'MADE IN GERMANY'. This mark is found in either black and blue.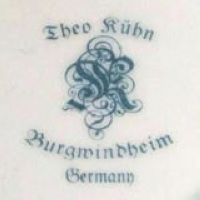 Image 2-06
No date known, main mark above 'GERMANY'.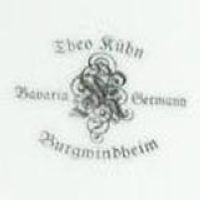 Image 2-07
No date known, this time with 'BAVARIA' and 'GERMANY' on either side of the main mark.
© 2004-2023 C.S.Marshall, all rights reserved