Chicago
[1] : A.G. Burley & Co. (1838 until 1871)
In 1838, Arthur Gilmore Burley (*1812, †1897) established his crockery, stone and earthenware business on 161 Lake Street. Around 1844, it had relocated to 105 Lake Street, selling china, glass, earthen- and stoneware as well as looking glasses. Eventually, he started to import more and more items and teamed up with businessman Tyrrell.
[2] : Burley & Tyrrell Co. (1871 until 1907)
Business greatly expanded following the change and Burley & Tyrrell became the largest importer of china and glassware. Importing and distributing German porcelain at first, they began importing Bohemian porcelain, for example from Moritz Zdekauer, around 1880. In 1883, the retail portion of the business was sold to a nephew who ran his business under the name of Burley & Co., meaning that both companies existed side-by-side for a while.
[3] : Burley & Co. (1884 until 1923)
This business branch had previously started off as decoration studio and was located on Wabash Avenue. It was specialized on china decorating and monogramming and later also designed items, for example the so-called "Chicago Pitcher".
Burley & Co. was heavily involved in china decorating from 1885 imported British Minton and distributed Haviland, Copeland-Spode and John Maddock as well as Smith-Phillips and Union Porcelain china. The company also sold various blanks to Pickard. Other areas of business included an own department for durable hotel supplies, many of which were created at the Mettlach factory of Villeroy & Boch. Burley & Co. furthermore supplied china to at least six railroads beginning in 1891 as well as the Cloverleaf Steamboat Line around 1900.
Following the death of A.G. Burley in 1897, business of Burley & Tyrrell slowly declined. His nephew eventually decided to take over and rejoined both companies in 1907. The united Burley & Co. remained highly successful during the next years, but it was decided to sell the company to Albert Pick & Co. in 1919. The deal was complete by 1923.
Comment(s)
People often believe that the company changed their location very often, something implied by the various house numbers one may find. Fact is that the regular department store, located at 83 & 85 State Street, was specialized on porcelain, pottery and glassware. Other company parts were however located at 77,79 & 81 as well as 145-147 State Street.
The scope of marks shown here is relatively small; next to those applied by Burley & Tyrrell and Burley & Co. themselves, the manufacturers supplying both companies used a wide array of customized marks or additions. Showing all of them here would be fruitless as the shown dates would all be the same due to the fact that nobody can say when a given mark version was actually used.
Marks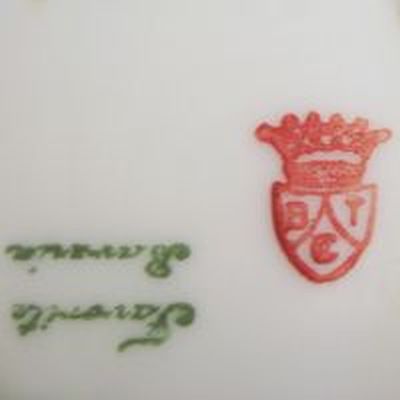 Image 2-01
Used between around 1891 and 1907, Red version on a 'FAVORITE BAVARIA' item from
Lorenz Hutschenreuther
(Selb, Bavaria).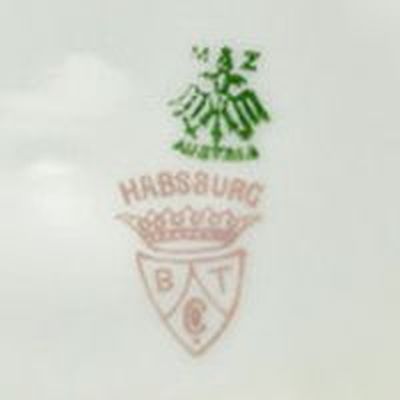 Image 2-02
Used between around 1891 and 1907, Here the 'HABSBURG' version used on items made by
Moritz Zdekauer
(Altrohlau, Bohemia).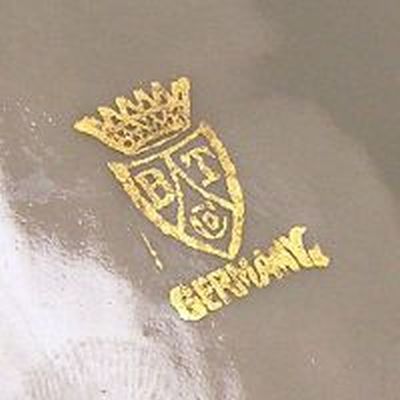 Image 2-03
Used between around 1891 and 1907,
Roentgen
incorrectly claimed this to be an 'unidentified 20th century Bavarian decorator mark'.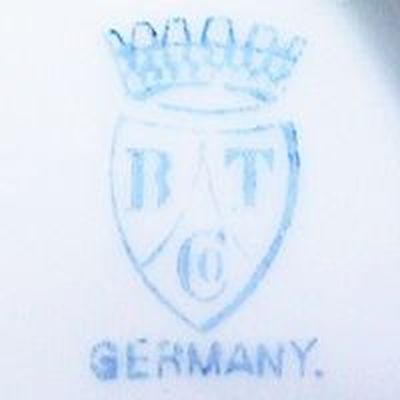 Image 2-04
Used between around 1891 and 1907. Same as before, here in a hard to find blue version.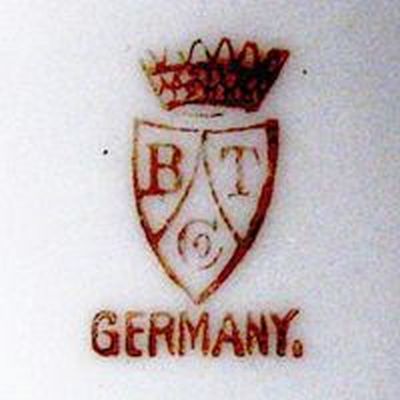 Image 2-05
Used between around 1891 and 1907. Same as before, this time the more frequently found red version.
(Picture by Jennifer Smith)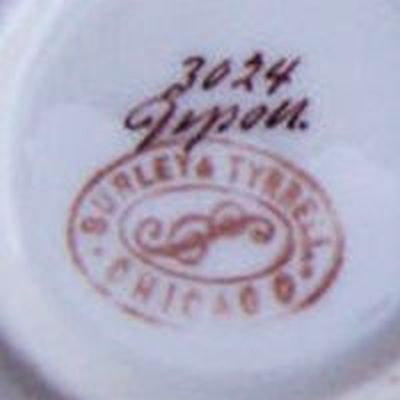 Image 2-06
Used between around 1891 and 1907, a completely different mark on an item from the
⇒Erdmann Schlegelmilch
factory.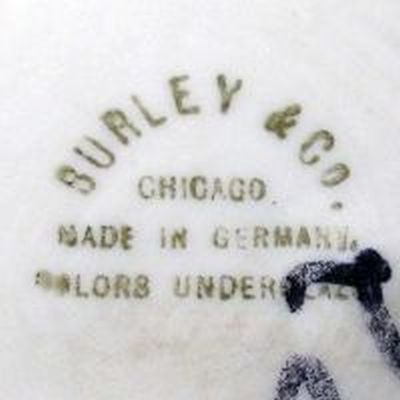 Image 3-07
Used between around 1891 and 1923. 'BURLEY & CO.' and 'CHICAGO' above 'MADE IN GERMANY' and 'COLORS UNDERGLAZE'.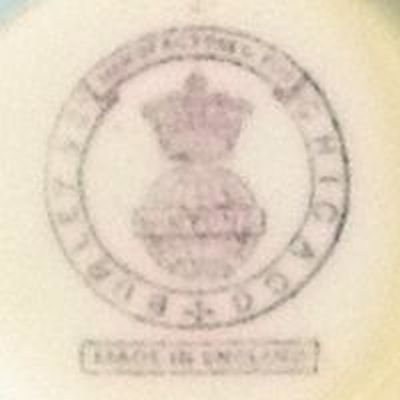 Image 3-08
Another example of a mark used between 1884 and 1923: customized 'CHICAGO - BURLEY & CO.' setting on a
Minton
item.
(Picture by jofalls)
© 2004-2023 C.S.Marshall, all rights reserved