Olomuczan (Olomučzany):
[1] : Majolika- und Steingutfabrik Gebrüder Schütz (1854 until 1917)
The brothers Arnold and Ludwig Richard Schütz had been watching the development of majolica- and stoneware production in the area of Moravia and decided to either invest in one of the factories there or even join a company as partners. After meetings with various manufacturers they received an offer to completely take over an existing stoneware facility in the small town of Olomuczan near Blansko as the owner wanted to retire and had no family that could continue his work. As Arnold was working as a lawyer and Ludwig Richard was a chemist they decided that it would be worth a try even if they still needed a lot of experience.
And so they purchased the factory and registered the new business in 1854, at first concentrating on stoneware with more rustic designs and eventually gathering more experience with majolica and its possibilities based on their friendly contacts to various artists and designers. Soon afterwards the company already employed three designers and even opened a special art- and decoration department in Vienna. This helped to further increase their contacts with renown artists and resulted in a wide array of beautifully designed decorations, like plates, vases, figures and centrepieces.
The new product range was an instant success and in 1870 the brothers founded a subsidiary as to cope with demand; the 'Majolika-, Steingut- und Schamottefabrik Gebrüder Schütz' was located in Liboje near Cilli in the former area of the Lower Steiermark because the area offered all the required resources like clay and feldspar. It should be mentioned here that the main market of the company was Austria and Germany as well as the surrounding countries and items directly marked for overseas export are relatively hard to find.
But the success over time also put a large amount of stress on the brothers who started to disagree mainly in the composition of the product range. The solution they found was simple and they split the company in 1889, enabling each of them to continue on his own. Even though the companies were (re)registered as standalone companies in 1900 it should be mentioned that they did not part in anger, actually the opposite was the case: after the clean cut in business, they started a friendly competition as to prove who would 'win' in the long run.
Many people say that this step actually brought out the best in both of them; the resulting items belong to the best examples from that period and region. But during the war it became more and more obvious that the areas formerly belonging to Austria would reach an independent status after the conflict and the future of business in those areas was uncertain. After meeting in Vienna, both brothers decided it would be best to sell the facilities and retire, thus both factories closed in 1917.
Marks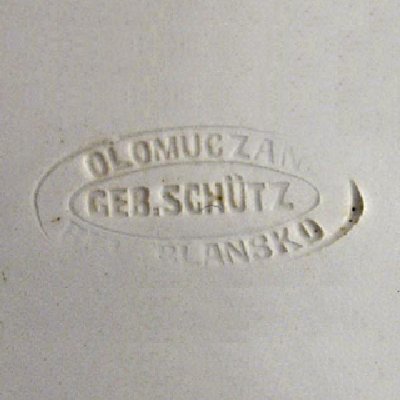 Image 1-01
Used between 1854 and 1900, 'OLOMUCZAN' over 'GEB. SCHÜTZ' over 'BEI BLANSKO'.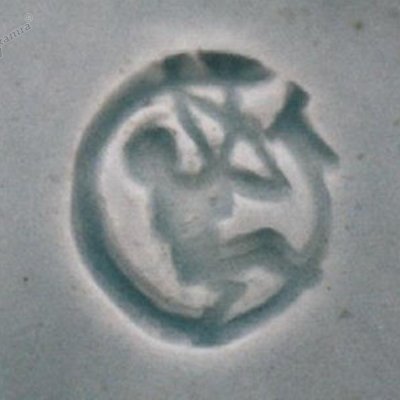 Image 1-02
Used between 1854 and 1900. Perfect example of the export mark, a kneeling archer (German: 'Bogenschütze') in a capital 'G'.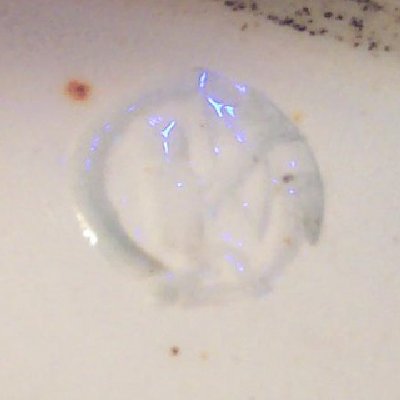 Image 1-03
Used between 1854 and 1900, a faintly impressed version.
(Picture by Nancy Harris)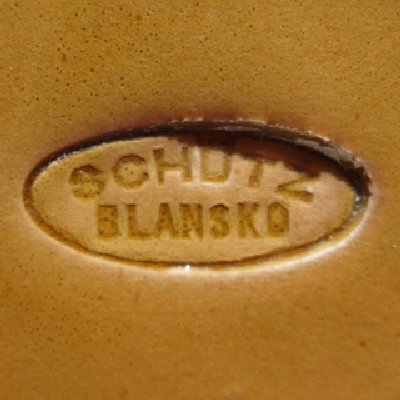 Image 1-04
Used between 1854 and 1900, one of the few items produced from 1897 onwards which show 'Made in Austria'.
(Picture by Brian Williams)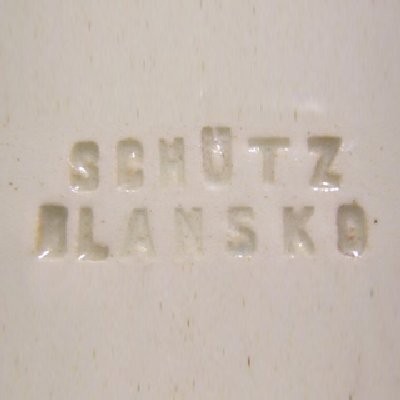 Image 1-05
Used after 1900, oval containing 'SCHÜTZ' over 'BLANSKO'.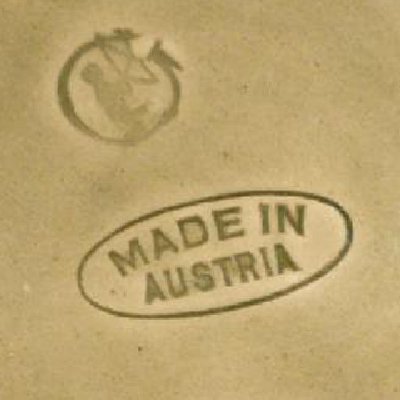 Image 1-06
Used after 1900, the marking simply states 'SCHÜTZ' over 'BLANSKO'.
Image 1-07
Used after 1900, same as before: 'SCHÜTZ' over 'BLANSKO' (next to the mold number '824').
Image 1-08
Used after 1900, here the version simply showing 'SCHÜTZ' over 'CILLI'.
© 2004-2023 C.S.Marshall, all rights reserved