Meretitz (Miřetice) near Klösterle (Klášterec)
Tonwaren- und Steingutfabrik August Wolf & Co. (1910 until 1913)
August Wolf established his business as earthenware and stoneware factory. It was constantly bothered by financial problems due to quality issues and was not very successful, leading to its early demise.
Porzellanfabrik W. Tuma (1913 until 1918)
The factory was sold to Wenzel Tuma in the year 1913. At that time the factory gave work to around 60 people and a few minor changes to the kiln finally improved output quality.
Porzellanfabrik Tuma & Vielgut (1918 until 1921)
During the First World War, overall business of course deteriorated. The factory would probably not have been able to survive if Oskar Vielgut had not decided to join company as financial backer. In this context it should be noted that Vielgut joined two independent businesses in short succession, the other being ⇒Porzellan- und Steingutfabrik Gottfried & Vielgut. Both merged into the ⇒Vereinigte Porzellanfabriken "Porzellan-Union" A.G. association in the year 1921. It was however only a short intermezzo: already in 1927 the Porzellan-Union merged into its former main competitor, the ⇒EPIAG.
Marks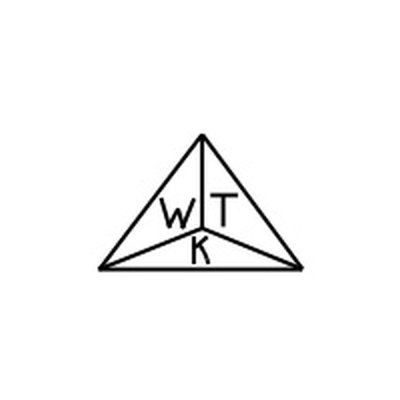 Image [1.01]
Used between 1913 and 1918 with the initials 'WTK' for 'Wenzel Tuma, Klösterle'.
© 2004-2023 C.S.Marshall, all rights reserved