Reichmannsdorf
[1] : Porzellanfabrik Leube & Co. (1881 until 1964)
The factory was founded by Hermann Leube and two partners in 1881 and started off with decorative porcelain including figurines, toys and dolls mainly for export purposes. Until now the names of these two partners are not known, but it may have been the brothers Anton and Bernhard Apel who together with Bernhard Wagner and Anton Leube founded the ⇒Porzellanmanufaktur Wagner, Apel & Leube in 1883 where Leube was partner until 1901.
But back to Reichmannsdorf: In 1907 his two former partners sold their shares to Hermann Kiesewetter who had joined the company as a partner a little earlier. As Kiesewetter brought in a large amount of money, Leube was able to invest in a second and much larger kiln which was built and optimized between 1908 and 1912. The workforce had constantly increased over time but most workers joined during the same period and by 1913 the company employed 140 workers.
In the year 1917 both Leube and Kiesewetter retired and Leube left the company in the hands of his children with his eldest son Alois as managing director who was responsible for an increase of overall quality and gradually shifted the product range more into the area of figures and especially lace figurines. The very good running business reached its peak workforce during the 1930s, with documents both from 1930 and 1937 showing a number of 150 employees.
During that time the company already exported items to Italy and Spain as well as North, Central and South America and even India, followed by the Soviet Union after 1945. The company must have closed at the end of 1964 as the official register still shows an entry for 1964 but does not show anything for 1965.
Marks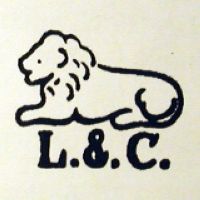 Image 1-01
Used between 1881 and 1945, 'L.&.C.' underneath a resting lion.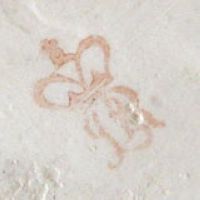 Image 1-02
Used between 1945 and 1964, red version.
(Picture by Bee Boaz)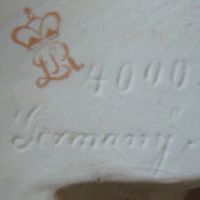 Image 1-03
Used between 1945 and 1964, red version, here with impressed 'GERMANY'.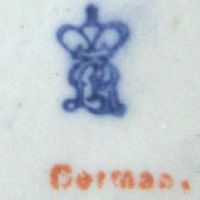 Image 1-04
Used between 1945 and 1964, blue version, here with additional 'GERMANY'.
(Picture by Ned Fleishman)
© 2004-2022 C.S.Marshall, all rights reserved