Neustadt
[1] : Porzellanfabrik Heber & Co. (1900 until 1913)
The factory Heber & Co. was founded in the year 1900 and specialized on a large array of giftware items and figures. When seen in comparison to other manufacturers and products, the items made by this factory were poorly molded and the decoration of many items was relatively sloppy, however the items radiate a certain charm that makes them interesting for some collectors today. The business itself closed down in the year 1913 due to financial problems and there are no further records of what happened to the factory building, Heber or his partners.
Marks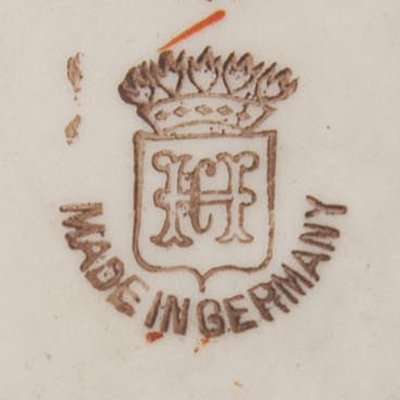 Image 1-01
Mark used between 1900 and 1913, crowned shield with the letters 'H' and 'C' over 'MADE IN GERMANY', blue-ish green version.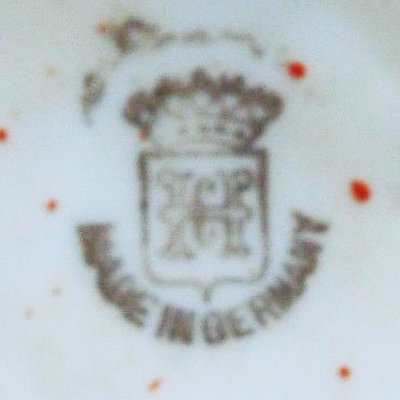 Image 1-02
Mark used between 1900 and 1913, same as before only this time in red.
(Picture by Sally Withers)
Image 1-03
Mark used between 1900 and 1913, here a very smudged example.
(Picture by Jack Falk)
© 2004-2022 C.S.Marshall, all rights reserved