Ilmenau
[1] : Porzellanfabrik Arno Fischer (1906 until 1952)
The smallest porcelain factory in Ilmenau was founded by Arno Fischer on December 4th 1906. Its location was a plot of land on the 'Friedrichstrasse', a road that was later renamed to 'Fischerweg' after Arno Fischer. Main product lines were decorational porcelain including figures, lamps, vases and dishes as well as sanitary items like the typical tabletop washbasins and jugs. Only from around onwards did the company also produce regular household items like regular tableware and coffee sets. In 1913 the factory already employed a hundred workers, a number that remained stable over the years as the records of 1921, 1930 and 1937 show. Arno Fischer was in the year 1921 joined by his son, Gerhard, who took over completely when his father retired around 1930. Gerhard Fischer then teamed up with Josef Klingers as factory manager. A few renown designers worked for Fischer, for example L. Hohlwein or Walter Bosse, the latter being responsible for many successful designs between 1926 and 1939.
Following the war, the product range was changed to provide more urgently needed cheap household items as replacements for items lost during the war. This change in product range also caused a minor increase in the number of employees, it rose to 125 workers in 1949. Fischer disliked the ongoing political changes in the Eastern part of Germany, especially the ideas of a planned economy and full control of factories by the state, and therefore decided to move to West Germany in 1950.
[2] : V.E.B. Ilmenauer Zier- und Werbeporzellan (1952 until 1974)
The factory itself was taken over by a trustee and finally nationalized in 1952. As Zier- und Werbeporzellan, the factory produced a vary large range of ashtrays, small vases and other related items with the respective customer logo and/or slogan. At the same time they produced a number of nut dish sets and the typical trio of cup/saucer/cake plate (commonly known as 'Sammeltassen' or 'Sammelgedeck' items) which customers purchased as presents or giveaways for their customers and contacts.
On January 1st 1961 the factory became part of the V.E.B. Henneberg-Porzellan combine, which in 1973 moved to a new factory in the Eichicht part of Ilmenau. The Henneberg facility was during that process renamed to Neues Porzellanwerk Ilmenau, at the same time all combine members were checked for efficiency. The former Fischer factory had not been modernized ever since its nationalization and therefore was in a desolate state which sealed its fate: it was closed in 1974.
The factory building itself, after various different uses, was finally converted into an apartment house and is nowadays protected by the urban heritage conservation laws.
Marks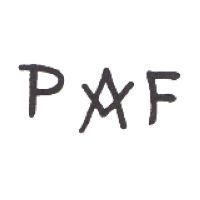 Image 1-01
Used between 1907 and 1926, basic 'PAF' standing for
Porzellanfabrik Arno Fischer
.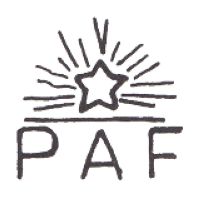 Image 1-02
Used between 1907 and 1926, a slightly modified 'PAF' mark.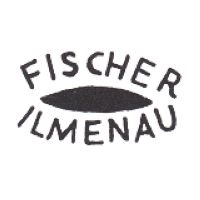 Image 1-03
Used between 1907 and 1952, 'FISCHER ILMENAU' mark used mainly on sanitary items.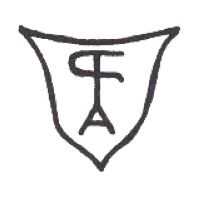 Image 1-04
Used between 1907 and around 1926, first design of the shield containing 'PAF'.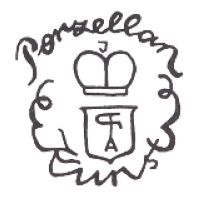 Image 1-05
Used between 1926 and 1952, crowned shield containing initials 'PAF', enclosed by the terms 'PORZELLAN' and 'KUNST'. The 'J' stands for
⇒JLMENAU
.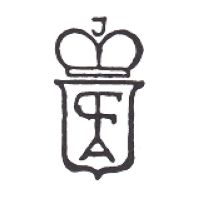 Image 1-06
Used between 1926 and 1952, crowned shield containing the initials 'PAF'.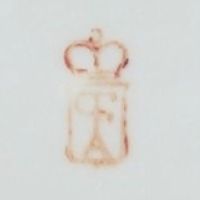 Image 1-07
Used between 1926 and 1952, an example in red.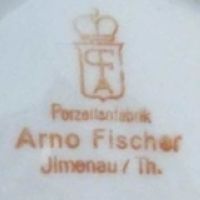 Image 1-08
Used between 1926 and 1952, same as before but with 'PORZELLANFABRIK ARNO FISCHER' and 'JLMENAU / TH.' addition.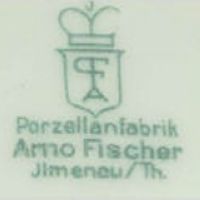 Image 1-09
Used between 1926 and 1952, here another example in green.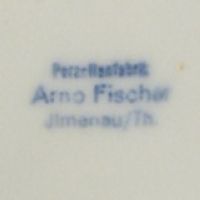 Image 1-10
Used between 1946 and 1952, note that some later items show the addition only, here an example in blue.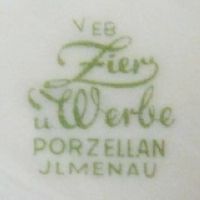 Image 2-11
Used between 1952 and 1974,
V.E.B. Zier- u. Werbeporzellan Ilmenau
mark.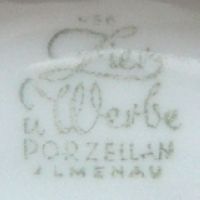 Image 2-12
Used between 1952 and 1974, another example.
(Picture by Ivan Golsky)
© 2004-2022 C.S.Marshall, all rights reserved