Gräfenroda
[1] : Puppenkopfmanufaktur Heinrich Dornheim (1856 until 1860)
In 1856 the designer and model maker Heinrich Dornheim opened a small business specialized on manufacturing doll and animal heads. His small businesss flourished and he was soon contacted by the businessmen Koch and Fischer, who had been planning to open a larger factory but needed someone like Dornheim as they were not capable of creating the required models themselves.
[2] : Porzellanfabrik Dornheim, Koch & Fischer (1860 until 1937)
Of course a larger business could not support itself with doll and animal heads alone and so the first few years saw the factory produce mainly commodities, followed by more luxurious porcelain items and finally a large array of dolls and doll's heads. As their design and quality was far better than from many other manufacturers, the small company won many prizes during the first few years, which of course helped them expand considerably. In 1913 the company already employed 80 workers and could allow itself to only serve a selected group of customers, shifting more and more into the porcelain doll business.
By optimizing the work process, the total of 75 workers in 1930 achieved nearly twice the output of 1913, but the optimized work process mainly affected the production of smaller items. This proved fatal as porcelain as main material for dolls had long started to be replaced by cheaper materials which were not only easier to handle but also required a much shorter production time. Not being able to cope with the changing market even by simply starting the production of luxury porcelain once more, the company saw itself in a hopeless situation.
The exact point of closure is not know and even if some people claim the factory closed down in 1936, the very reliable register of the ceramics industry from 1937 still shows an entry with the company address that is then missing in the next issue thus indicating that the factory closed in 1937.
Marks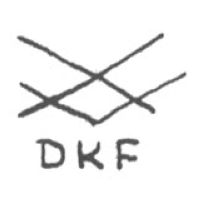 Image 2-01
Used from 1880 onwards in blue or green.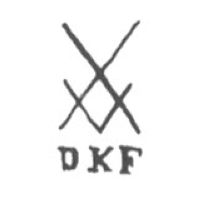 Image 2-02
Used from 1880 onwards in blue or green.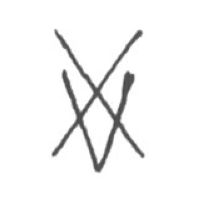 Image 2-03
Used from 1887 onwards in blue or green.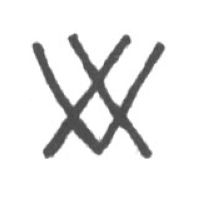 Image 2-04
Used from 1887 onwards in blue or green.
© 2004-2022 C.S.Marshall, all rights reserved