Gotha
[1] : Porzellan- und Fayencefabrik F. Pfeffer (1882 until 1934)
The factory formerly belonged to Heinrich Graeser. Not being able to reach his private goals in time, Graeser sold the whole factory to Fritz Pfeffer (born 1857) in 1882, who used the porcelain and faience factory to produce dolls and dolls' heads with great success. Pfeffer even owned a design patent filed in 1890: the 'Doll Head Design Patent 9675', which included an improvement for doll-heads provided with movable eyeballs and a movable lower lip.
In 1900 Pfeffer started to produce animal figures in the style of the Copenhagen works, which was quite a success. During 1921 the German Mint was not able to produce enough money because of the very high inflation rates and so local officials were allowed to make their own money which was called ⇒Notgeld. The Pfeffer factory was one of the few businesses allowed to produce money in the form of coins for that cause and used a mixture containing mainly quartz, kaolin and feldspar, resulting in the coins to be known just as 'quartz coins' in the area. At the age of 65 Fritz Pfeffer died in 1922. The business continued however, now run by his son Max Pfeffer who strictly followed the ideals of his father. For the next few years, the factory did very well and from 1925 onwards, the artist Arnold Viegelmann (born in München) was the main designer and in 1930 the factory employed around 120 people.
[2] : Porzellan- und Fayencefabrik I. Pfeffer (1934 until 1942)
In 1934 the business went bankrupt mainly because Pfeffer simply did not want to listen to his wife Ilse who had often claimed that his products did not really meet the desire of his customers anymore. She reestablished the business under her own name and continued producing different animal figures and stoneware decoration items. Around 1937 the factory already employed 32 workers again but it never managed to regain its former status and was finally closed in the year 1942.
Marks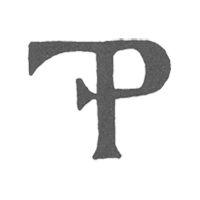 Image 1-01
Used between 1882 and 1934, impressed 'FP' for
Fritz Pfeffer
.
(Picture: Rachel, Pam & Bruce)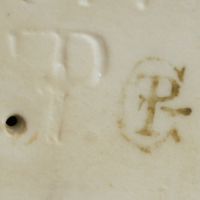 Image 1-02
Used between 1882 and 1934 (left) and 1900 and 1934 (right), impressed and a stamped version on one item.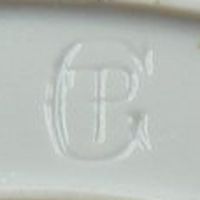 Image 1-03
Used between 1900 and 1934, second impressed mark version 'FPG' for
Fritz Pfeffer, Gotha
.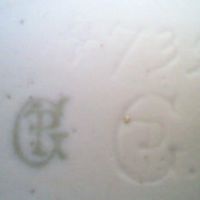 Image 1-04
Used between 1900 and 1934, here a typical stamped green mark in combination with an impressed version.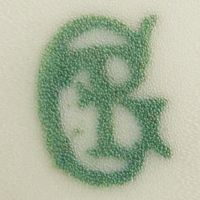 Image 1-05
Used between 1900 and 1934.
(Picture by Paul Jensen)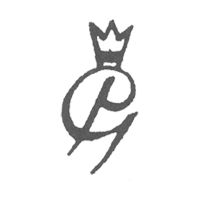 Image 2-06
Used between 1934 and 1942, simple 'PG' for
Pfeffer, Gotha
.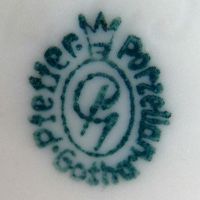 Image 2-07
Used between 1934 and 1942, reads 'PFEFFER PORZELLAN' and 'GOTHA'.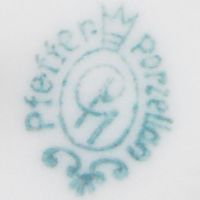 Image 2-08
Used between 1934 and 1942, only reads 'PFEFFER PORZELLAN'. This version is sometimes found with a 'GERMANY' addition.
© 2004-2022 C.S.Marshall, all rights reserved