Eisenberg
[1] : Porzellanfabrik Bremer & Schmidt (1895 until 1973)
Founded in 1895 but not taking up production until 1896, the small company of Bremer & Schmidt started off with normal household items, stapleware and gifts. They soon started to produce finer items like coffee sets and soon had a good reputation for their fine porcelain which further increased after also introduced items decorated in the 'Zwiebelmuster' (Blue Onion) decoration style around 1905. In 1913, the workforce is mentioned to have reached 150 people, but that number had dropped to 120 in 1930, the same year the company was run by the proprietors Dr. Schmidt and a Mr. Knüpfer. Seven years later, the company only had a total of 110 workers and that number appears to have kept stable as the last report from 1949 also mentions 110 workers.
After the company had been put under state supervision around 1958 (which was not the same as being nationalized, as some sources always claim), it worked closely together with the ⇒Porzellanfabrik Kalk G.m.b.H., sharing decoration styles for different pieces. This cooperation was forced by the main (silent) partner of both companies, the ⇒V.E.B. Triptis. The cooperation continued until the factory was nationalized in 1973 and was forced to merge with different other companies under the name of ⇒V.E.B. Spezialkombinat Porzellan Eisenberg. The former Porzellanfabrik Bremer & Schmidt factory from this group was closed in 1976.
Marks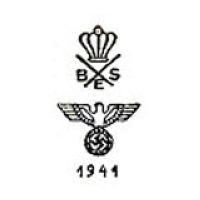 Image 1-01
Used between 1938 and 1945, here showing '1941'.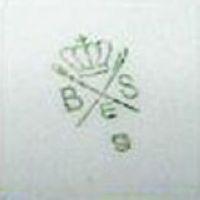 Image 1-02
Used until 1972, green version.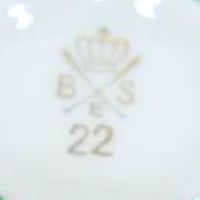 Image 1-03
Used until 1972, gold version.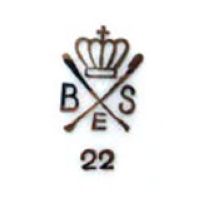 Image 1-04
Until 1972, gold version.
© 2004-2022 C.S.Marshall, all rights reserved