Dresden
[1] : Porzellanmalerei Ambrosius Lamm (1887 until 1934)
Ambrosius Lamm (Lamm, english 'lamb') opened his porcelain decorating business in 1887 and as a perfectionist only used items from renown companies like the Königliche Porzellan-Manufaktur in Meißen. He mainly decorated the items in the well known 'Dresden', 'Meissen' and 'Kopenhagen' styles but around 1906 his speciality was the 'Alt-Dresden' decoration (which represents a special form of flower arrangements) as well as the wide area of Watteau-type decorations and mythology.
[2] : Clara Lamm & Rudolf Pitschke (1934 until 1949(?))
Shortly after the year 1934, Lamm retired and the business was taken over by his daughter together with Rudolf Pitschke who had before worked for her father. They continued to use the same marks but seem to have ventured into other areas as well because in 1943 the K.P.M. Meissen appealed for court intervention as the decoration studio had tried to sell items marked with an impersonation of the crossed swords mark. Remarkably, there is nothing more known about the business and at least one source indicates the business still existed up until 1949 even if the road where the studio was located had been totally destroyed during the Dresden bombings in 1944.
Marks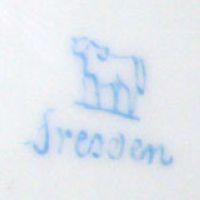 Image 1-01
Used between 1887 and around 1915, registered relatively late at the
⇒R.W.Z.R.
under №·31·963 on July 13th 1898.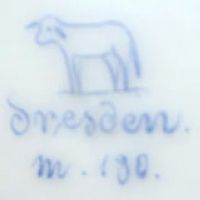 Image 1-02
Used between 1887 and around 1915.
(Picture by David Harwood)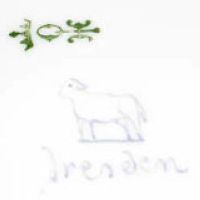 Image 1-03
Used between 1887 and around 1915, clearly shows the original mark of
Hermann Ohme
from Niedersalzbrunn in Silesia.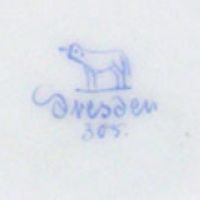 Image 1-04
Used between 1887 and around 1915.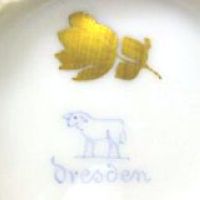 Image 1-05
Another example, this time with golden rose that covers the original manufacturer mark.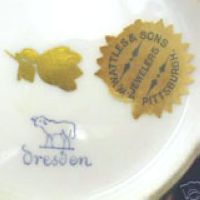 Image 1-06
Same combination as before, this time with a sticker from the jeweler
Wattles & Sons
in Pittsburgh.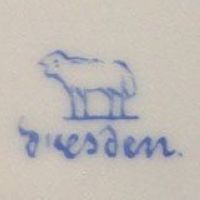 Image 1-07
Closer shot of a previously mentioned mark.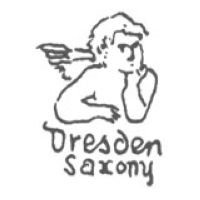 Image 1-08
Another
Lamm
mark registered at the
⇒R.W.Z.R.
under №·127·739 on March 26th 1910.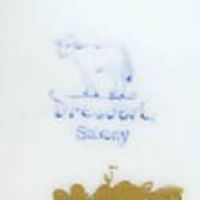 Image 1/2-09
Used from around 1915 onwards, note the 'SAXONY' addition.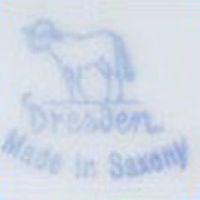 Image 2-10
This version with 'MADE IN SAXONY' is claimed to have been used after 1934.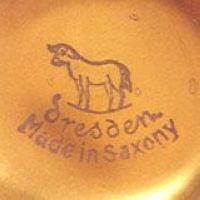 Image 2-11
Same as before but on a completely gilded background this time.
© 2004-2023 C.S.Marshall, all rights reserved