Ransbach-Baumbach
[1] : Zinngiesserei Johann Übelacker (1909 until 1915)
In 1909, the pewterer Johann Übelacker opened a small business where he at first only sold pewterware. Based on his own personal interest, he soon tried combining pewter and stoneware elements, similar to the common beer stein.
[2] : Zinngiesserei & Zierkeramik Übelacker (1915 until 1955)
He became quite successful in that area and also started to sell additional terracotta items, finally resulting in a wide array of ceramic goods after World War II. From then on he followed technical innovations very closely and utilized them whenever possible, enabling the factory as one of the first in Germany to mass-produce the first glazed items using selenium-red coloring in 1954. Working together with his three sons, who had learned the trade right from childhood, the selenium-red glazing was last innovation Übelacker personally introduced before he died 1955, leaving the business in the hands of his sons.
[3] : Übelacker Zierkeramik (Ü-Keramik) (1955 until 1990)
After his sons took over, the already impressive product range increased, including ceramic commodities as well as ornamental items - for example, the catalog issued in 1958 showed 25 different vases (excluding wallpockets and vase/pitcher combos) that were available in 66 sizes and with 15 different designs.
Keeping a little ahead of times with introducing new shapes and decorations, the Übelacker brothers always had items already available when the demand switched. Especially from the mid-60s into the mid-70s, this aspect helped to ensure a wide basis of long-term customers carrying the business through later years.
A fairly large portion of the products was exported to Austria and Scandinavia, still being very popular there even after the main craze for such items had boiled down in Germany. But then their luck run out in the late 1980s and a larger investment in the Republlic of Ireland left them fighting with financial problems, finally forcing the company to file for bankruptcy in 1990.
Marks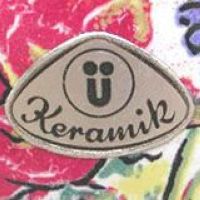 Image 3-01
Version of the sticker used around 1957
(Picture submitted by pyrology (Karen))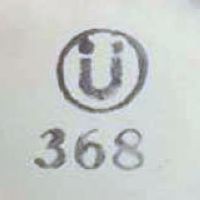 Image 3-02
Older version of the stamped mark from around 1960.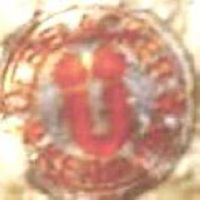 Image 3-03
Version of the sticker used around 1962
(Picture by Melissa McDowell)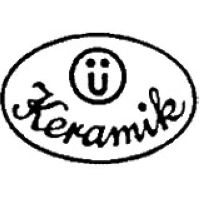 Image 3-04
Basic design of the sticker/mark from around 1965 (some say 1968).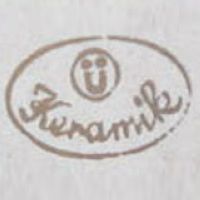 Image 3-05
Here the stamped mark which was not used very often ...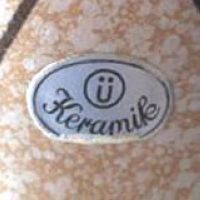 Image 3-06
... and here an example of the sticker version.
© 2004-2023 C.S.Marshall, all rights reserved