Oberkassel bei Düsseldorf
There really is not much information on this company and at first there was quite a confusion with another factory in Mannheim-Käfertal that not only carried nearly the same name of ⇒Rheinische Porzellan-Fabrik G.m.b.H.. However the name itself was purely coincidal and there was no connection between these two companies.
[1] : Rheinische Porzellan-Manufaktur Oscar Erck (1861 until 1882)
In 1861 Oscar Erck founded the porcelain factory in the small town of Oberkassel near Düsseldorf, specializing on household items and decorational pieces as well as a small range of lamps.
[2] : Rheinische Porzellan-Manufaktur L. Herrmann (1882 until 1905)
The factory was taken over by L. Herrmann in 1882 who continued use of the basic mark itself and only changed the initials shown. With only 78 employees recorded for the year 1890, the factory mainly produced household items and beer steins but also manufactured a wider range of lamps and lithophanes which received various gold medals. Overall business however was not very good and the company was forced to close in 1905.
Danckert in his book Handbuch des Europäischen Porzellans from 1992 states that the Adreßbuch der Karamikindustrie claimed that the company ceased existence before 1913. For clarification: 1905 logically was the last year the company reported any data and it took a few years before someone noticed and checked on them, a common flaw with that type of publication.
Marks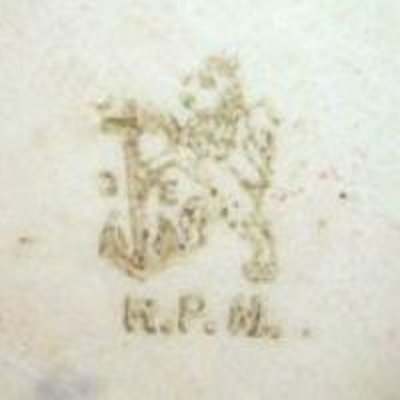 Image 1-01
Used between 1861 and 1882, initials 'O.' and 'E.' flanking the anchor. Registered at the Royal District Court in Krefeld on February 9th 1882.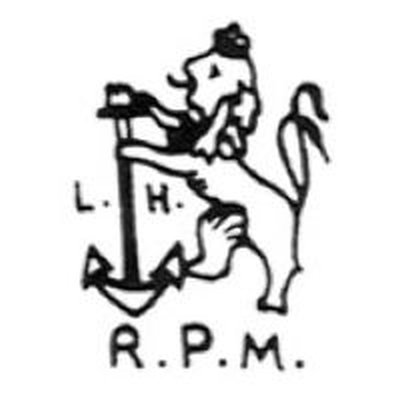 Image 2-02
Used between 1882 and 1905, note the initials 'L.' and 'H.' flanking the main stem of the anchor.
© 2004-2023 C.S.Marshall, all rights reserved