Dransdorf (Bonn-Dransdorf)
[1] : Wessel's Wandplatten-Fabrik (1896 until 1921)
Carl Ludwig Wessel had resigned as director and board member of the ⇒Porzellan- und Steingutfabrik Ludwig Wessel G.m.b.H. & Co. shortly after the transformation into a limited company and was director of the supervisory board. With his knowledge of the market and based on the experience in producing wall tiles he started to concentrate on the founding of a new company and on August 13th 1895 applied for permission to build the facility in the Dransdorf area belonging to the town of Bonn which was granted, enabling him to produce glazed wall tiles from 1896 onwards.
The basic installation consisted of the standard buildings and a single boiler from Büttner & Co.. The facility also had two steam engines in combination with two other boilers. First expandations were made in 1899, adding a glaze smeltery as well as a warehouse and a few other buildings. In 1906 a porter house was built, followed in 1912 by a new chimney and boiler room for a new Heinrich Lanz steam engine and at the same time the two original round kilns from 1896 received thermal insulation to reduce the heat loss. Shortly after that, Carl Ludwig Wessel resigned and his son Wilhelm Wessel took over.
[2] : Actiengesellschaft Wessel-Werk A.G. (1921 until 1957)
As business did not look good during 1921 Wilhelm Wessel transformed the company into a limited company. The second facility upgrade during 1925 saw the installation of a second glazing smelter as well as the re-fitting of the two kilns that from now on used gas. In addition, two new gas-heated round kilns and a generator building were built. In 1933, two boilers were converted to work together with a larger steam engine. During 1938 the company took over the Otto Kaufmann KG in Niedersedlitz near Dresden and in 1940 took over the main shares of the Witterschlick Servais Werke A.G. in Alfter-Witterschlick near Bonn. By using these two company parts, no new expansions of the Dransdorf plant were needed until after World War II.
After 1945, the facility had to be partly rebuilt because of war damage and at the same time expanded and was modernized. Because many eastern parts of Germany had been lost during the war extensive research in the vicinity of the facility showed that there were deposits of usable base materials near Meckenheim. In 1956 Wilhelm Wessel founded a subsidiary, the Kervit G.m.b.H.. This company bought the raw tiles in Dransdorf and based on the work of highly skilled craftsmen produced some of the best and most beautiful wall tiles of that time. In the same year the neighboring company Gebrüder Bornefeld which had produced patent leather went bankrupt and so Wessel bought the complete premises on March 12th 1957 and had the buildings converted into showrooms. Directly after that Wessel transformed the limited company back to a normal company again. At that time the company had a workforce of around 700 people.
[3] : Wessel-Werk G.m.b.H. (1957 until 1989)
Two years later Wilhem Wessel retired and Nikolaus Fasolt became general manager. Wilhelm Wessel died at the age of 81 on May 19th 1967 and only two months later on July 30th a huge fire started in one of the warehouses, wrecking a great deal of the production plant and greatly decreasing production capacity. But by 1969 the facilty was as good as new and already had a workforce of 650 people again.
[4] : Agrob Wessel Servais A.G., later 'Agrob Buchtal G.m.b.H.' (1989 until ...)
During 1989 the company merged with two others and the wall tile facility remained in use as a part of the former Agrob Wessel Servais ⇒A.G. which was also just known as A.W.S. A.G.. That company was formed by the Agrob A.G. from Ismaning near Munich (Bavaria), the Wessel-Werke ⇒G.m.b.H. and the earthenware manufacturer Witterschlick Servais Werke A.G.. After being successful as A.W.S. A.G. for some time, the firm was converted back to company status and became the Agrob Buchtal G.m.b.H..
Comment(s)
The first two marks shown here were not used on wall tiles but on products ordered at the Poppelsdorf main factory by Wilhem Wessel as presents for his customers, so they are hard to find. A similar but less detailed mark than the one on the left was used as impressed version on a few special tile series. Next to the various named Wessel tile backs one can also find one with a simple 'BONNA' version used mostly on thin-body tiles; the name was not really used much but was nonetheless registered by Wessel. Note that many of these 'BONNA' thinbodies carry handpainted decorations by an artist with the initials 'M.K.'. Some sources by the way indicate that 'BONNA' was probably only registered to annoy the ⇒Steingutfabrik Franz Anton Mehlem which had around 1918 started to use the name 'BONNA' for a kitchen product series.
Marks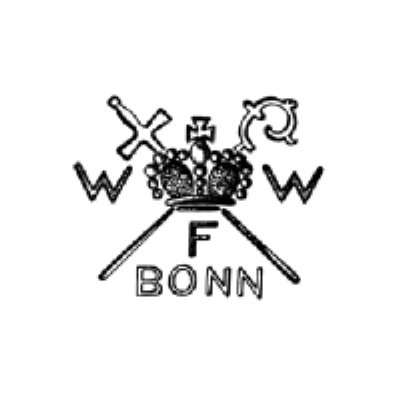 Image 1-01
No date known. The initials 'W W F' stand for
Wessel's Wandplatten Fabrik
.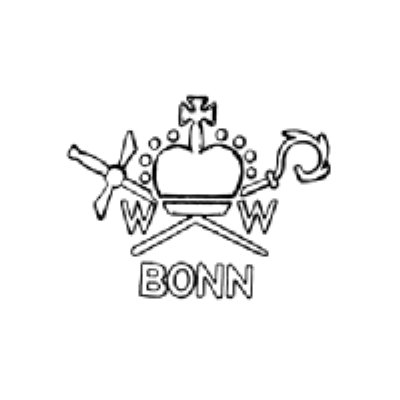 Image 2-02
No date known. It is thought the two initial 'W's stand for
Wilhelm Wessel
but they could also just stand for
Wessel-Werk
.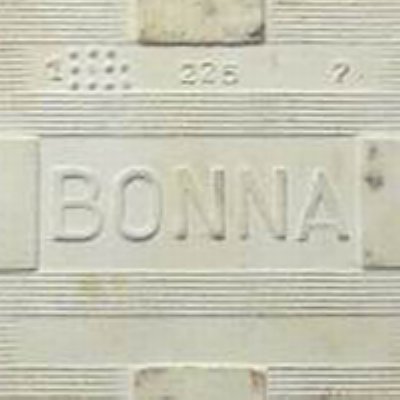 Image 2-03
Used from around 1920 until around 1930, tile backing reading 'BONNA'.
(Picture by carolkp)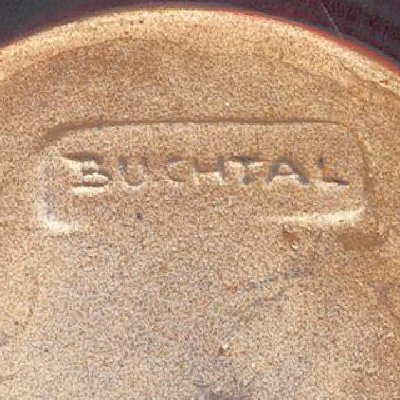 Image 4-04
No date known. Impressed mark used by the Buchtal factory on a hard to find vase.
(Picture by Suzan Hamer)
© 2004-2021 C.S.Marshall, all rights reserved