Darmstadt
[1] : Porzellan- und Feinsteingutfabrik Max Roesler A.G., Werk Darmstadt (1923 until 1931)
This subsidiary was founded during a spree of economic upturn by the mother company of ⇒Porzellan- und Feinsteingutfabrik Max Roesler A.G. from the town of Rodach in Bavaria. Production started in 1924 after extensive conversion of the facility, formerly the Großherzogliche Keramische Manufaktur G.m.b.H. which had been acquired in 1923. At the same time the mother company also took over the woodworking plant Holzwarenfabrik Ludwig Eckhardt in Hildburghausen to increase furniture (!) production.
But the economic upturn did not last long, and during 1926 all parts of the business were running badly again. Even the small recovery during 1927 and 1928 did not help to strenghten the company against what was still to come. In 1929 the subsidiary, as well as its mother company, were of course negatively affected by the worldwide economic crisis and in 1931 the factory in Darmstadt had to be closed again.
Marks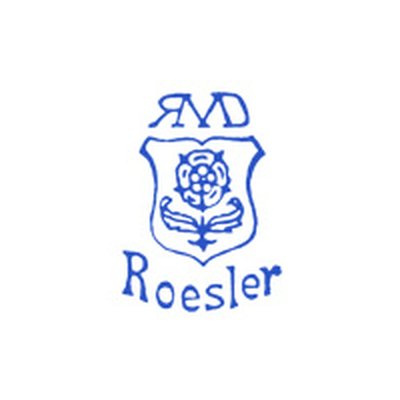 Image 1-01
Used between 1924 and 1931, a modified version of the 'R-M-R' mark showing 'R-M-D' above the shield with 'DARMSTADT' underneath.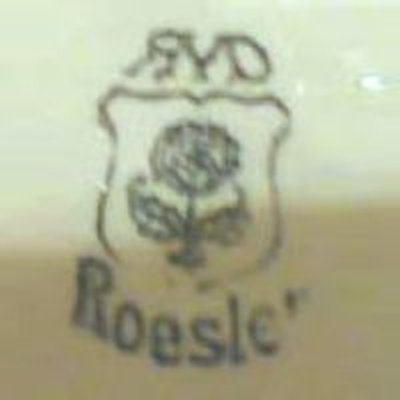 Image 1-02
Used between 1930 and 1931, registered at the
⇒R.W.Z.R.
under №·416·590 on March 31st 1930.
(Picture by Ann Walker)
.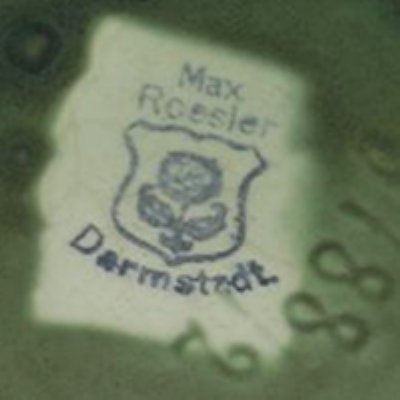 Image 1-03
Another picture of the previous mark, 'MAX ROESLER' above shield and 'DARMSTADT' underneath.
(Picture by Elke Träger)
.
© 2004-2023 C.S.Marshall, all rights reserved