Elsterwerda
I would like to thank Mr. Fritz Lothar Wulf for supplying some additional information which enabled me to improve this page.
[1] : Steingutfabrik Elsterwerda G.m.b.H. (1900 until 1972)
The small factory was founded in 1900 right between the arms of the rivers Pulsnitz and Black Elster by a Mr. Korsukewiez who over the years slowly but surely increased the capacity until he employed up to 200 people in the 1920's and 30's, although some other sources claim that the factory had a peak of 400 workers during 1925.
Many famous designers and sculptors worked at the factory, for example the designer Ursula Fesca who worked there between 1928 and 1931 or other well-known artists like Siegfried Möller, Grete Gottschalk and Franz Eggert. Next to normal household items the factory also produced ceramic clocks during the Art Deco period and one of the decoration styles used is a typical example for a combined airbrush and stencil technique used during the mid-thirties.
It should be noted that next to the shown marks from the period between the two wars the factory also used either the word 'ELSTERWERDA' in a circle or simply a stamped 'Elsterwerda ⇒handgemalt' and in a large number of cases the items were left unmarked and only received a simple sticker. After the end of WWII some of the machines and kilns were disassembled and sent to the Soviet Union as part of the reparation agreement.
Sadly, that is also the time where the whole company archive went missing; it is believed that it was either destroyed or (more probably) taken away with the machinery. Also shortly after WWII the factory mark was replaced by a stamped ⇒V.V.B. Elsterwerda which was then used until the 'V.V.B.'-based structure for grouping nationalized companies was slowly abandoned in the early to mid-1950s in favour of the linear '⇒V.E.B.' approach.
[2] : V.E.B. Steingut Elsterwerda (1972 until 1990)
The nearly gutted factory was barely operational after the founding of the German Democratic Republic but slowly recovered, soon to catch up on its former production numbers. In 1972 the factory was nationalized and renamed to V.E.B. Steingut Elsterwerda; it gave work to over 400 people during peak times and continued production until German Reunification in 1990.
[3] : Elsterwerda-Keramik G.m.b.H. (1990 until 2004)
In 1990 the company was re-privatized and the process lead to massive layoffs with mere seven workers remaining. The factory was restructured and refitted, mainly using company inventory purchased from the closing ⇒Ulmer Keramik Hans Sauer from the town of Ulm (Baden-Württemberg). A short time later the factory was once again fully operational and produced tableware, employing 40 people.
All seemed in vain by the end of the 90's however because the business had to file for insolvency. An investor from West Germany saved the business and the company was able to continue; items were marked 'Meissen Land' and carried a stylised magpie in a circle (please note that I have so far not been able to get a picture of this type of mark!).
But luck was running out and in the year 2003 the company was again threatend by bankruptcy and the remaining 26 workers believed that this time it would be final. Located in Lower Saxony, the successful Clou & Classic ⇒G.m.b.H. company (dealing with glass, cutlery and other tableware) had been looking for a new production facility and stumbled over the Elsterwerda facility by coincidence. In a last minute deal the company saved the Elsterwerda factory which was re-founded as Clou & Classic Ceramics G.m.b.H. Elsterwerda during the first two weeks in February 2004.
[4] : Clou & Classic Ceramics G.m.b.H. Elsterwerda (2004 until 2005)
Utilizing the distribution channels of the Clou & Classic main company the Elsterwerda factory produced 80 percent of its output for pure export purposes and its customers were located in 91 different countries. But a short time later the factory was seen as too inefficient and unable to cope with the international market and at the end of the year 2005 the factory was closed and the machines were sold to various companies in Eastern Europe.
[5] : Clou & Classic Porcelain Company Germany G.m.b.H. (2005 until ....)
Clou & Classic as company continued under the proprietor Ms. Anneke Bongert without itself manufacturing items and offers a small variety of cutlery, glass, candle holders and porcelain tableware produced by various suppliers (last checked: April 2011).
Marks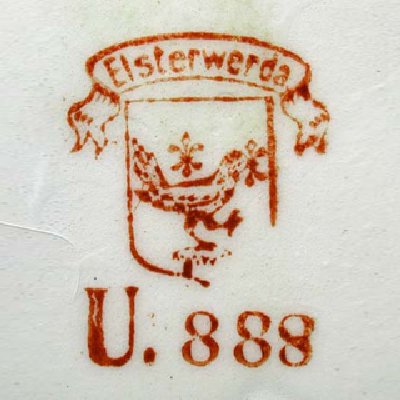 Image 1-01
Used between 1900 and around 1918, 'U.' = 'Uhr' (clock), the number is a combo of mold and decoration.
(Picture by www.clockarium.org)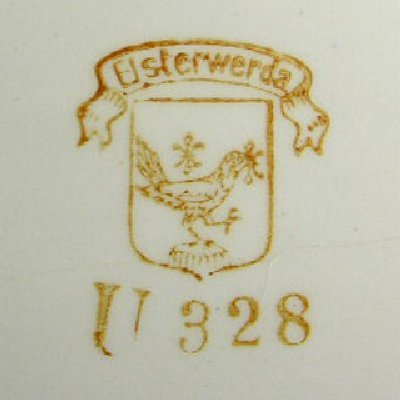 Image 1-02
Used between 1900 and around 1918.
(Picture by Colin Mackenzie)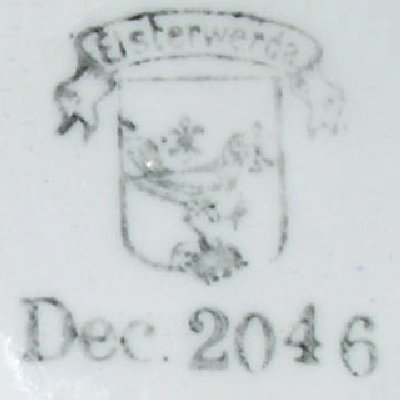 Image 1-03
Used between 1900 and around 1918, black mark. The 'Dec.' stands for 'Dekor' (decoration).
(Picture by Anja Wagemans)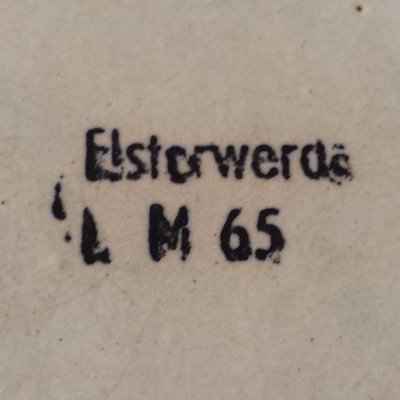 Image 1-04
Used between around 1918 and 1945, the 'M158' yet again is a combination of mold and decoration identification.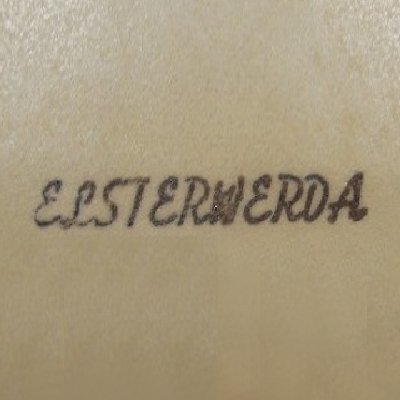 Image 1-05
Also used between around 1918 and 1945, just the cursive 'ELSTERWERDA'.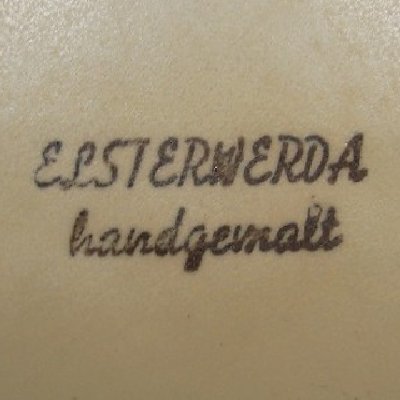 Image 1-06
Also used between around 1918 and 1945, same as before but this time 'ELSTERWERDA' is accompanied by
⇒HANDGEMALT
.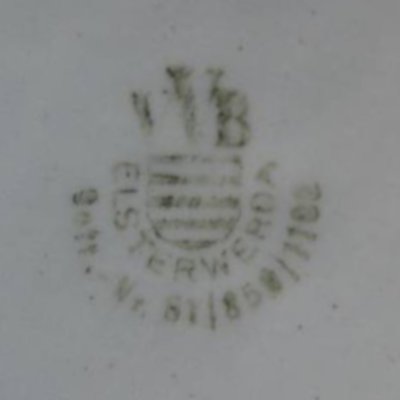 Image 2-07
Used between 1949 and around 1955, the rare
V.V.B. ELSTERWERDA
mark with 'IMPORT' addition.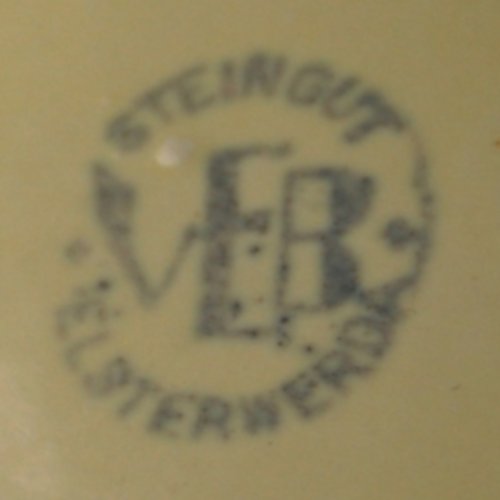 Image 2-08
Used between 1972 and 1990, stylized magpie in a circle over 'DDR' (German version of 'GDR').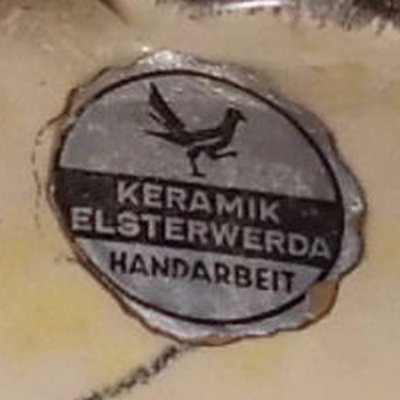 Image 2-09
Used between 1972 and 1990, here with the stamped
⇒HANDGEMALT
addition.
(Picture: glasschaliceantiques)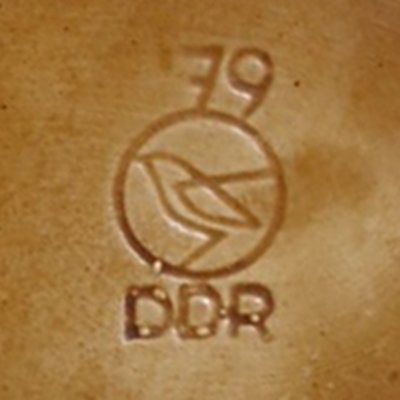 Image 4-10
Mark used since 2004 ...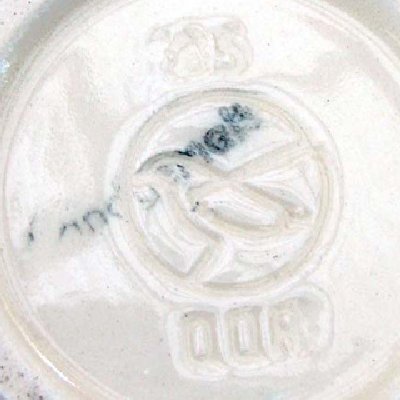 Image 4-11
... and the company logo used 2004/2005.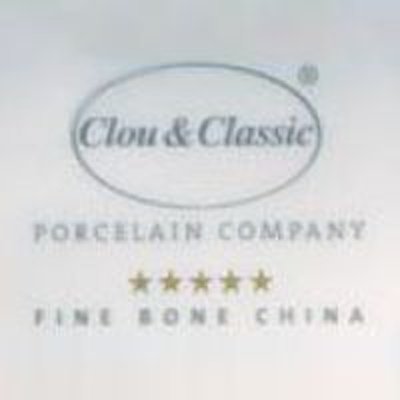 Image 4-12
Company logo used after 2006.
© 2004-2023 C.S.Marshall, all rights reserved