Schlottenhof
[1] Porzellanmanufaktur und Keramikfabrikation Hans Worms (1935 until ????)
Despite its name pointing towards a 'porcelain manufactory and ceramics factory', the business of Hans Worms sen. (a former decorator from the company of Lorenz Hutschenreuther in Selb) at first merely decorated ceramic tiles before finally starting to concentrate on decorating porcelain items from 1937 onwards; all the required ceramic (and later porcelain) blanks were purchased from various manufacturers in the region. It is known that the whole studio moved to a new address in 1946 (still remining in Schlottenhof), however there is no information available that shows when the company was taken over by his son Hans Worms jun. or how long the business actually remained active.
The studio for a short time employed Heinz Siegfried Eschenbeck, a decorator that had previously worked for the ⇒Porzellanfabrik Carl Schumann; he later left to work for the Porzellanfabrik Hutschenreuther A.G..
Comment(s)
Former independent Schlottenhof became part of the city of Arzberg on January 1st 1978, hence both names are valid as locations of origin.
The last mark type used by the Worms studio merely consists of the words 'MANUFAKTUR' above a central 'WORMS' and an alternating addition. Two are shown here: Image [1.04] including ⇒HANDMALEREI, and Image [1.06] including 'ARZBERG'.
Marks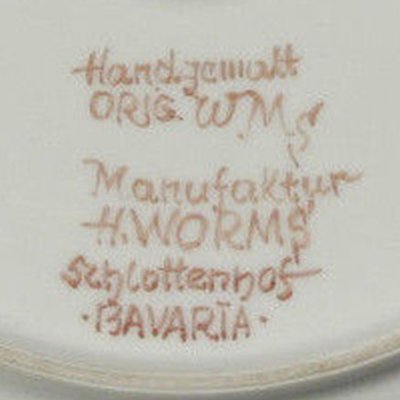 Image 1.01
Used from around 1937 until around 1939. Handwritten mark stating 'ORIG. WMS MANUFAKTUR H. WORMS'.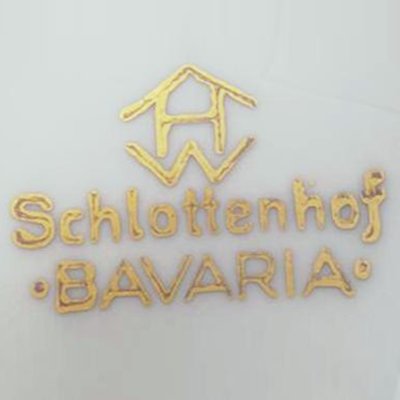 Image 1.02
No specific dates known. Mark in gold, interlocking initials 'H W' under a stylized 'roof'.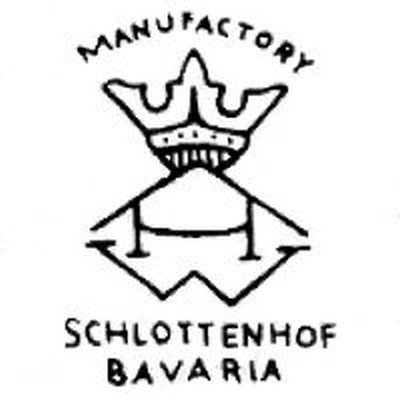 Image 1.03
No specific dates known. Apparently the business also exported or it would not have used the English term 'MANUFACTORY'.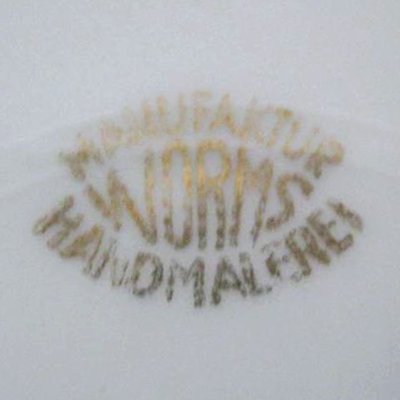 Image 1.04
One of the later marks, simple 'MANUFAKTUR WORMS' above
⇒HANDMALEREI
, here a golden version.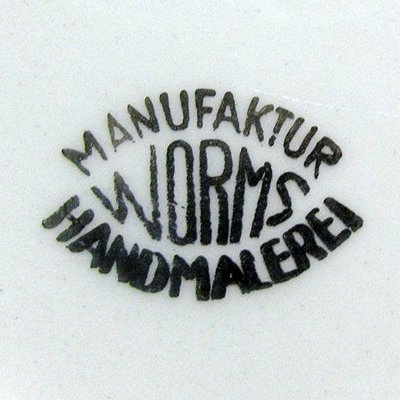 Image 1.05
One of the later marks. Same as before, here in black.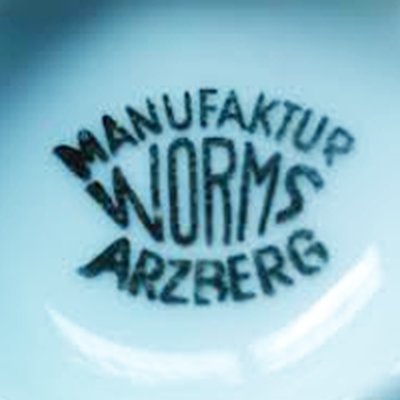 Image 1.06
One of the later marks, this time including 'ARZBERG'.
(Picture by Gladys Strickland)
© 2004-2023 C.S.Marshall, all rights reserved