Sandizell (Schrobenhausen-Sandizell)
[1] : Porzellanfabrik Sandizell, Höffner & Co. (1951 until ????)
In the year 1951 Höffner opened his business in the small town of Sandizell which today belongs to the town of Schrobenhausen. Finding qualified workers was no problem as many people formerly living in Thuringia had moved to Bavaria after the founding of the German Democratic Republic in 1949. As many of the designers and decorators he employed were perfectly capable of creating items and decorations in the Dresden style, the small company nearly instantly started to make a wide array of Dresden type figures and gift items.
Because the family-owned business never cared about marketing only very little became known about the company and its roots and this lead to some complications and misunderstandings that today largely influence the presentation and ratings for items produced there. For example the company over time used various marks that some people claimed to be imitations of older marks (like Dresden, Capodimonte, etc.), which resulted in the company being branded as copycats, forgers or repro-junk artists by many sellers and dealers. Even if the markings are far from trying to copy one of the mentioned company marks, many people also try to pass Sandizell items off as being 'original antique Dresden' which is of course not correct.
A look on platforms like eBay should say enough, as some of the items are claimed to be god-knows-what, from Klette to Wolfsohn, Lamm to Hirsch. This also lead to a paradoxon: while many people claim that 'Sandizell' marked items are cheap junk, most 'unidentified' or wrongly attributed porcelain lace figures are seen good enough to pass them off as 'original Dresden'. Same mold, same material, same decoration as Sandizell marked items ... go figure, literally.
[2] : Porzellanfabrik Sandizell G.m.b.H. & Co. K.G. (???? until 2008)
When compared with items from other manufacturers from the same period the Sandizell items are not better or worse than items made by any other (mostly overrated) company. Probably because of the reputation the company had it eventually ran into difficulties and there are traces of a Porzellanfabrik Sandizell Beteiligungs-G.m.b.H. which indicates the company for a time was run by a trustee until it finally was re-established as Porzellanfabrik Sandizell G.m.b.H. & Co. K.G. which at least until December 2006 was operational under proprietor Mrs. Sylvia Werner, however the company completely closed near March 2008.
Comment(s)
One mark belonging to the Sandizell factory is a simple crowned 'N', sometimes above 'DRESDEN'. It looks like the mark shown as Image 1-10 but does not have the long text underneath (no text or 'Dresden' only = 1951+, with long text = 1972+). I am still looking for a clear picture of the older mark.
Note that the marks shown here may be incomplete; those shown here were definitely used by the Sandizell factory. There are still a few marks out there that are 'unidentified' or claimed to be from other manufacturers, I will add them here when I have enough proof that they are Sandizell.
Marks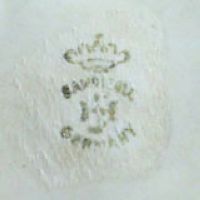 Image 1-01
Used betweeen 1951 and 1960, crown over 'SANDIZELL' over 'HS' over 'GERMANY'.
(Picture by Martina Stevenson)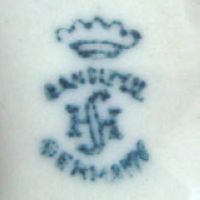 Image 1-02
Used betweeen 1951 and 1960, same as before but this time in blue.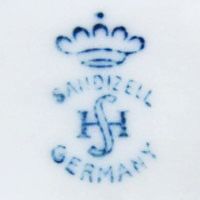 Image 1-03
Used betweeen 1951 and 1960, crisp blue version.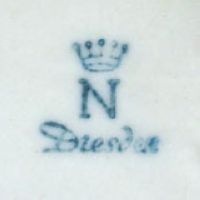 Image 1-04
Used during the 1960s, this crowned 'N' can be found either with or without 'DRESDEN'.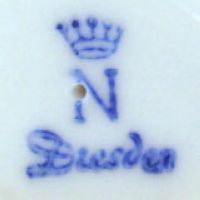 Image 1-05
Used during the 1960s, another example with a crowned 'N' above 'DRESDEN'.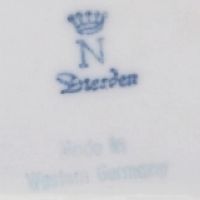 Image 1-06
Used during the 1960s, crowned 'N' above 'DRESDEN' and 'MADE IN WESTERN GERMANY'.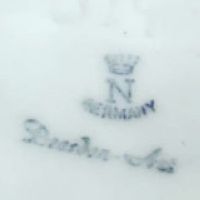 Image 1-07
Also used during the 1960s but not seen as often, crown over 'N' over 'GERMANY' with a 'DRESDEN-ART' ('Dresden style') addition.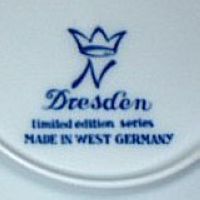 Image 1-08
Used around 1970, here on a plate from 1976.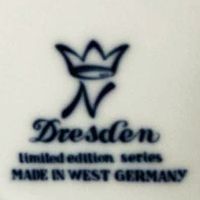 Image 1-09
Used around 1970, same mark from a different item.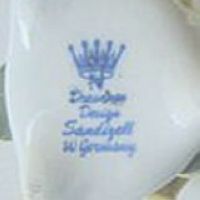 Image 1-10
Used in the 1970s, same basic mark as used from 1951 but with added 'DRESDEN DESIGN SANDIZELL W. GERMANY'.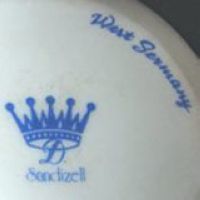 Image 2-11
Used around 1980, note it has the same crown as before but this time it is over the letter 'D'. The addition 'WEST GERMANY' was always printed near the rim.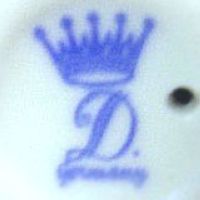 Image 2-12
Follow-up to the previous mark. No date known but used at least until December 2006, here with the addition 'GERMANY' underneath.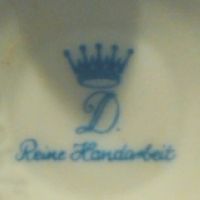 Image 2-13
Same basic mark as before, this time with 'REINE HANDARBEIT' addition.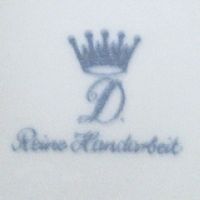 Image 2-14
Another example of that mark.
(Brenda Lyons)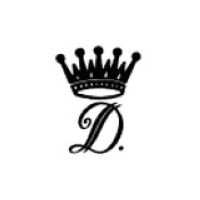 Image 2-15
Company logo used in the year 2006.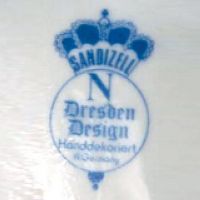 Image 2-16
No date known, 'SANDIZELL' over 'DRESDEN DESIGN', 'HANDDEKORIERT' and 'W.GERMANY'.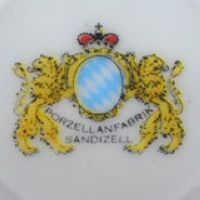 Image 2-17
No date known, coat of arms over the words 'PORZELLANFABRIK SANDIZELL'.
© 2004-2023 C.S.Marshall, all rights reserved