Mitterteich
[1] : Porzellanfabrik Julius Rother (1899 until 1904)
The factory was founded by Julius Rother together with his wife Fanny (neé Schicker), using only one kiln. The first director of the factory was Erich Gerstner who later stated that Rother had learned the trade right from the start and had exquisite knowledge of all production steps. Furthermore Rother was respected by his workers as he was always kind to them and the payments they received were also very generous, a porcelain decorator for example was able to have two suits made during the year which was very much at that time. Around 1900 the Bohemian businessman from the town of Asch Gustav Gerstner joined as silent partner.
[2] : Porzellanfabrik Julius Rother & Co. (1904 until 1918)
During 1904 Julius Matthes joined the company both as active director and shareholder; he was responsible for the financial and business relationship part while the Rother's concentrated on running the factory. In 1912 the Rother's themselves retired and left the factory with around 150 workers equally shared between Gerstner and Matthes who where in 1914 (the factory by then worked with four kilns) joined by Gerstner's son Ernst Gerstner; during this time the factory already exported to England, the Netherlands and the United States as well as Australia. Matthes in 1918 then sold his shares to the porcelain decoration studio belonging to Julius Rieber who had founded his successful original decoration business in the city of Selb in the year 1868. After initial talks with the remaining partners Rieber saw a great opportunity and offered to completely take over the factory.
[3] : Porzellanfabrik Joseph Rieber & Co. O.H.G. (1918 until 1923)
Ernst Gerstner remained in the new company as authorised signatory and the factory flourished and constantly expanded, especially after the founding of a subsidiary in the town of Thiersheim and the consequential transformation of the business into a stock corporation in 1923. During this period the factory employed between 200 and 250 workers.
[4] : Porzellanfabrik Joseph Rieber & Co. A.G. (1923 until 1971)
From then on the company included the full name of Porzellanfabriken Josef Rieber & Co. A.G. Selb-Thiersheim-Mitterteich on their company paper even if all three parts were run independently. The Mitterteich factory mainly produced normal household items and dinner sets and it should be noted that the speciality was the 'Japonais' decoration style that had been purchased from Julius Rother and was strongly influenced by Japanese originals. It was by now highly successful as it presented a counterpart to many other companies that merely concentrated on 'Strohblume' (strawflower) or 'Zwiebelmuster' (Blue Onion). This success lead to further export contracts with customers in Norway and Sweden and regardless of a small fire that destroyed a part of the factory in January 1925, the number of employees constantly rose, peaking at 200 in Mitterteich and 150 total in Selb and Thiersheim in 1930. However, the rigid internal company structure had its drawbacks and over the years even intensive expansion was not able to help the company cope with demand. This situation finally resulted in a sudden drop in business and in 1971 the company had to file for bankruptcy.
Comment(s)
Due to the various locations Rieber operated from it is obvious that listing all his marks on this page would be pretty confusing. Therefore the single marks used by his subsidiaries are found in the corresponding entries, so you may want to also check the ⇒Selb page.
A note on the mark depicting the initials 'IR CO' standing for Joseph Rieber & Co.: in older German lettering, upper case 'I' and 'J' were the same letter. There was no difficulty in distinguishing the letters in use because 'I' only appeared before a consonant and 'J' only before a vowel.
Marks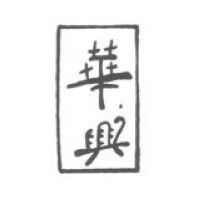 Image 1/2-01
Used between 1899 and 1918, pseudo-Asian mark in blue.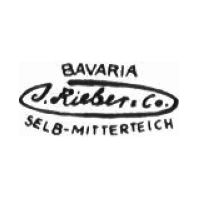 Image 3-02
Used between 1918 and 1923.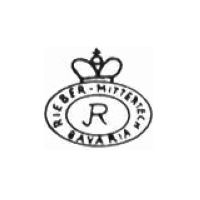 Image 4-03
Used from 1923 onwards, writing says 'RIEBER MITTERTEICH BAVARIA'.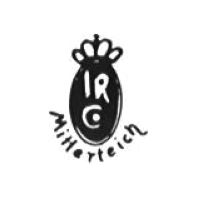 Image 4-04
Used from 1923, 'IR CO' stands for 'Joseph Rieber & Co.', see note above.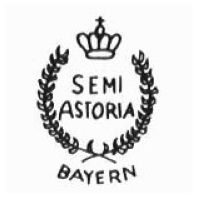 Image 4-05
Used from 1923 onwards in all factories.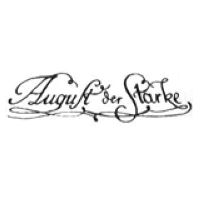 Image 4-06
Used from 1936 onwards, fancy 'AUGUST DER STARKE' trademark.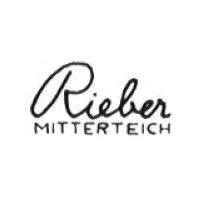 Image 4-07
Used from 1938 until 1966, crownless 'RIEBER' above 'MITTERTEICH'.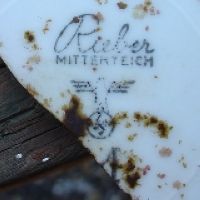 Image 4-08
Used from 1938 onwards, simple 'RIEBER' above 'MITTERTEICH'. Here with mark addition for items of the German navy.
(Picture by Flemming Clausen)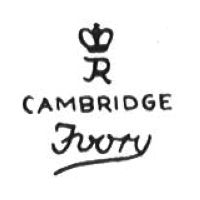 Image 4-09
Used between 1945 and 1971.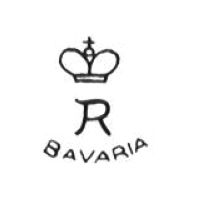 Image 4-10
Used between 1945 and 1971.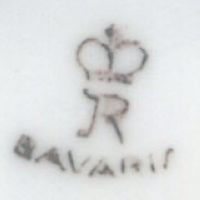 Image 4-11
Used between 1945 and 1971, here in a reddish-brown.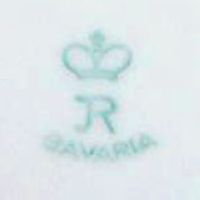 Image 4-12
Used between 1945 and 1971, this time in bright green.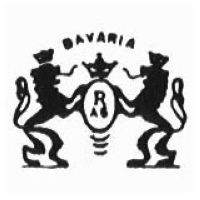 Image 4-13
Used between 1953 and around 1971 in all factories, note the 'R AG' for
Rieber A.G.
in the center oval. Also found with 'ECHT PORZELLAN' addition.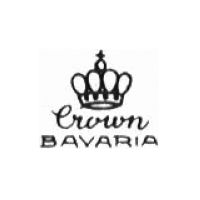 Image 4-14
Used between 1953 and 1971.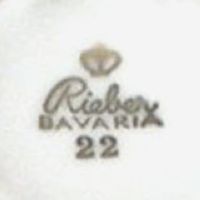 Image 4-15
Used from 1953 onwards, crowned 'RIEBER' above 'BAVARIA'.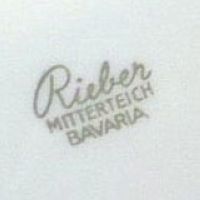 Image 4-16
Used from 1966 onwards, with both 'MITTERTEICH' and 'BAVARIA'.
© 2004-2022 C.S.Marshall, all rights reserved