Kronach
[1] : Porzellanfabrik Gebrüder Kühnlenz (1884 until 1929)
The small factory of the Kühnlenz brothers was established in 1884 and started producing pipe-heads (pipe bowls), bisque doll heads and complete dolls in two kilns. Around ten years later it became obvious that the doll craze was slowly dying down. Instead of closing, like many other smaller manufacturers did, the company owners decided to restructure the business and take up production of porcelain items for the industry. The new product range covered pestles, mortars, vats, and a large range of low- and high-voltage insulators.
Having already been quite successful before, the change in business proved an even greater success. The number of employees quickly rose to around 300 in 1913, 270 of those worked in insulator production which until 1918 expanded to four new large kilns.
Two thirds of all products were sold to foreign customers, half of them located in the USA - and that proved fatal: following the stock market crash in October 1929, the mix of unpaid bills and large amounts of goods still on its way to customers pushed the company into bankruptcy. The factory was put up for auction and eventually purchased by R. Pech.
[2] : Porzellanmanufaktur R.&E. Pech (1930 until 1951)
Based on an error in the books published by both Danckert and Roentgen, the founding date is often incorrectly quoted as '1830'.
After the takeover of the former Gebrüder Kühnlenz factory, only minor modifications had to be made before production could be restarted. The main product line introduced by R.&E. Pech included a wide array of decorative porcelain (e.g. candlesticks and mantelpiece sets), commonly decorated in the typical Dresden floral style. Figures were only produced from around 1937 onwards and even if they were an instant success, they remained only a small part of the product range. The fairly rigid business structure avoided everything that strayed away from a standard product range, hence many customers soon became bored. Initially spoiled by success and unwilling to change, the company slowly lost ground and was forced to shut two kilns and cut back on employees. The situation worsened during the war years and after the end of World War 2, an attempted revival - based on the old product range merely expanded by a few new items - failed, forcing the Pech family to give up.
Porzellanmanufaktur Martha Budich (1951 until 1977)
Next to creating an own small series of figures, Martha Budich mainly (re)decorated items purchased from other manufacturers. Inspired by the mark used by the former Pech company, she created a similar mark which used her own initials as sword handle replacements. The East German (and by then state-owned) VEB Staatliche Porzellanmanufaktur Meissen, trademark owner of the famous 'crossed swords' mark, had silently tolerated the previous mark form used by Pech before 1950.
But since then its attitude had significantly changed, not only because of the political situation which resulted from the 1949 establishment of the two separate states of Germany. Hence the East German company demanded that Budich, as West German business, should immediately change her base mark. Budich refused and failed to sign a cease-and-desist declaration, thus the whole matter ended up before court. The whole case raged on for quite a while, the lawyers representing the VEB Staatliche Porzellanmanufaktur Meissen knowing exactly that Budich would have to give in sooner or later as her financial background would not allow her to continue forever.
When the court finally made its decision in 1963, it ruled against Martha Budich and she was finally forced to change her mark. The years following the court case were not nearly as successful as those before, hence there are barely examples of her later work around; the business eventually closed in the year 1977.
Comment(s)
There is at least one mark missing from Gebrüder Kühnlenz: it was used on technical porcelain and insulators and showed the letter 'K' encircled by a 'C'. This specific mark was often mentioned to have been used between 1918 and 1929 but I could not find a picture of it. Read the next passage to understand how that mark came into being.
The town of Kronach is very old, first mentioned in 1003 A.D. as Urbs Crana, hence many local companies directly use (or at least refer to) the historic name of Crana. Following their impressed 'GK' mark, the Gebrüder Kühnlenz also used an impressed 'K' encircled by a 'C', representing "Kühnlenz in Crana". ⇒Oechsler & Andechser used the initials 'OCA', representing "Oechsler - Crana - Andechser" to show where their business was centered, and ⇒Alboth & Kaiser produced one complete series of marks which included the name Crana in the crown. These snippets of information are often lost over time, creating unnecessary puzzles for later generations of collectors.
I would be very grateful if somebody could provide clearer pictures of the Martha Budich mark including 'Western Germany' (Image 3-12) or the last mark she used (Image 3-13) so that I can finally replace the bad images.
It is often claimed (based on an error in the Roentgen books) that Martha Budich used a special 'crowned D' mark (shown below). This claim is definitely wrong, as is explained on the page of the true owner ⇒Karl-Heinz Klette. This fact has been known for years, but self-proclaimed experts and many auction houses still use the old, incorrect attribution in total denial of proof, provided by the ultimate instance in such matters, the official German registration office. Buyer beware! If a company does not care to provide correct mark information, you can be sure that they do not take their business seriously.
Marks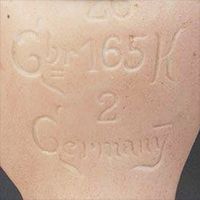 Image 1-01
Older doll head mark, the model number was placed between 'GBR' and 'K'.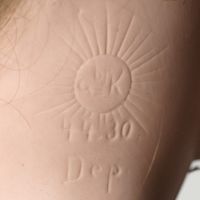 Image 1-02
Newer doll head mark, 'GBR.K.' in a sunburst; here with a
⇒DEP.
addition.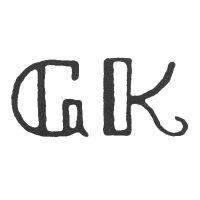 Image 1-03
Impressed 'GK', used on technical porcelain and insulators.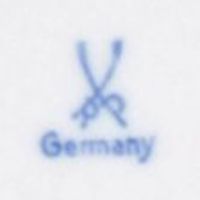 Image 2-04
Used between 1930 and 1946, sword handles ending in 'R' and 'P', 'GERMANY' only. Used between 1946-1949 with 'BAVARIA, GERMANY, US ZONE'.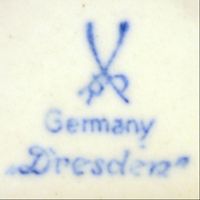 Image 2-05
Used between 1930 and 1946, sword handles ending in 'R' and 'P', 'GERMANY' above 'DRESDEN' on items decorated in Dresden style.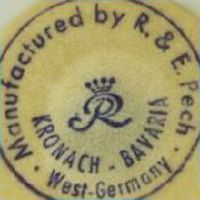 Image 2-06
Used between 1949 and 1951, a rare mark only used on a few figural items.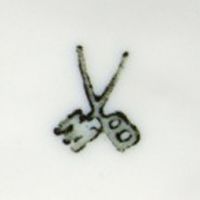 Image 3-07
Used between 1950 and 1955, crossed swords with the initials 'M B' as sword handles, here in black.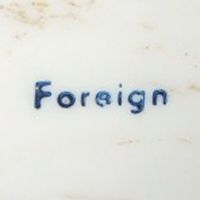 Image 3-08
Used between 1950 and 1955, the previous mark was accompanied by an additional 'FOREIGN' marking.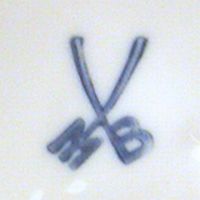 Image 3-09
Used between 1950 and 1963, simple crossed swords with the initials 'M B' as sword handles.
(Picture by Bee Boaz)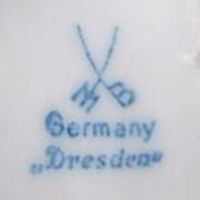 Image 3-10
Used between 1950 and 1963, the most commonly found mark with 'GERMANY' and 'DRESDEN' addition.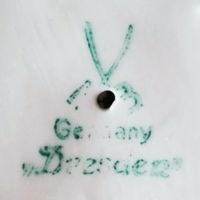 Image 3-11
Used between 1950 and 1963. Same as before, here a rare green example.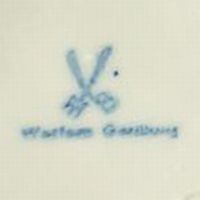 Image 3-12
Used between 1950 and 1963, simply with 'WESTERN GERMANY'; hard to find.
(Picture by Fran Kerbs)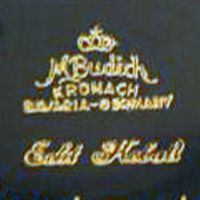 Image 3-13
Used between 1963 and 1977, the last mark she used (and really hard to find).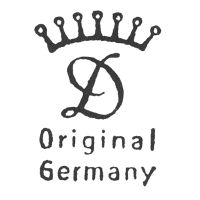 Image 3-14
This mark was
NEVER
used by
Martha Budich
, see last paragraph of the
Comment(s)
section above.
© 2004-2023 C.S.Marshall, all rights reserved