Erbendorf
[1] : Porzellanfabrik Erbendorf G.m.b.H. (1923 until 1940)
Hans Schrembs was born in 1876 as son of a sawmill owner in the town of Grötschenreuth. In 1912 he purchased the steam-driven sawmill upon Bräugasse (today a parking lot of the Steinwald-Clinic) before buying the 'Frankenschleif' (a glass cutting shop) five years later. An accident saw the sawmill upon Bräugasse burn to the ground and while it was not rebuilt, the glass cutting shop was expanded to cover that aspect of business. But that was not the only construction work going on. Between 1921 and 1922 Schrembs had a porcelain factory built on the neighboring patch of land. For Schrembs enabling the class cutting shop to also operate as sawmill had been a great move as it allowed the production of shipping materials - crates and wood wool - right on the doorstep of the future porcelain factory.
Starting porcelain production with around 100 workers and two kilns, the factory in 1928 already involved 280 workers and five kilns. This first factory in Erbendorf concentrated on normal household items and a small number of coffee and tea sets. Even if the factory itself was well-equipped Schrembs could not really use its full capacity because it was hard to find the required experts. The factory still flourished however, with about 80 percent of production being exported overseas.
Due to the developments shortly after the stock market crash of 1929 Schrembs was in 1931 forced to lease the factory to the industrial Ernst Rockholz; this helped to support the factory which soon after had a workforce of just over 350 people but still struggled over the next years. Backed by the company of ⇒Christian Seltmann, Wilhelm Seltmann purchased the factory in 1940.
[2] : Porzellanfabrik Christian Seltmann G.m.b.H. (1940 until ...)
The factory already changed owners the same year. However it was not really the time for such investments and so Wilhelm Seltmann had to first cope with the Messerschmitt-Werke, which between 1943 and 1945 produced aeroplane parts in the factory, followed by roughly a year in which American troops occupied the factory. And so it took until late in 1946 before the factory was operational again. Under Seltmann, the factory produced household items and sets, many of which were independent lines only produced in Erbendorf.
Comment(s)
The often found mark additions in form of dots and digits represent internal production codes and are irrelevant nowadays even if a few specific combinations indeed point towards certain production years. It sould be mentioned that the whole coding system used by Seltmann changed over the years and is (in parts) undocumented, meaning that people would all too easily jump to incorrect conclusions as was (and still is) the case even with relatively fully documented coding keys like those of Rosenthal, thus I follow most publications and simply leave the codes undocumented.
Marks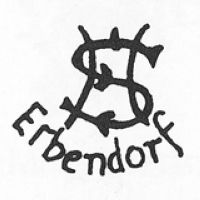 Image 1-01
Used between 1923 and 1940.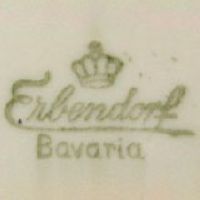 Image 2-02
Used between 1940 and around 1954, crowned 'ERBENDORF' above 'BAVARIA'.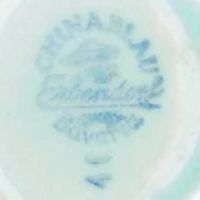 Image 2-03
Used between 1940 and around 1954, here a version used on the 'CHINA BLAU' series.
(Picture by Joel Levin)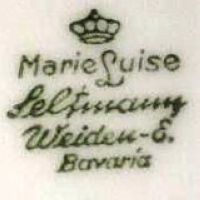 Image 2-04
Used between 1949 and 1954, here on an item from the 'MARIE LUISE' series.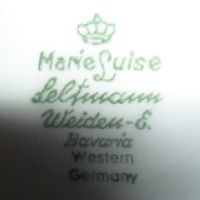 Image 2-05
Used between 1949 and 1954, here with additional 'WESTERN GERMANY' from around 1951.
(Picture by Gary Belcher)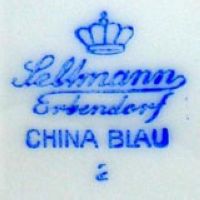 Image 2-06
Used between 1954 and 1974, the later version used on the 'CHINA BLAU' series.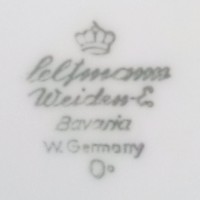 Image 2-07
Used between 1954 and 1990, mark example without a series name.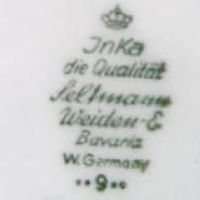 Image 2-08
Used between 1954 and 1990, mark example on an item from the 'INKA' series.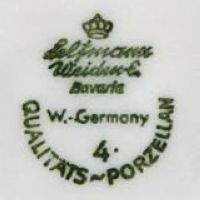 Image 2-09
Used between 1954 and around 1975.
(Picture by Everd Broekstra)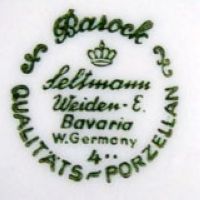 Image 2-10
Used between 1954 and 1990, here on an item from the 'BAROCK' series.
© 2004-2023 C.S.Marshall, all rights reserved