Bayreuth
[1] : Porzellanfabrik Siegmund Paul Meyer (1899 until 1926)
In the year 1890 the then 24-year-old Siegmund Paul Meyer left his home town Nürnberg and started to work as a salesman for a ceramics company in Bayreuth. Six years later he wanted to open his own company and so he bought the good running glass and decoration studio of Georg Bauer. The next three years were extremely successful for Meyer and his twenty decorators and demand was still rising. So in 1899 Meyer decided to try something new and based on his experience he had with ceramics and porcelain he opened his own porcelain factory. Starting off with a handful of workers, the factory soon employed 180 people and had two large kilns; the number of workers increased to an impressive 200 people up until 1906. The demand for the special products made at the factory constantly increased as the main product line was a series of heat-resistant cooking and baking items under the brand name 'Walküre' (Valkyrie); a series that quickly became well known for its high durability. Success was not restricted to the German market alone and an impressive 75 percent of the production capacity were exported to other countries.
The whole factory profited from the social engagement of its owner. As one of a few German industrials at that time he was very concerned about the life and health of his workers and had special quarters built for them and even introduced paid holidays from 1910 onwards. As one of the first factories in Germany it had installations that helped to avoid or remove dangerous fumes and dust from all working areas. It is no surprise that working at the Meyer factory was seen as a priviledge and therefore all workers gave their best.
[2] : Erste Bayreuther Porzellanfabrik Walküre Siegmund Paul Meyer G.m.b.H. (1926 until ...)
During World War I things looked dire indeed as raw materials were hard to get and only a few workers were available. But the Golden Twenties resulted in a constant increase in demand, allowing the factory to re-establish itself. Based on the success of the 'Walküre' series, Meyer decided to reform his business into a limited company, resulting in the new name of Erste Bayreuther Porzellanfabrik Walküre Siegmund Paul Meyer G.m.b.H.. Just as all seemed well and the company had again stocked up on a workforce of 300 people, the World Financial Crisis struck. Together with his son Rudolf (*1906 +1983) who joined the business a short time earlier, Meyer successfully navigated the business through rough waters. During 1936 it seemed that the hard years of the recession period were soon to be forgotten; the workforce had been constantly downgraded to around 200 people and slowly, expansion plans were drawn again until they were stopped in 1938.
The World War II period was of course worse than anything the firm had seen up until then and many workers had to leave for military duty and even Rudolf Meyer was drafted for service in 1939. Completely on his own and at an age of 75, Siegmund Paul Meyer refused to give in and together with his remaining workers, he managed to continue business until March 1945. But without raw materials and fuel for the kilns, production had to be stopped until Spring 1946.
Production restarted with around 60 workers, followed by a constant increase due to the demand in the first years after the war. The rapidly growing economy helped to fill the order books and during the mid-50's, more and more areas of production were automated. The old-fashioned coal firing was replaced by oil firing and the two round kilns were replaced by more efficient tunnel kilns. Due to the requirements of the market, the company introduced a new product line including hotel porcelain which was an instant success. During 1966 Rudolf Meyer jun. (born 1940) joined the management and together with his father he was responsible for the new business philosophy: always newest technology and always best quality. Since then, the firm became a specialist for high-end professional products and was flexible enough to instantly react to market changes or customer requirements. In 2008 the company had become one of the top ten suppliers of hotel porcelain on the world market.
Marks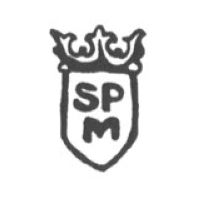 Image 1-01
Used between 1899 and 1929, crowned shield with 'S.P.M.' and no further additions.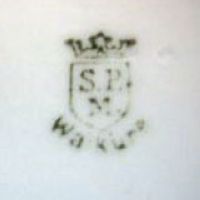 Image 1-02
Used between 1899 and 1929, crowned shield with 'S.P.M.' on a 'WALKÜRE' item.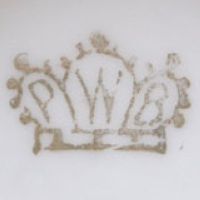 Image 1-03
Used from around 1910 onwards, decoration mark. Crown with initials 'PWB' for
Porzellanfabrik Walküre Bayreuth
.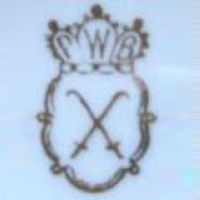 Image 1-04
Used from 1910 onwards, decoration mark with crossed element addition.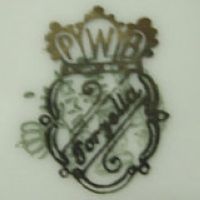 Image 1-05
Decoration mark over 'Bareuther' original. This one shows a 'PORZELLA' addition.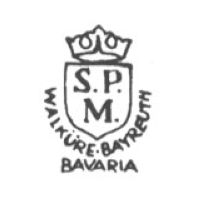 Image 2-06
Basic form with 'S.P.M.' and 'WALKÜRE, BAYREUTH' and 'BAVARIA'. Registered at the
⇒R.W.Z.R.
under №·396·963 on January 15th 1929.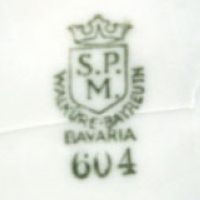 Image 2-07
Used between 1929 and 1973, same as before. Addition 'BAVARIA' only.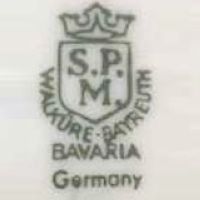 Image 2-08
Used between 1973 and 1980, note the additions 'BAVARIA' and 'GERMANY'.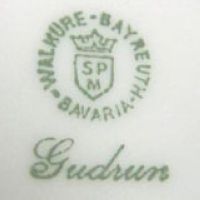 Image 2-09
Used from 1980 onwards, 'WALKÜRE, BAYREUTH, BAVARIA', 'GUDRUN' was the series.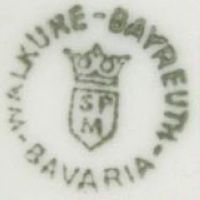 Image 2-10
Used from 1980 onwards, 'WALKÜRE, BAYREUTH, BAVARIA', slightly different crown used.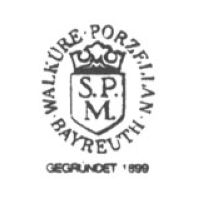 Image 2-11
Used from 1989 onwards, 'WALKÜRE PORZELLAN BAYREUTH' over the addition '
⇒GEGRÜNDET
1899'.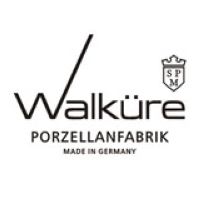 Image 2-12
Company logo used 2008.
© 2004-2023 C.S.Marshall, all rights reserved