Plüderhausen
[1] : Silberporzellanmanufaktur Plüderhausen Manfred Veyhl (1930 - 195?)
In the year 1928, the silversmith Manfred Veyhl started to use simple glass and porcelain items (like vases and cups) produced by other companies and started experimenting with combinations of silver upon glass and porcelain, resulting in his first items sold to neighbors and friends. What started as a hobby soon proved so successful that he founded his own little manufacture in 1930. He mainly specialized on various combinations of porcelain and silver, redecorationg the pieces with different colors and carefully crafted silver overlays.
For more than twenty years (the specific closing year is unknown) Veyhl created many pieces which even today instantly catch an eye - if one can find them, that is. Not only were many of his pieces destroyed during the war years, but taste changed and many items were simply thrown away, especially during the 1970s. Today, items from Manfred Veyhl are rare collectibles, precious memories of an artist who had always disliked people that tried to push his work into a specific category.
When looking at Veyhl pieces, one notices that he often used either a description like '1000/1000' or '1000/FEIN' on them. Both versions stand for the same and note the grade of silver used. This requires some explanation: all grades above 900 in Germany are called 'Feinsilber' (fine silver), but of course there are various qualities. Most people know the grade 925 (Sterling silver) or even 970 (enamel silver) which in Germany confusingly is also called 'Münzsilber' (coinage silver).
But even with modern technology today the highest grade of 999 is only used for medals of highest quality so where does the '1000' come from? Well, for a long time it was thought that there would be no higher grade as 970, therefore it became normal to round the number up to 1000, simply stating that one used the highest grade available at that time.
Marks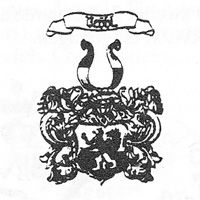 Image 1-01
Early marking, but was sometimes used later as mark on high end items.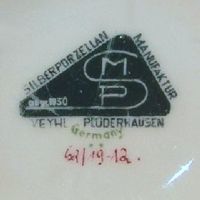 Image 1-02
Used after 1945, see '
⇒Gegr.
1930' in the bottom left corner.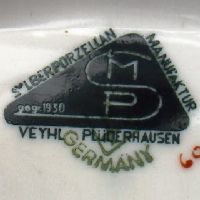 Image 1-03
Used after 1945, like the previous one, hiding the original
Porzellanfabrik Plankenhammer
mark.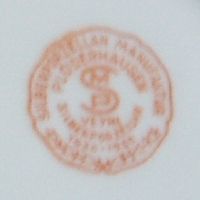 Image 1-04
Last real mark used, the anniversary mark showing 'VEYHL SILBERPORZELLAN' and '1930-1950'.
(Picture by Saskia Baankreis)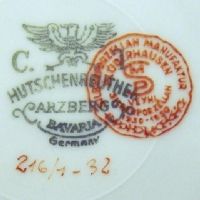 Image 1-05
Veyhl
anniversary mark on an item originally made between 1945 and 1949 in the town of Arzberg by
⇒C.M. Hutschenreuther
.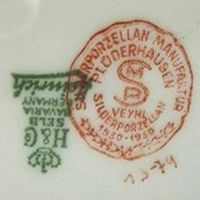 Image 1-06
Veyhl
anniversary mark on an item made by
Heinrich & Co.
from the city of Selb.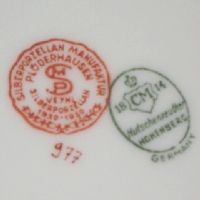 Image 1-07
Veyhl
anniversary mark on an item made by
C.M. Hutschenreuther
from the city of Hohenberg.
(Picture by Amanda Pachis)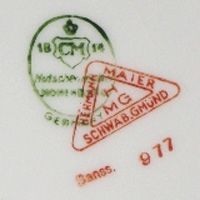 Image 1-08
On the same set as the previous mark: mark of one of
Veyhl's
main resellers,
Hermann Maier
from Schwäbisch Gmünd.
(Picture by Amanda Pachis)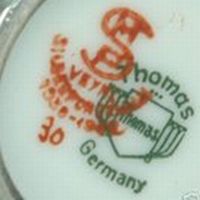 Image 1-09
Truncated anniversary mark on base too small for complete version on an item by
Thomas
from Marktredwitz.
(Picture by Ambra Byron)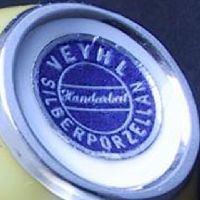 Image 1-10
Final solution used by Veyhl, a simple sticker in blue and silver showing 'VEYHL SILBERPORZELLAN' and
⇒HANDARBEIT
.
© 2004-2022 C.S.Marshall, all rights reserved