Königszelt (Jaworzyna Śląska)
[1] : Porzellanfabrik Silber & Comp. (1860 until 1872)
The company was founded in 1860 in the city of Königszelt by the businessman and master builder Silber who chose the location due to the easy access to rich deposits of clay and coal found in the surroundings. Soon afterwards, he already produced a wide range of staple commodities mostly decorated in 'Zwiebelmuster' (Blue Onion), 'Strohblume' (Strawflower) or 'Indisch Blau', an abstract 'Strawflower' version that is either stamped or applied via a matrix. As the production costs were very low the business was able to sell items much cheaper than other companies, it had become a very interesting object for investors.
[2] : Porzellanfabrik Heckmann & Rappsilber (1872 until 1878)
In 1871 Silber received a lucrative offer to sell the business and in 1872 the factory was taken over by C. Heckmann and August Rappsilber which continued producing generally the same items as before but relocated the main office to the city of Berlin.
[3] : Porzellanfabrik August Rappsilber O.H.G. (1878 until 1886)
Heckmann had only joined Rappsilber as an investor and based on the ongoing success of the company soon was able to make some profit, but after a few years he decided to move on, leaving August Rappsilber as sole proprietor who successfully continued business until he himself decided to sell the company and retire. As the business had in a short time achieved more than many others, it had caught the eye of Dr. Gustav Strupp, main director of the ⇒Strupp-Konzern investment group.
[4] : Porzellanfabrik Königszelt A.G. (1886 until 1951)
On December 18th 1886 the factory was sold the the Strupp group and renamed; the new company name was registered at the local trade register on the January 22nd 1887 and the same year also saw the company move its main office back to Königszelt. As corporation, the business of course issued shares. Nearly straight from the beginning, one company was especially interested in the business: the company of Lorenz Hutschenreuther from Selb (Bavaria) finally achieved shares majority in the year 1905 and started to invest into the new acquisition as to further increase their output.
The product range was changed, now concentrating on better tableware which was in large numbers also produced for export. This resulted in a large expansion of the plant and an increase in employment numbers, which then reached a total of just over 670 people in 1913. The First World War did not stop the expansion process and in 1922 the factory offered work for 850 people; that number was exceeded in 1930 as the factory employed just over 1,000 people.
It should be noted that the Porzellanfabrik Königszelt ⇒A.G. was one of the few German companies allowed to produce Mickey Mouse figurines under license from Disney, based on images provided by the Südfilm A.G. film distribution company. Most of these so-called 'un-aryan' products were destroyed during the Third Reich period from 1934 to 1945 and therefore belong to the rarest European pre-war Disneyana collectibles.
In 1937, the number of people working for the company had dropped to around 800, mainly a result of optimized processing in the factory. That number remained relatively constant during the war and even if work was halted for short periods of time, production nearly went on as normal even when the Hutschenreuther A.G. sold its shares to the Porzellanfabrik Kahla in Thuringia.
A few times I have been contacted regarding single items like cups or plates that are decorated with a blue border as well as a single Viking longboat over which there is an eagle holding a Swastika. The porcelain with that decoration is claimed to have come into being after the German occupation of Norway in 1940. This special series appears to have been manufactured in 1941 only and was issued to the officers mess' of the original seven divisions that took part in the actual operation, which was codenamed 'Weserübung-Nord'.
[5] : Zakłady Porcelany Stołowej 'Jaworzyna' Śląska (1951 until 1957)
After 1945, the factory was on Polish territory and all German workers had to leave, most of them finding a new job at the ⇒Porzellanfabrik Bareuther & Co. A.G. in Waldsassen (Bavaria). It should be mentioned that in remembrance of the cooperation between the facilities not only in the creation of the 'Indisch Blau' decoration, the Bareuther company later created the factory mark 'Königszelt Bayern' (Königszelt Bavaria), shown in the mark section below.
Anyway, in 1951 the company was renamed to 'Zakłady Porcelany Stołowej Jaworzyna Śląska' and under Polish management, the facility expanded and was modernized from 1956 onwards. A year later the company was changed into a public limited (liability) company, resulting in another name change.
[6] : Zakłady Porcelany Stołowej 'Karolina' Spółka z o.o. (1957 until ....)
The modernization continued up until 1961, mainly replacing the coal fired kilns through gas fired units and additionally installing special electric tunnel kilns for firing onglaze decorations. During the next five years many production steps were also changed as hand-molding gave way to mechanical molding and the time-consuming steel printing was replaced by silkscreen printing.
During the 1970's further modernization took place as automatic molding lines for cups, mugs and plates were installed, followed by two new types of kilns, one for normal glaze firing and one type for inglaze decorations. In the eighties, the plant developed even further and production quality and work conditions were considerably improved. The 1990's saw the company introduce many new production technologies like the isostatic presses for plates (which guarantee a very high quality) or new kilns for inglaze decoration which allowed the plant to produce a wide array of microwave and dishwasher safe goods.
Comment(s)
When the railway line from Breslau to Freiburg was built in 1843, a name was needed for a junction with the line from Schweidnitz to Striegau. As the location in the Schweidnitz district of Silesia was literally in the middle of nowhere, a hasty search for clues began. Someone noticed that at the time of the Bunzelwitz encampment in 1761 (during the Seven Year War) the tent of Frederick The Great must have been standing somewhere around the location. And so the name 'Königszelt' was choosen, just meaning 'The Kings Tent'. It stayed quite small over the years and had a population of 3,866 in 1939, with people either working for the railway or the porcelain manufacture.
Since 1945, 'Königszelt' is 'Jaworzyna Śląska', located in the 'Wojewodschaft Dolnośląskie' area of Poland. Thanks to Jacqueline Kacprzak for correcting the factory name timeline.
Marks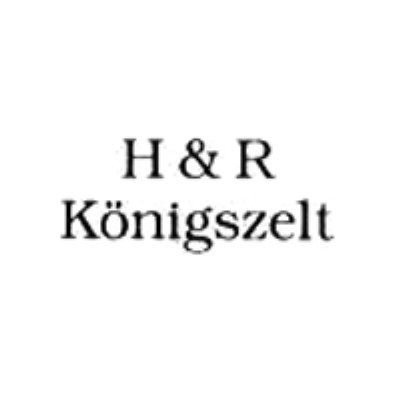 Image 2-01
Used between 1872 and 1878, impressed.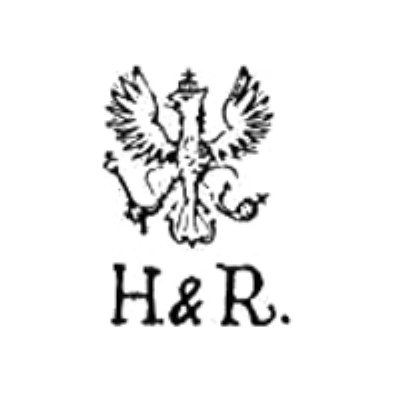 Image 2-02
Used between 1872 and 1878.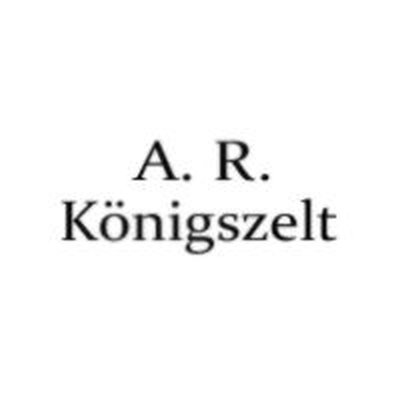 Image 3-03
Used between 1880 and 1886, impressed, registered June 16th 1880 at the
Königliches Amtsgericht
in Berlin.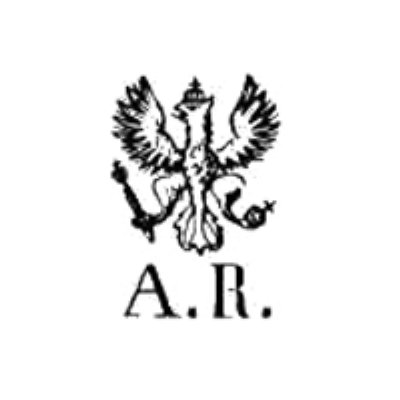 Image 3-04
Used between 1880 and 1886, registered on June 12th 1880 at the
Königliches Amtsgericht
in Berlin.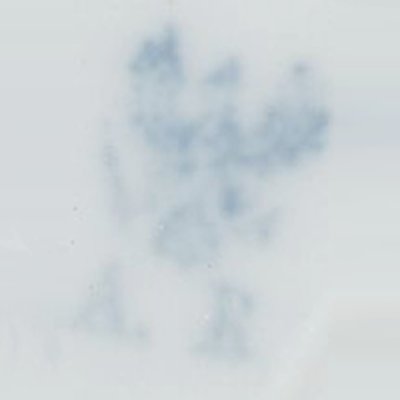 Image 3-05
Used between 1880 and 1886, most of the blue marks are faint or blurred so that the 'R' can easily be mistaken for an 'E'.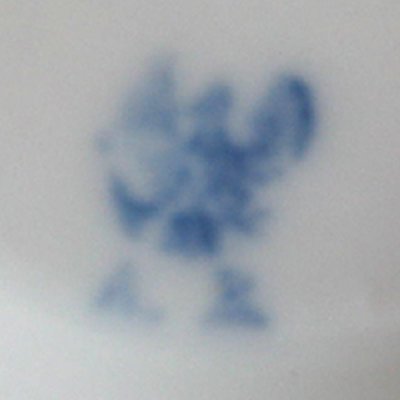 Image 3-06
Used between 1880 and 1886, this one shows nicely how the last letter becomes barely readable.
(Picture by Nancy Dunham)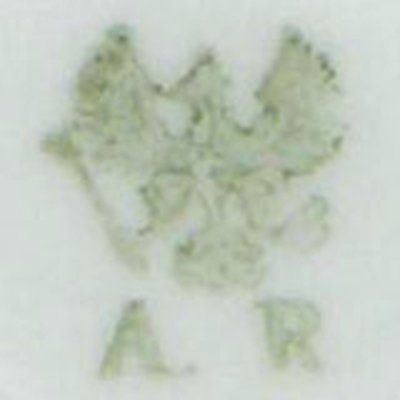 Image 3-07
Used between 1884 and 1886, the versions in green are generally easier to identify and it makes one wonder why the blue versions were still used.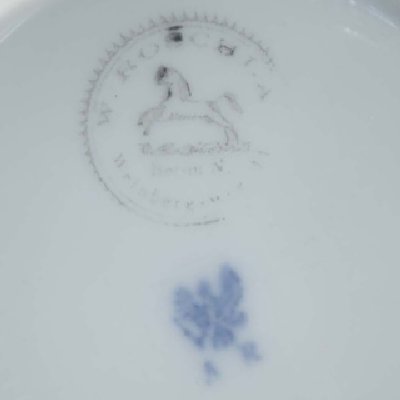 Image 3-08
Used between 1884 and 1886, here with a kind of retailer mark showing 'W. ROSCHLA' above jumping horse, rest not readable.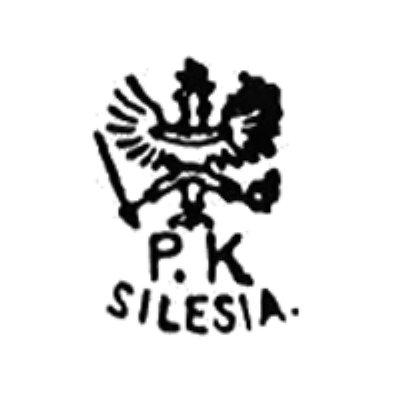 Image 4-09
Used between 1886 and 1914.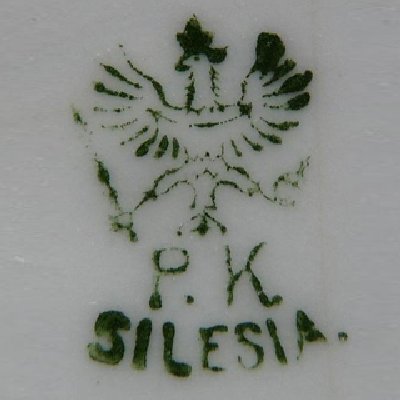 Image 4-10
Used between 1886 and 1914, example of the earlier mark with scepter and orb (not to be confused with the following later ones).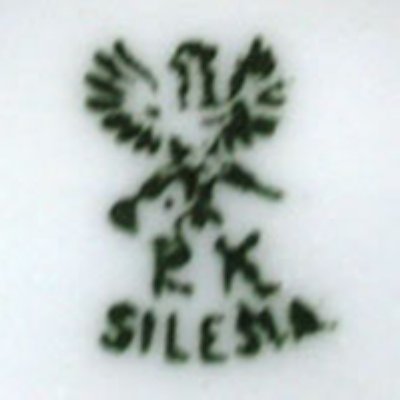 Image 4-11
Used between 1914 and around 1918, without scepter and orb, often found incompletely applied.
(Picture by Jenny Roost)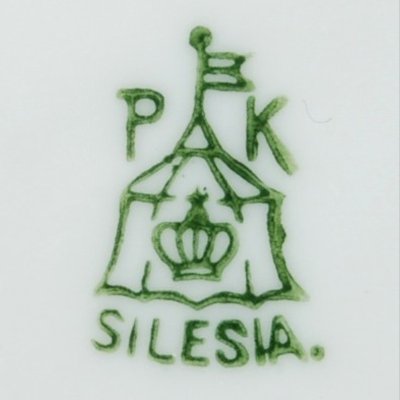 Image 4-12
Used between 1914 and around 1918, an example in green where the center is missing.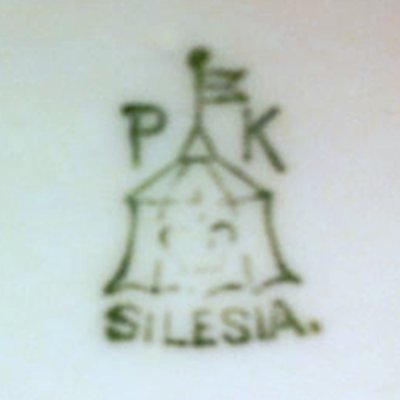 Image 4-13
Used between 1914 and 1922, mostly green under glaze, registered at the
⇒R.W.Z.R.
under №·198·006 on August 3rd 1914.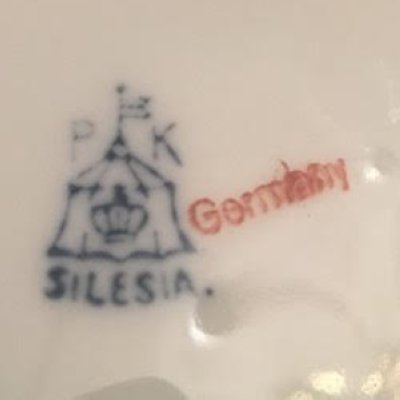 Image 4-14
Used between 1914 and 1922.
(Picture by Jenny Roost)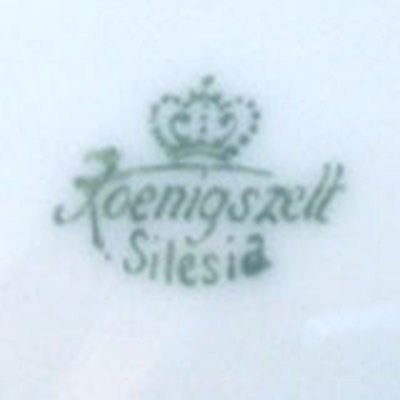 Image 4-15
Used between 1922 and 1930, registered at the
⇒R.W.Z.R.
under №·286·423 on May 18th 1922.
(Picture by northernridge)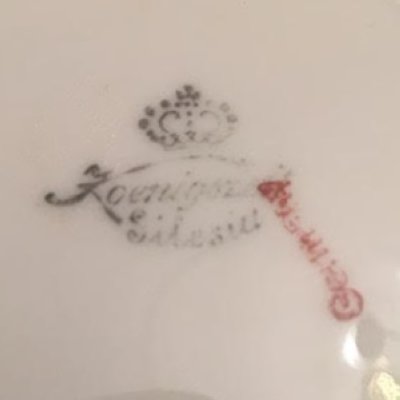 Image 4-16
Used between 1922 and 1930, special mark on items made for
⇒Ebeling & Reuss
.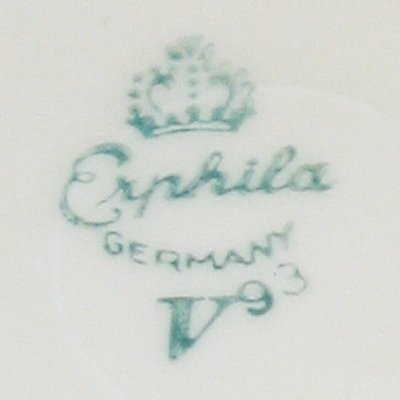 Image 4-17
Probably from the same period, found on items made for the US
AMC
.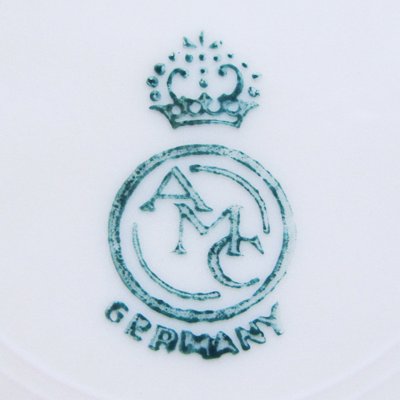 Image 4-18
Used between 1930 and 1945, green under glaze.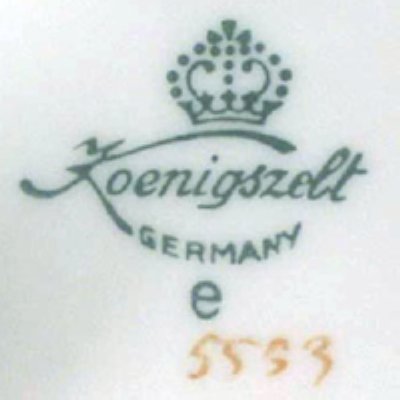 Image 4-19
Used between 1930 and 1945, black under glaze.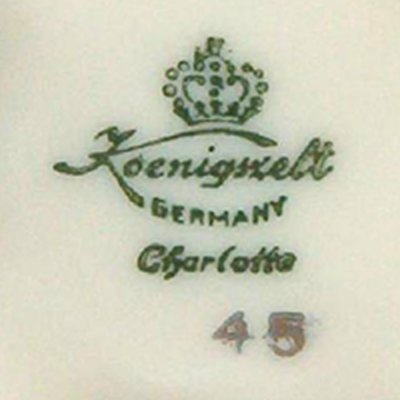 Image 4-20
Used between 1930 and 1945, 'GERMANY' over
⇒GESETZL. GESCH.
and the 'S-U-S' mark of
Josef Schulte-Ufer
(Sundern, North-Rhine Westphalia).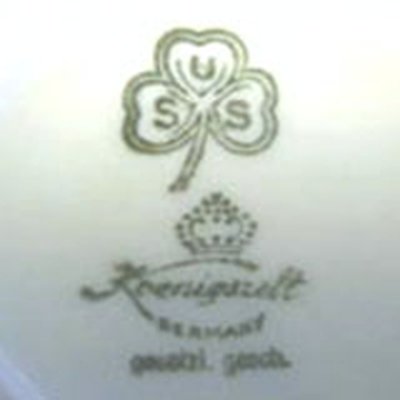 Image 4-21
Used only around 1935, why the crown was removed remains a mystery.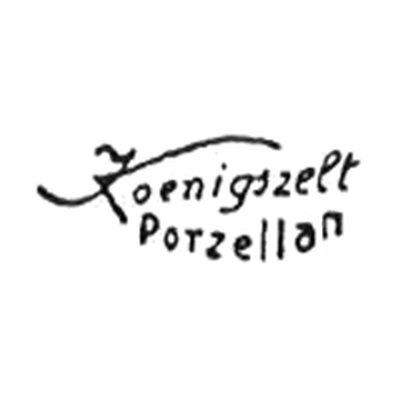 Image 4-22
Used between 1939 and 1945, note the modified crown. The 'Fl. U.V.' addition indicates production for the German Luftwaffe.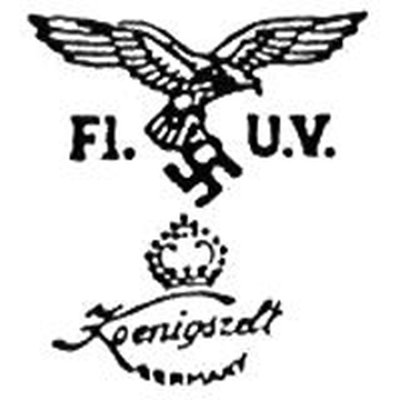 Image 4-23
Used 1941 for generic military use.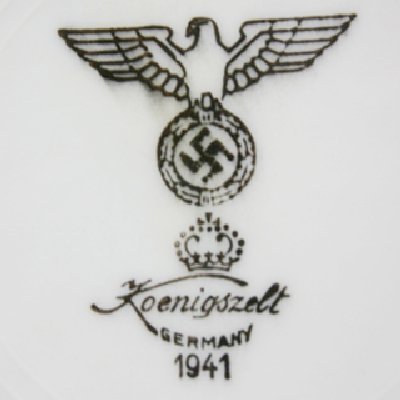 Image 4-24
Used 1942 for Kriegsmarine items, here shown on a plate salvaged from the sunken submarine U-1277.
(Picture by the diver Luis Mota)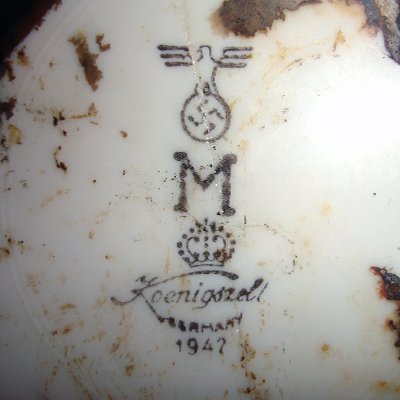 Image 5-25
Used between 1945 and 1954, with again slightly modified crown and the addition 'MADE IN POLAND'.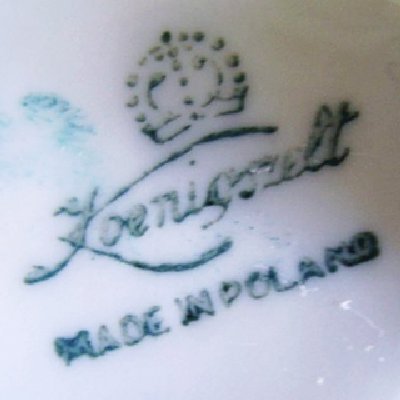 Image 6-26
Used from 1954, here also with 'MADE IN POLAND'.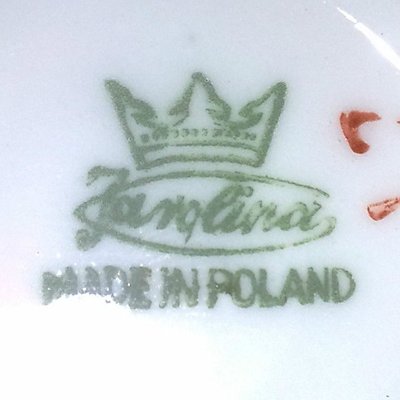 Image 6-27
Example on an item from the year 2000, also with 'MADE IN POLAND'.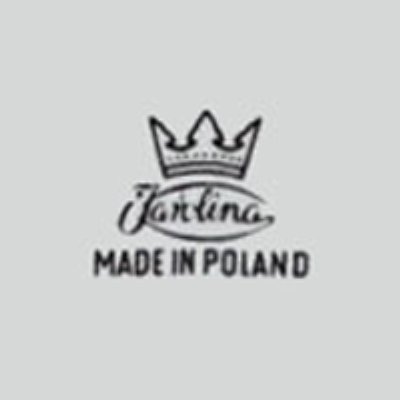 Image 6-28
Picture of the company logo used 2007.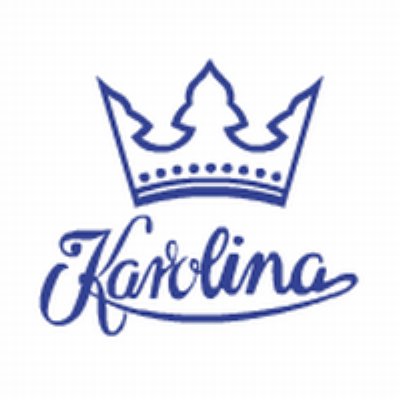 Image 0-29
The
⇒Porzellanfabrik Bareuther & Co. A.G.
(Waldsassen, Bavaria) mark that was used from 1979 onwards as is noted above.
© 2004-2023 C.S.Marshall, all rights reserved