Schwarza-Saalbahn
[1] : Porzellanfabrik E.&A. Müller (1890 until 1927)
There are two different claims regarding the origin of this company: one states that this factory was founded by descendants of Johann Nicol Müller from Schönwald (Bavaria) - founder of the company that later became known as the Porzellanfabrik Schönwald A.G. - while the other states that E.&A. Müller in Schwarza had nothing to do with E.&A. Müller from Schönwald, the name being pure coincidence.
Taking a look at the second claim shows that one person involved was Carl Louis Christian Eduard Müller (* May 31st 1855 in Lauscha; † ~ 1912), a factory owner, Kommerzienrat (a honorary title given to business magnates) and later politician of the Nationalliberalen Partei (N.L.P.). Eduard Müller was born as son of a glassworks owner and between 1869 and 1873 went to secondary school in Saalfeld and later received an education as businessman, finishing 1874. He joined the army for a year and afterwards started to work as an accountant (1877 until 1882) before becoming director of the factory owned by the US-based New York and Rudolstadt Pottery Co. Inc., the ⇒Porzellanfabrik Rudolstadt Straus & Söhne A.G. in Rudolstadt. In 1890 Müller is then claimed to have founded his own factory in Schwarza. At that time he also started to work with and for the local Chamber of Commerce, later becoming a member of the city council. He died around 1912.
There is no further information available at the moment other than that they produced luxury porcelain and had about 200 workers in 1913. Fact is that they were taken over by the Porzellanfabrik Schönwald A.G. in 1927, shortly before that company itself merged with the Porzellanfabrik Kahla. The factory in Schwarza-Saalbahn was for a short time used as subsidiary by the Schönwald A.G. and there are reports that the factory still employed 75 workers in the year 1930 before it finally closed around 1938.
Comment(s):
In some cases the crowned-shield-with-initials part of the base markings was omitted, leaving only the stylized 'M'. As to why or in which specific cases remains unknown. at least it does not appear to matter if the item in question is a figure or not.
Marks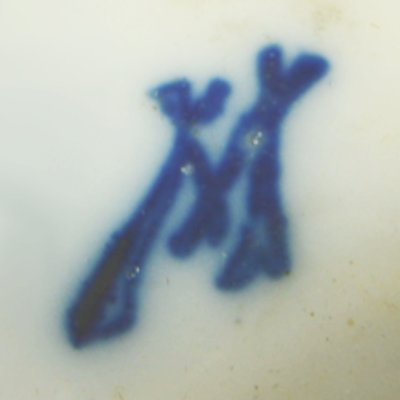 Image 1-01
Used from 1890 (right part) and 1895 (left part) onwards.
(Picture: Rachel, Pam & Bruce)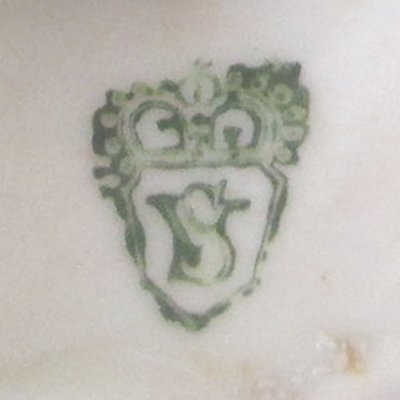 Image 1-02
Used from 1895, blue version.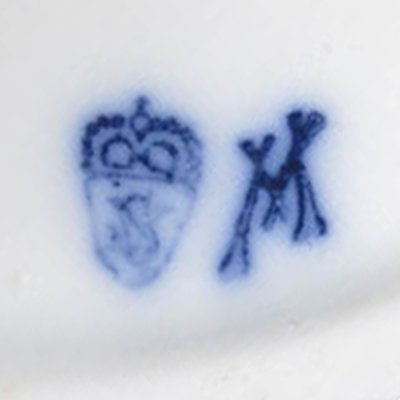 Image 1-03
Used from 1895, blue version.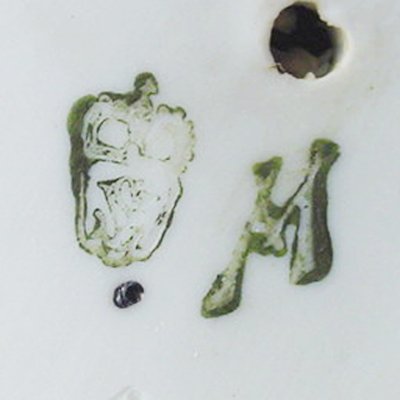 Image 1-04
Used from 1895, blue version with large 'A' addition.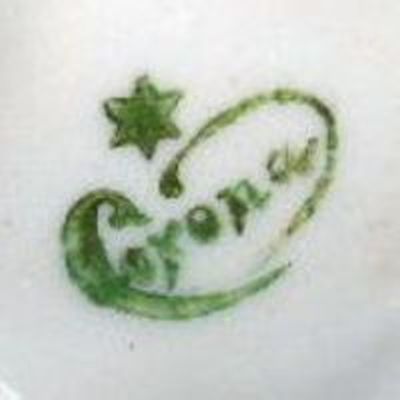 Image 1-05
Used from 1895, green version.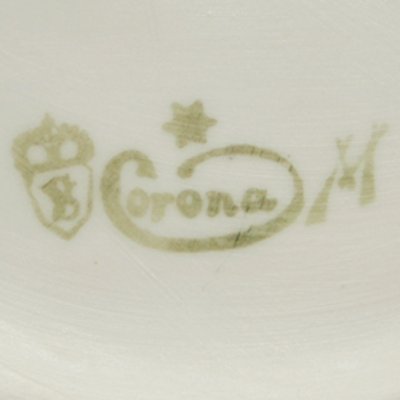 Image 1-06
Used between 1890 and 1927, the 'CORONA' trademark normally was only a name addition but is also found alone.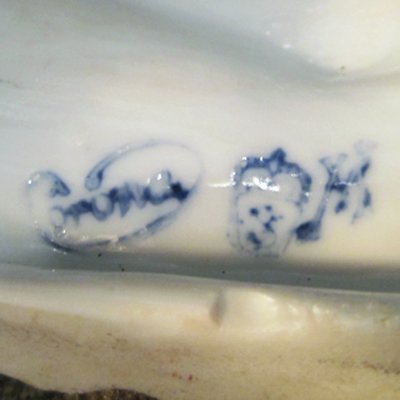 Image 1-07
Example of previous mark, here shown in green.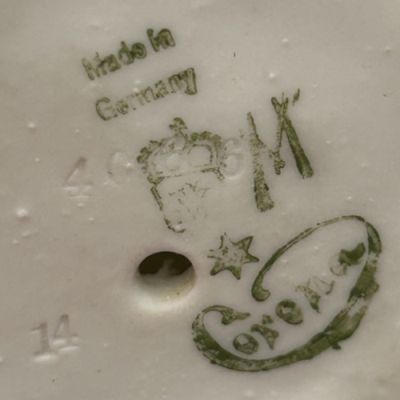 Image 1-08
Example of all three markings on one item.
© 2004-2023 C.S.Marshall, all rights reserved