Gräfenthal
[1] : Porzellanfabrik Unger, Schneider & Cie. (1859 until 1885)
Based on a ducal concession, the businessman Carl Schneider (who had worked at the Wallendorf factory for some time) together with modelling artist Karl Unger and businessman Hermann Hutschenreuther founded their business in 1859. As Hutschenreuther was a sleeping partner, his name does not appear in the company name until 1885.
At first the company only produced tableware, miniature sets for children and a few kitchen utensils, mostly decorated in the cobalt blue 'Zwiebel-' and 'Strohblumenmuster' styles which sometimes included gilding. But unlike many other facilities they did not simply copy existing designs but rather used their own creativity and started with export fairly early, which was soon rewarded as the first international award was received 1875 at the Exposición Internacional de Chile (Santiago World Fair). The success also showed a problem as the first marks that had been used looked similar to the marks used earlier by the factory in Gießhübel.
This lead to the introduction of the first mark that actually was used continuously, the impressed and uncrowned 'G' mark with the double-headed arrow which was used from 1875 onwards. Following the increasing popularity due to further awards during the Exposition Universelle (Paris World Fair) in 1878 it was decided to have the mark officially registered. The registration was filed on March 3rd 1879 at the Herzogliches Landgericht Gräfenthal (Ducal District Court) and the first items showing the mark carrying the 'Dep.' addition were seen at the World Fair 1879 in Sydney, where the company yet again received an award for their products.
In 1882 Karl Unger together with his friend and new partner Bernhard Schilde started their own business by taking over an existing factory which later became well known on its own, the ⇒Porzellanfabrik Unger & Schilde in Roschütz. It should be mentioned that Unger remained partner in Gräfenthal until Carl Schneider died in 1885.
[2] : Porzellanfabrik Schneider & Hutschenreuther (1885 until 1886)
Carl Schneider's son Paul had joined the company as junior partner around 1880. He took over the shares and continued business together with Hutschenreuther who had been long making arrangements to open his own company. Impressed by the young Schneider, he helped Paul reorganize business until before he finally left to open his own company, the ⇒Hermann Hutschenreuther G.m.b.H. in Probstzella during 1886.
[3] : Porzellanfabrik Carl Schneiders Erben (1886 until 1951)
Together with the rest of the family, Paul Schneider decided to name his business Carl Schneiders Erben in honor of his father and also introduced the crowned and dated version of the company hallmark. During the year 1889, Dr. Wilhelm Wedel joined the company as technical advisor and his degree in chemistry helped to even more improve the mixtures used for the glazing and decorations. Both Schneider and Wedel spent many long hours in the factory and became friends, but Wedel did not take advantage of his position and rather preferred to save up his money and join as a partner in 1899.
Over the next few years the company remained successful, but orders were slowly declining as customer preferences changed and by 1910 it was clear that the constant neglect as to investments regarding modernization was slowly claiming its price. When Paul Schneider died in December 1912, the company had a workforce of 240 people and Wilhelm Wedel continued business alone but already had to lay off his first ten workers in 1913. Wedel despreately tried everything possible to save the business and over the next years he managed to restructure parts of the factory and thus optimize work flow. In 1930 a mere 120 people still worked at the factory, but the strain he had put upon himself was too much and Wedel died before the war broke out.
The business continued, now owned by one of the banks Wedel had asked for funding and barely managed to exist through the war. The official records of 1947 show a remaining workforce of 70 people which were occupied with creating cheap mass produced goods to cover the enormous demand after the war.
[4] : V.E.B. Porzellanfiguren Gräfenthal (1951 until 1972)
The company was nationalized 1951 and belonged to the ⇒V.E.B. Porzellanfiguren Gräfenthal combine together with the ⇒Carl Scheidig K.G.. The group did not use any own marks but continued to use the normal factory versions even if one can find a few items that show the name as a standalone addition to the regular factory mark. It should be noted that during the 1960s the company also reissued many series based on old molds; these remakes do not show additional marks but simply carry the original old marks that were included in the mold, therefore one should compare the state of glazing and the overall color scheme used to verify an item.
Even if the factory itself was at that point totally run down, only minor modifications were made so that it could at least continue operation. The V.E.B. Porzellanfiguren Gräfenthal was dissolved in 1972 and the defunct factory of Carl Schneiders Erben was finally closed 1973 after finishing the last figurines still made in 1972.
Comment(s)
The 'scissors' mark used after 1951 was for a long time classified 'unidentified' as it did not appear in various reference books like Danckert or Roentgen. Following the first leads in form of an underglaze 'MADE IN GDR' mark found on some items and guessing that the '1859' was a real founding date, I was able to finally link up the mark with this company in December 2006 after comparing a series of figurines produced by the former Carl Schneiders Erben factory that were stamped with the crowned 'G' mark but used the same molds. Following an affirmative note from the local museum I found myself laughing at the hidden joke behind this mark: a 'Schneider' (English: 'tailor') of course needs needle, thread and ... scissors.
Marks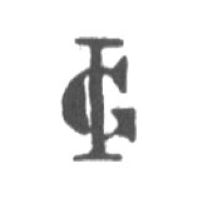 Image 1-01
This is claimed to be the first mark used - but the capital letter 'I' does not make sense as there is no relationship either to the location or company.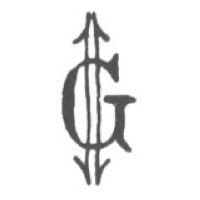 Image 1-02
Used from around 1875 until 1879 in this form, registered at the at the 'Herzogliches Landgericht Gräfenthal' on March 3rd 1879.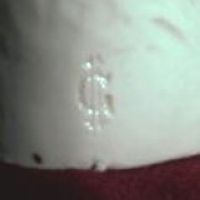 Image 1-03
Used from around 1875 until 1879, the basic impressed version without any additions.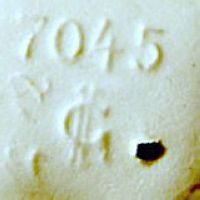 Image 1-04
Used from around 1875 until 1879, the basic impressed version without any additions.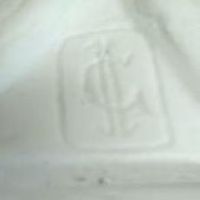 Image 1-05
Used from around 1875 until 1879, here with a border enclosing the mark.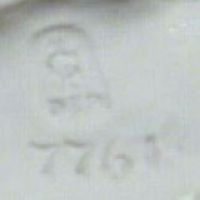 Image 1-06
Used between 1879 and 1886, the common version with the 'Dep.' addition.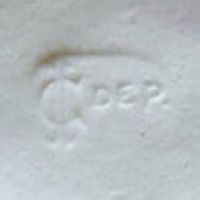 Image 1-07
Used between 1879 and 1886, another example with the 'Dep.' addition.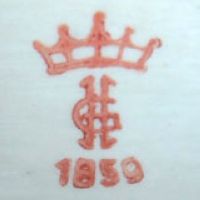 Image 3-08
Used from 1886 onwards, here in red, the crown shows two horizontal bars and a raised middle ornament.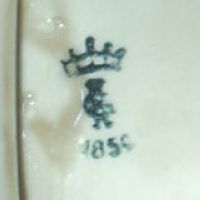 Image 3-09
Used from 1886 onwards, here in blue, again two horizontal bars and raised middle ornament.
(Picture by Lars Melin)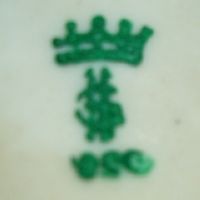 Image 3-10
Used from 1886 onwards, another example in green.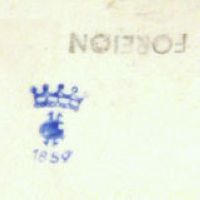 Image 3-11
Used from 1886 onwards, blue version with the 'Foreign' addition. Two horizontal bars, but normal middle ornament.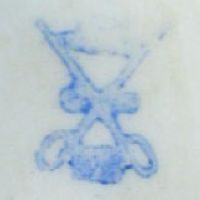 Image 4-12
Used around 1952 and 196?, badly smudged version of the mark that was unidentified for a long time.
(Picture by Peter Farrell)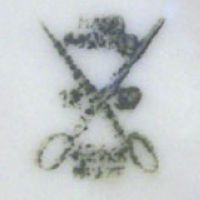 Image 4-13
Used around 1952 and 196?, a green version that is also nearly unreadable.
(Picture by Janet Ferguson)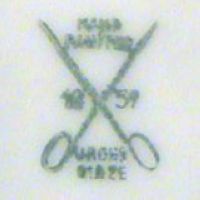 Image 4-14
Used around 1952 and 196?, 'HAND PAINTED' over '18' and '59' over 'UNDER GLAZE'.
(Picture by Karen Kast-McBride)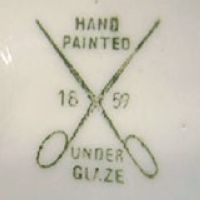 Image 4-15
Used around 1952 and 196?, another example.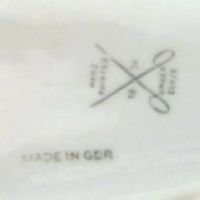 Image 4-16
Used around 1952 and 196?, same as before but this time accompanied by a 'MADE IN GDR' stamp.
(Picture by Richard Binkele)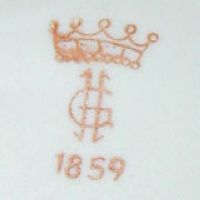 Image 4-17
Used until 1972, this is the newer and more detailed version in red of the crown used after 1951.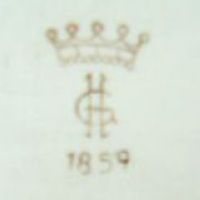 Image 4-18
Used until 1972, brown version, otherwise same as before.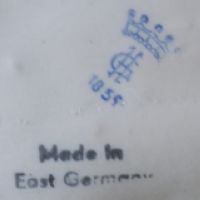 Image 4-19
Used until 1972, earlier blue version with additional 'MADE IN EAST GERMANY'.
(Picture by Barbara Perry)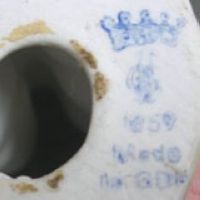 Image 4-20
Used until 1972, later blue version but badly smudged, including 'MADE IN GDR'.
(Picture by Lorraine Nicholls)
© 2004-2023 C.S.Marshall, all rights reserved