Landstuhl
[1] : Krister Porzellan-Manufaktur A.G. Nachfolger (1952 until 1971)
The original ⇒Krister Porzellan-Manufaktur was founded 1831 by Carl Franz Krister in the town of Waldenburg in Silesia and was in 1921 taken over by the Rosenthal group from Selb (Bavaria). Following the end or World War II, the area around Waldenburg became part of Poland and the Rosenthal company lost the complete factory. To compensate the loss of production capacity from that factory, the Rosenthal group soon started to build a replacement facility in the town of Landstuhl (Rhineland-Palatinate). As legal successor (indicated by the addition ⇒Nachfolger) they continued to use the Krister mark with an 'R' addition.
Some people believe that this 'R' stood for the factory location (= Rhineand-Palatinate), but as many others know, Rosenthal also introduced an 'R' addition in marks after taking over other companies like ⇒Porzellanfabrik Thomas in Bavaria and it has been long confirmed by Rosenthal that the 'R' indeed simply stands for Rosenthal. During 1965 it was planned to move the business to Marktredwitz in Bavaria, re-activating the former Porzellanfabrik Thomas facility which had been standing empty for five years after that part of the Rosenthal group had moved to the town of Speichersdorf (Upper Franconia/Bavaria).
Note that the year of closure being 1965 is often quoted in that context, but the move itself really occurred later - in fact there are a few people that wrote they had still been employed there in 1966. The first to get in touch with me was Mr. Sergio Calabri, who worked at the Krister Porzellan-Manufaktur in Landstuhl as employee in the cobalt firing section; he mentioned that also Thomas and ABC branded items were produced there in his time between October 1965 and March 1966.
In 1971 the name of the great Silesian enterprise was discontinued due to 'organizational reasons' and the factory was shut down, however Rosenthal kept the trademark and brand rights until 2004 when the trademark registration for the Krister marks was finally erased.
Marks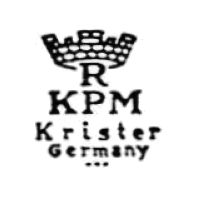 Image 1-01
Used between 1952 and 1965.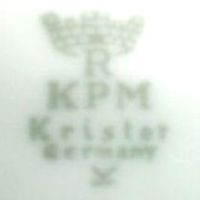 Image 1-02
Used between 1952 and 1965.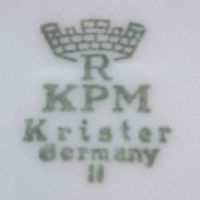 Image 1-03
Used between 1952 and 1965.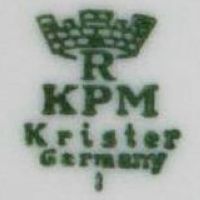 Image 1-04
Used between 1952 and 1965.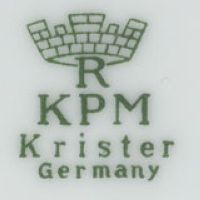 Image 1-05
Used between 1952 and 1965, very good picture of a perfectly stamped mark.
(Picture by Uwe Kuttkat)
© 2004-2023 C.S.Marshall, all rights reserved