Mitterteich
[1] : Porzellanfabrik Ludwig Lindner (1887 until 1895)
In the year 1887 Ludwig Lindner founded the first porcelain factory in the town of Mitterteich. The facility was later torn down during a modernization process and a new factory hall was built at the same location and dubbed 'Werk A'; the name stuck until the factory closed in 2006.
[2] : Mosanic Pottery Max Emanuel & Co. (1895 until 1917)
In 1895 the factory was taken over by the London-based Max Emanuel & Co., represented by their manager Alfred Pappenheim. Max Emanuel & Co. actually was a glass and porcelain retailer with a medium-sized store directly in London which had a large network of suppliers and other business contacts. Many renown companies worked with him or sold items via his shop in London, for example the company of Riessner, Stellmacher & Kessel (Amphora) in Bohemia. His main interest however remained glass and around 1898/1899 commission Loetz to make 'copies' (based on the shape, not the decoration) of the 'Clutha' glass designs Christopher Dresser supplied to James Couper (thanks to Bradford Braden for this information).
The Mitterteich factory employed around 360 workers in 1913 and just as an interesting side note it should be mentioned that the porcelan decorator Julius Müller from 1895 onwards - next to his regular job - run a guesthouse (Gasthof zum Lindenzweig) on 'Großensterzer Straße' which was also used as canteen for the workers of the porcelain factory and the guesthouse was also a meeting point for members of the social-democratic party in the area.
Anyway, the British owners were expropriated following the outbreak of World War 1 and the factory and all assets were transferred into the hands of a newly-founded stock corporation created by Theobald Ginker, Josef Gleißner, Ludwig Gretsch, Fritz Neumüller, Simon Neumüller, Josef Wiendl, Hans Zehendner, and the local miller Enslein, which in turn all received a certain amount of shares.
[3] : Porzellanfabrik Mitterteich A.G. (1917 until 2006)
To match constantly rising demand, a second facility ('Werk B') was in 1925 constructed on Hüblteichstrasse and the total number of workers increased to just over 300 in the same year. The second facility was in 1937 followed by a third, 'Werk C', located on Schulgartenstrasse. The whole factory used standard coal-fired kilns before completely switching to gas-fired tunnel kilns early in the 1950's.
A huge fire completely destroyed the 'Werk C' part of the facility in 1988 and the required reconstruction took until 1989. With all three locations fully operational again, the factory had a production area of 20,000 square meters and a workforce of around 800 people. The Mitterteich ⇒A.G. seemed to cope quite well with the overall situation on the German market. But in August 2005 the small city was rocked by the news that the company, represented by the board of directors, had to file for bankruptcy. For the 360 workers (70 percent of these female), it came as a shock. The small hope of an investor being able to save the company was destroyed by the local banks, who did not want to support the Mitterteich facility any longer. On March 1st 2006 the doors leading to the factory closed for the last time.
Comment(s)
Note that the Mosanic Pottery 'stacked rifles' mark was used three years before Max Emanuel took over the factory in Germany, so it is not only found on items created by his German subsidiary between 1895 and 1917 but also on a few pieces created for Max Emanuel by his predecessor, Ludwig Lindner, between 1892 and 1895. In cases where the mark includes 'Made in Austria', the manufacturer was the company of 'Oscar & Edgar Gutherz' - Emanuel had items created by them the whole time during which he actually owned his own factory in Germany, hence those items are to be dated between 1895 and 1917.
Marks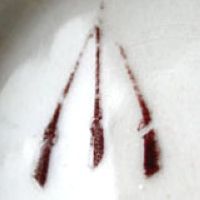 Image 2-01
Used between 1892 and 1917, three rifles stacked against each other and forming a pyramid.
(Picture by Janice Hingston)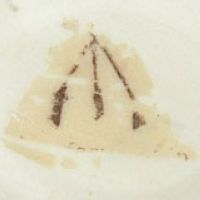 Image 2-02
The 'Mosanic rifles' on an item from London.
(Picture by Ginni D. Snodgrass)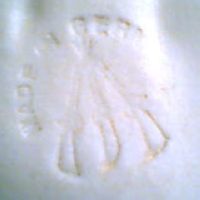 Image 2-03
Used between 1892 and 1917, impressed version with 'MADE IN GERMANY'.
(Picture by Chris Mills)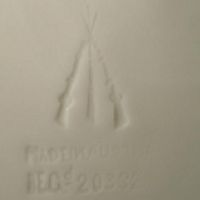 Image 2-04
The mpressed version, here with 'MADE IN AUSTRIA' as the item was manufactured by
Oscar & Edgar Gutherz
).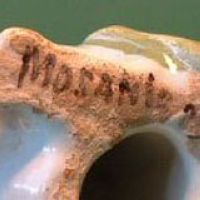 Image 2-05
Used 1895 until 1917, one of the rarer 'Mosanic' markings.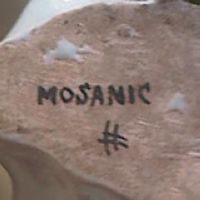 Image 2-06
Used 1895 until 1917, another example.
(Picture by Janine Hyatt)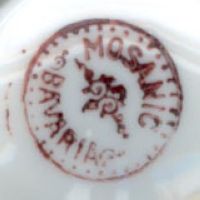 Image 2/3-07
Used 1895 until 1917 and just like the following mark this one was also re-registered by the
Mitterteich A.G.
in May 1928.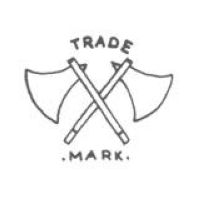 Image 2/3-08
Used between 1898 and 1917, registered at the
⇒R.W.Z.R.
under №29·956 on April 7th 1898 and later re-registered under №·385·700 on May 2nd 1928.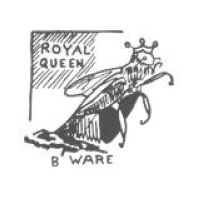 Image 2-09
Used around 1900, writing states 'MOSANIC' and 'BAVARIA'.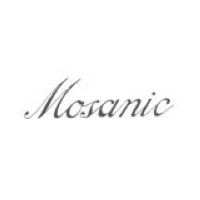 Image 2-10
Used between 1905 and 1917.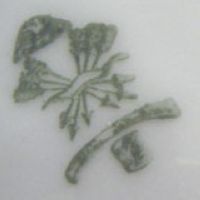 Image 2-11
Used between 1905 and 1917, 'ROYAL QUEEN' and 'B WARE'.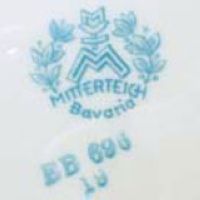 Image 3-12
Used from 1920 onwards, unicolor version (green -or- gold).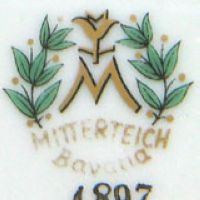 Image 3-13
Used from 1920 onwards, multicolor version.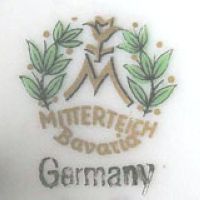 Image 3-14
Used from 1920 onwards.
(Picture by Dagmar Schmelzing)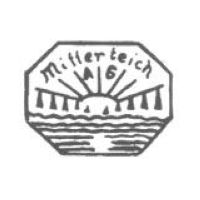 Image 3-15
Used from 1920 onwards, here with golden 'GERMANY' addition.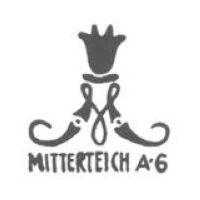 Image 3-16
Used from 1920 onwards, and this time with black 'GERMANY' addition.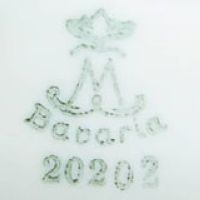 Image 3-17
Used between 1921 and 1931, registered at the R.W.Z.R. under №267·061 on June 11th 1921.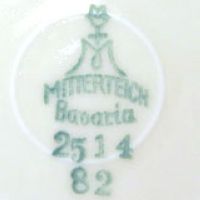 Image 3-18
Used between 1922 and 1931, registered at the R.W.Z.R. under №281·859 on March 9th 1922.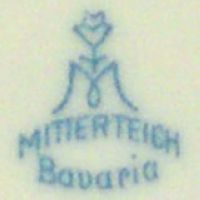 Image 3-19
Used between 1931 and 1945, filed for registration December 16th 1931 and registered at the R.W.Z.R. under №446·691 on July 7th 1932.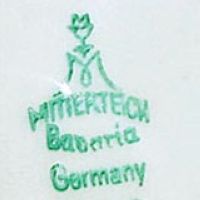 Image 3-20
Used between 1931 and 1945, this one is in green.
(Picture by Jacqueline Kacprzak)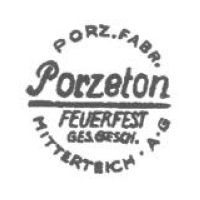 Image 3-21
Used between 1931 and 1945, here a version in blue.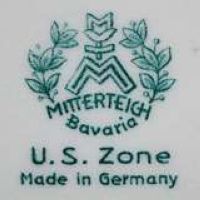 Image 3-22
Used between 1931 and 1945, this time one in green with a 'GERMANY' addition.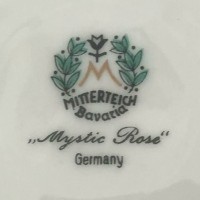 Image 3-23
Used from 1945 onwards, ovenproof porcelain under the trademark 'PORZETON', note the 'FEUERFEST' and 'GES.GESCH.' comments.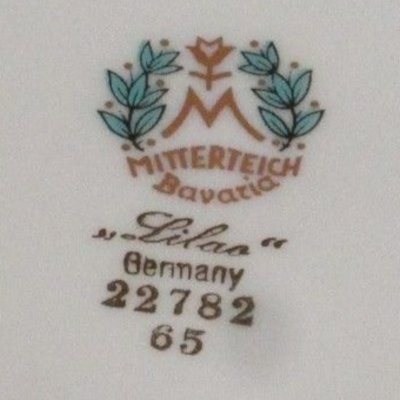 Image 3-24
Used between 1946 and 1949.
(Picture by Lisa Simonetti)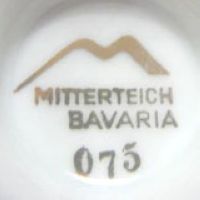 Image 3-25
Used from around 1960 onwards.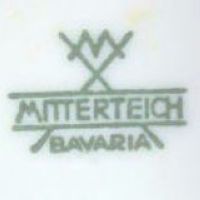 Image 3-26
Late mark but no idea when exactly introduced. Here a version in green, 'MADE IN GERMANY' was placed elsewere on the base.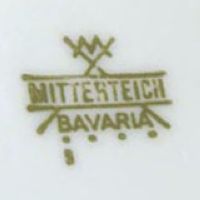 Image 3-27
Same mark type as before but this time in gold.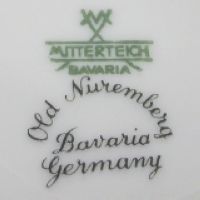 Image 3-28
Same as before but with the 'OLD NUREMBERG' series addition.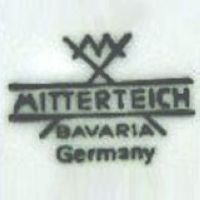 Image 3-29
Nearly the same as previous basic marks only that this one has an included 'GERMANY'.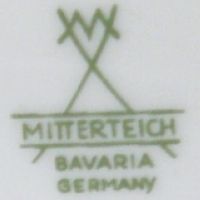 Image 3-30
A 'taller' version with both 'BAVARIA' and 'GERMANY'.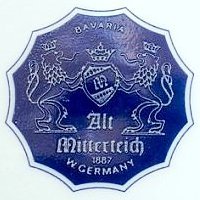 Image 3-31
Used between 1987 and 1990. Anniversary mark pointing out '1887' and 'ALT-MITTERTEICH'; also note the 'W.GERMANY'.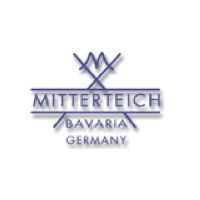 Image 3-32
The last company logo used.
© 2004-2015 C.S.Marshall, all rights reserved