Neuhaldensleben (Haldensleben)
Note that the town name may cause confusion depending on the source: the two independent villages of 'Althaldensleben' (Old Haldensleben) and 'Neuhaldensleben' (New Haldensleben) existed until 1938 before they merged into the town of 'Haldensleben'. In the case of 'Hugo Lonitz' the business was originally located in the Neuhaldensleben part of later Haldensleben.
[1] : Porzellan- und Steingutfabrik Hugo Lonitz (1868 until 1886)
The range of the Hugo Lonitz factory covered the segments majolica, terracotta and fine stoneware and included many different items, starting with normal tableware and going over household utilities right up to small collectibles and giftware. Even if business was not bad it still had problems and so Lonitz realigned the product range and took in a silent partner that supported him financially.
[2] : Porzellan- und Steingutfabrik Hugo Lonitz & Co. (1886 until 1904)
One part of the restructuring process saw Lonitz concentrate more on majolica items including wall chargers, planters and such. In 1899 the company employed 40 people and finally started to produce porcelain, but while that drew many new customers others were lost. The partnership started to suffer due to insufficient results and in the end Hugo Lonitz decided to retire.
Comment(s)
Various sources (like Danckert) claim that the former Lonitz business went on to become the Sächsische Porzellan- und Kunstkeramische Fabrik from 1912 onwards but as the retirement date of Lonitz in 1904 is a fact how would one explain the blank period of eight years before the company re-surfaced under a new name? Also, there never was a factory/company with exactly that name either and the only similar one which included Kunstkeramische Fabrik was the company of Carstens-Uffrecht in (Alt)Haldensleben but at first glance neither Uffrecht nor Carstens had something to do with Lonitz.
In addition, an anchor mark with the initials 'SPF' is claimed to have been used and Danckert mentions its use around 1924 (quoting his source Pelka), however next to the already mentioned doubts some people say it would not fit as the mark would have rather been 'SPK' or 'SPKF'. At the same time they state that the anchor mark belonged to the ⇒Saxonia Porzellan-Fabrik of Georg Bennewitz which would match 'SPF' and was also located in Neuhaldensleben, however that company in turn was founded 1927 and had nothing to do with Uffrecht, Carstens or Lonitz.
Marks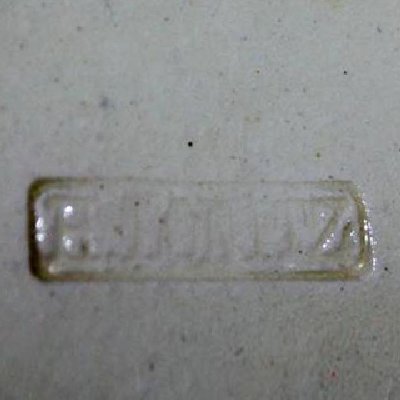 Image 1-01
Used around 1870, impressed 'H.LONITZ'.
(Picture by Maximilian Koskull)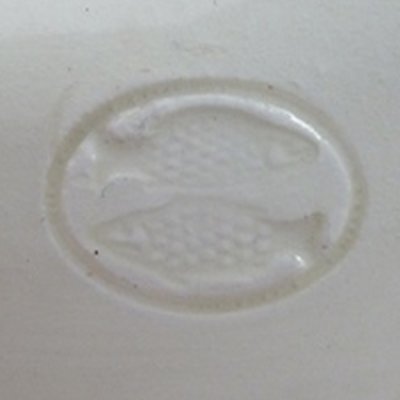 Image 1-02
Used between 1875 and 1904, often impressed, registered at the
⇒R.W.Z.R.
on September 30th 1875.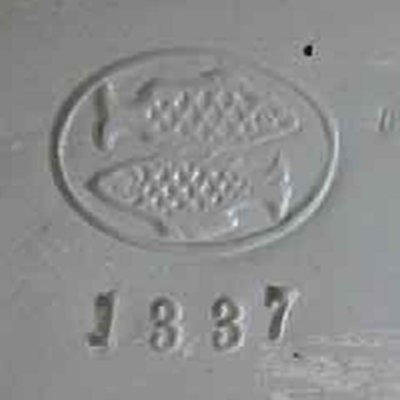 Image 2-03
Used between 1875 and 1904, impressed version on an item from 1900.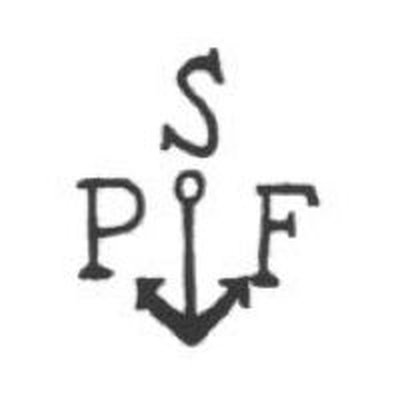 Image 2-04
Used between 1886 and 1904, already with the 'stretched' fish later seen without border, here with impressed item number '1337'.
Image 2-05
Used between 1886 and 1904.
Image 0-06
The 'SPF' mark claimed to have been used around 1912, see
Comment(s)
section above.
© 2004-2023 C.S.Marshall, all rights reserved