Selb
[1] : Porzellanfabrik Joseph Rieber & Co. O.H.G. (1868 until 1923)
The porcelain decoration studio of Joseph Rieber in Selb was founded 1868 and soon became a renown company with full order books which allowed its owner to expand quickly. After a few years business had developed so good that Rieber decided to open an own porcelain factory to serve his needs and so he in 1918 finally purchased the Julius Rother & Co. factory that was up for sale in the town of Mitterteich; that was in 1923 followed by another subsidiary in the town of Thiersheim. Note that for that reason not all marks used by Rieber are listed here, please make sure you also check the ⇒Mitterteich entry.
[2] : Porzellanfabrik Joseph Rieber & Co. A.G. (1923 until 1971)
From then on the company included the full name of Porzellanfabriken Josef Rieber & Co. A.G. Selb-Thiersheim-Mitterteich on their company paper even if all three parts were run independently. The Mitterteich factory mainly produced normal household items and dinner sets and it should be noted that the speciality was a decoration named 'Japonais', a decoration style influenced strongly by Japanese originals and highly successful as it presented a counterpart to many other companies that merely concentrated on 'Strohblume' (strawflower) or 'Zwiebelmuster' (Blue Onion).
This success lead to further export contracts with customers in Norway and Sweden; in 1930 the number of employees peaked at 200 in Mitterteich and at a total of 150 for both Selb and Thiersheim together. However the rigid internal company structure had its drawbacks and over the years even intensive expansion was not able to help the company cope with demand. This situation finally resulted in a sudden drop in business and in 1971 the company had to file for bankruptcy.
Comment(s)
A note on the mark depicting the initials 'IR' instead of 'JR' for Joseph Rieber: in older German lettering, upper case 'I' and 'J' were the same letter. There was no difficulty in distinguishing the letters in use because 'I' only appeared before a consonant and 'J' only before a vowel.
Marks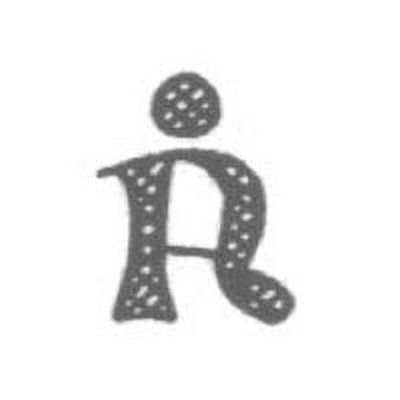 Image 1-01
Used around 1910, overglaze stylized 'IR' decoration mark mostly found in gold.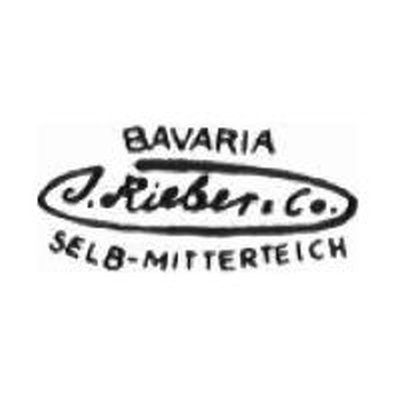 Image 1-02
Used between 1918 and 1923 in Selb and Mitterteich.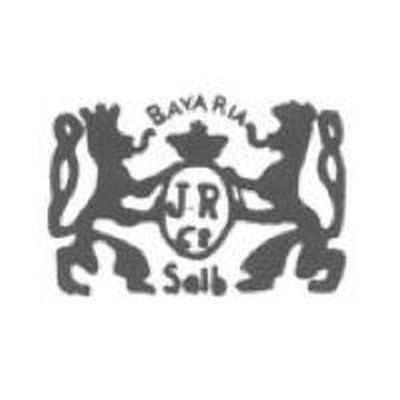 Image 1-03
Used between 1918 and 1923 in Selb only, note the 'JR Co.' for
Joseph Rieber & Co.
in the center oval.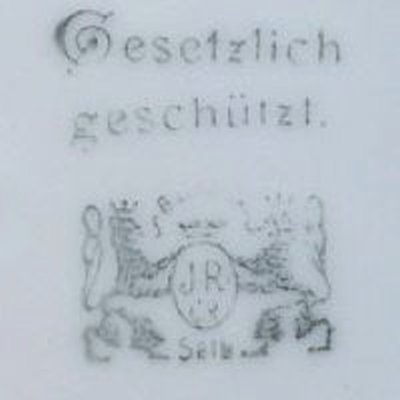 Image 1-04
Used between 1918 and 1923 in Selb only, example of previous mark but with
⇒GESETZLICH GESCHÜTZT
addition.
Image 1-05
Used around 1930 in Selb only, simple 'J.R.' initials for
Joseph Rieber
.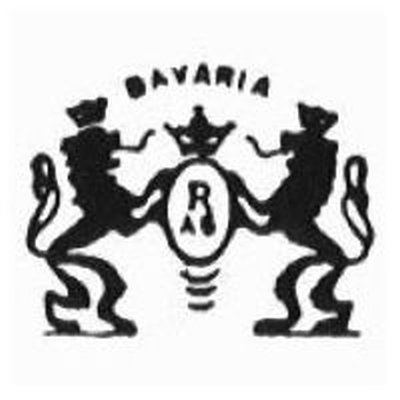 Image 3-06
Used between 1953 and around 1971 in all factories, note the 'R AG' for
Rieber A.G.
in the center oval.
© 2004-2022 C.S.Marshall, all rights reserved